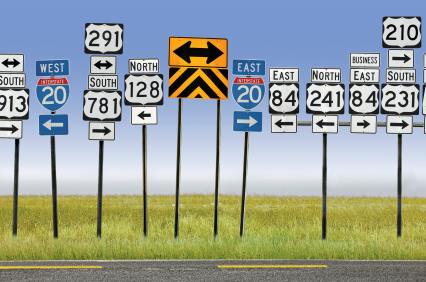 Traveling by car or bus or train, being out on the road, making stops at rest areas and reaching your destination at the end of a long day (or days) is a great experience to get onto the scrapbook page.
1. Cut your title from a road-trip photo
Adryane Driscoll says, "This is the story of a road trip my husband and daughter took from San Francisco to Yellowstone National Park. The two of them are both adventurers."
Adryane filled her oversized title with a photo of the car dashboard and made this the focal point of her page.
The journaling reads: a dad and his daughter, a trip from San Francisco to Wyoming, a stop in Boise, Idaho, a rafting trip, a flat tire, a cattle drive, a rodeo, a blue ribbon from the ribbon chase, a classic car show, a play, camping in the rain, beautiful skies, Yosemite National Park, fast food, motels, pools, love, laughter, good times, one incredible adventure.
2. Scrapbook packing up the car
Debbie travels 700 miles round trip several times a year with her sons. She says, "We go from New Hampshire to New York to visit family and our routine is mostly the same.   We line up our bags in the front hall the night before and then move them to the car the next morning. We never get out of the house very quickly or efficiently, but we do eventually get on the road. Neil gives us all a hug and, I'm guessing, goes back inside and does a little happy dance to be home alone! The first stop is the grocery store for a bag of ice — I need it for my diet coke along the way."
"On our last trip out, I thought to take photos of these details, and I scrapbooked them in a collage with travel-themed embellishments and papers."
3. Scrapbook the road signs
Brenda Becknell says, "When my son- in-law was in Iraq, we moved our daughter from Ohio to Alaska, so she could be there at the new post when he returned home.  I have a whole album with photos taken along the 3,800+ mile trip, but wanted to do a page with some of the miscellaneous photos we had of signs along the way."
"I used Photoshop Elements to print a picture package of 16 2″ x 2.25″ photos and arranged them in a grid, leaving room for a title.  I added machine stitching in two colors was around the edges."
4. Pair a scenic vista with a portrait
Tara McKernin says, "We took a trip to the Blue Mountains with our children. What was supposed to take use 2 hours to drive took us over 4 hours due to a map and GPS discrepancy.  When we stopped at the scenic caves and went for a walk across the large suspension bridge, it was a much needed break from our travel time."
Tara paired a scenic view from the bridge with a family portrait, sizing the view large and adding a digitally torn edge revealing chevron patterned paper upon which she mounted the smaller group shot.
5. Journal the story of why you took the roadtrip
Katie Scott lives about an hour and a half from Disney's Magic Kingdom in Florida. "Ssometimes it's a day trip and sometimes it's an overnight trip and many times, we go on a whim," says Katie. "A rainy day for us means a great day to visit the Disney Water Parks. This page records an impromptu road trip there that my daughter and I made  during Tropical Storm Debby.
The journaling reads: "Can we go to Typhoon Lagoon? Allison wants to know."  "Maybe" I say.  "I Have to check my work calendar and see how much the hotel will be."  Daddy adds "There's a tropical storm coming!"  "Perfect!" Allison declares.  She knows this will mean a much shorter line at the zip line which we remember (after we are all the way in at Typhoon Lagoon) is at Blizzard Beach."  It was indeed rainy, but that meant we got a bonus day in Orlando and saw the Brave Movie at Downtown Disney + Room Service at Floridays + a shopping trip to Tommy Hilfiger where Allison bought that adorable dress and I got some new bathing suits at Nautica.  We had a fabulous girls weekend.  June 2012.
6. Capture the scenes along the road
Barb Brookbank took a road trip to Saskatchewan for her school/town reunion. Barb says, "I love Saskatchewan and the country road with the grass growing down the middle is the road leading to my childhood home–very nostalgic for me since my parents are gone and the farm is no longer in the family."
"I ran a 70's action (from the Pioneer Woman) on the photos and then desaturated them to give the layout a vintage feel. The car sticker, suitcases, and yellow flower form a visual triangle. I thought putting all the 'people' photos on the bottom row kept the layout looking organized."
7. Trace the route on a map
Sue Althouse says, "Our Spring Break vacation was one big road trip, covering 1600 miles and 26 hours, 39 minutes of travel time in the car. Whew! I printed a map from MapQuest highlighting our route and used brads to pinpoint each destination. The six smaller photos represent our stops. I'll use this page to introduce the trip in my travel album and follow it up with layouts about each place we visited."
While Debbie Hodge's trip was shorter, she took a similar approach to Sue's. The map is a free vintage printable from GraphicsFairy.com and she used digital yarn and brads to plot the trip from New Hampshire to Niagara Falls to Corning, NY then Oxford, NY and then back home to New Hampshire. As Sue did, she also included a photo from each stop.
[designclass]