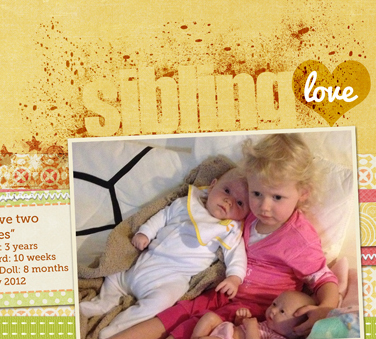 Misty looks include a few random splatters, a filled a block or canvas, or the outline of masked-off letters or details.
Paper Pages with Misting
Splatters
Meghann Andrew made this layout about her grandmother's new experiences in her old age and how lucky she feels to be here to experience those moments with her.
Meghann says, "I really love using spray ink on a layout that needs a little something on all of that negative space, and I prefer 'blotches' of ink, rather than a mist. To accomplish this, I shake the bottle, then unscrew the spray top and hold the tube over my layout. Holding with my thumb & middle finger, I then tap the top quickly with my index finger,  which makes a splatter of ink land on the page. It may take a bit longer to accomplish this look, but I love the result!"
Fine-mist foundation
Katie Scott's "8" is a scraplift of a digital page by Celeste Smith, Hoy.  Katie says, "I made my own mist paint by mixing equal parts of acrylic craft paint and water in a spray bottle.  I used paint on a  pencil eraser to get the aqua colored dots and a foam rubber stamp with paint for the 8."
The misting is in pinks and greens with the pinks heavier and with all of the misting heavier directly under the cluster of elements and thinning out as it spreads away from them.
Masked background
Adriana Puckett says, "Misting with masks allows you to create cool backgrounds for your layouts. Here I misted over a mask and then removed it. I added rub-on doodled flowers and rhinestones to add a fun, whimsical touch. I wanted to create the look of depth so I pop-dotted the photo and journaling spot to raise them above the base layer."
Filled rays and wedges
Kim Watson's page was sparked by seeing a little compass/clock her youngest contstructed from magnets on the fridge. It got her thinking about direction and arrows. The result was a 'sunburst' of different color mists, with alternating rays filled with misty color.
Adriana Puckett made this page to group recurring summer activities together to show their repetition in her life–especially activities like swimming, eating, and playing.
Adriana says, "Instead of just using mist to doctor a page background, I used mist to create a pie chart accent.  I used a white paper filter embellishement as the base and then made simple masks from scrap paper in wedge shapes. Then I sprayed each section a different color, leaving one blank. I also sprayed a smaller coordinating filter as well."
Drips
Jennifer Matott laid feathers over Kraft cardstock and sprayed with Tattered Angels Glimmer mist in Crocheted Doily and Rolling Tide. Jennifer says, "I made the Rolling Tide heavier at the top so I could tip the page and allow it to drip after removing the feathers. Once dried, I stamped the hexagon stamp and pieced the papers on.  I love using found objects as masks rather than rely on the same shapes you see out there."
Digital Pages with Misting
If a lack of digital misting brushes has kept you from trying digital misting, grab free digital misting brushes and instructions for installing them at Melissa Shanhun's DIgital Scrapbookin HQ.
Mist + texture
Amy Kingsford misted brush around masked butterflies on it to create the misted background on "Sweet Feet." Laying diaganal bands over the background creates a burst of rays alternating between patterned paper and misted canvas.
Amy says, "Because the background paper I used had a linen texture I wanted the brush to appear as though the color was actually bleeding into the fabric, so I applied a Linear Burn blending mode to the layer and then dialed the opacity back just a bit to maintain the muted tone of my blue mist."
Masked shapes
Audrey Tan misted around hearts and numbers on this page. She says, "I  re-coloured them and changed the opacity to match the colours used on my page. I made use of a quote to replace any journaling as the photo used is my best friend's baby. Tip: if you have nothing to journal, use a quote instead."
With digital, reverse the mask
With a digital page you can select the "mask" and either apply mist around it or just where it sits.  Tanyia Deskins sprayed a thick mist to the area defined by a doily. She says, "I love this messy misty spray of paint here that was used over a doily to give shape and texture to the background of the layout.  I think it also brings in pops of pink without being to harsh and opaque. Also, the messy beauty of the misted paint for me really reflects the quote that I have used."
Masked titles
Melissa Shanhun used an alpha as a mask and misted using free spray paint photoshop brushes. She kept the misting scattered and light. She didn't need to explicitly define all edges of the letter shapes–we understand and can read it with what's there.
On Debbie Hodge's "Proud and Happy Tourist," Debbie used heavier mist for a more defined masked title.