When you're looking for a starting point and ideas for a scrapbook page, when you're figuring out how to scrapbook,  you want resources for getting the job done, Pinterest probably has what you need . . . if you could only find it.
These 5 pinners curate with a passion, and these particular boards offer LOTS of focused inspiration.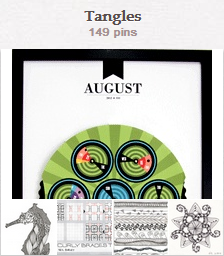 Scrapbooking and family history are Rita's hobbies. One of her daughters introduced her to scrapbooking and Pinterest, and, boy, can she pin! On the "Tangles" board, Rita has 149 pins of zentangle and doodling inspiration.
[hr]
Katie Scott is a lawyer from Florida who loves scrapbooking, picture taking, DIY, and crafts. She shares blog posts and videos at her blog Kiss and Tell Scrapbooking and she's on the Get It Scrapped creative team. Her Paper Strips board has 165 pins of scrapbook pages that incorporate paper strips. How's that for focused?
[hr]
The Daily Digi is the home of The Digi Files (a great way to try out digital product for a LOW price), The Digi Show (wonderful podcast) and The Daily Digi blog bringing you a daily dose of digital scrapbooking. If you want ideas for getting started with Project Life — or just continuing it, their Project Life Board is full of resources, products, and layouts.
[hr]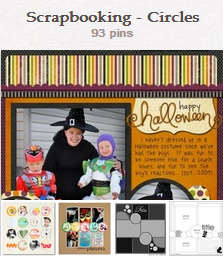 I don't know exactly WHO scrapstitcher is . .  there are no links or bio info at this fabulous pinner. I'd love to find out, though. Her Scrapbooking Circles Board is just one of 197 boards – lots and lots of them on focused areas of scrapbooking — like Baby pages! Fabulous curation.
[hr]
Jen Matott is an art teacher and mixed media artist designing for manufacturers and the Get It Scrapped blog. Her Art That Inspires board is 313 pins of inspiring eye candy incorporating painting, sculpture, mixed media, prints and more.
[hr]
Do you have or know of a focused and well–curated board for scrapbookers we should feature? Let us know.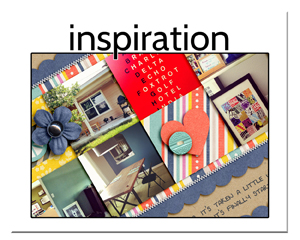 Using inspiration to create scrapbook pages is an efficient way to get more pages made and it's the best tool around for finding and refining your design style. At MSD this month:
Understand 10 sources of inspiration

for scrapbook pages and use 80+ links to websites and curated boards to find the best inspiration for your pages.

Identify the design elements of your inspiration pieces

and use those color, texture, pattern, shape, line, space, and value approaches on your own projects.

Apply inspiration

to composition, photos, titlework, journaling, subject, motif, and technique.
Guest teachers Summer Fullerton, Betsy Sammarco, Dina Wakley, Erin Clayton and Lynnette Penacho break down their creative process so you can immediately start applying proven approaches to your own pages. Click here and prepare to start USING all that inspiration you've been stacking up.