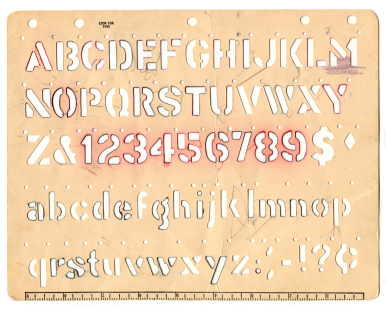 If you love using paints, inks, mists, modeling clay or other messy mediums, then stencils and masks are the tools for you. Understand the difference between the two and check out ideas for using each of these individually or even in combination.
Stencil: A stencil is a thin sheet of cardboard, metal, or other material from which figures or letters have been cut out. Rub, brush,or press a coloring and/or texture medium like ink, mist, or paint over the sheet so it passes through the perforations and onto the surface.
Thus, you are making a positive image–unless you use one of Dina Wakley's favorite approaches of flipping a used stencil to rub that excess ink off on a new project.
Mask: A mask is a cover or shield used to protect the surface beneath it from the mediums being applied. Spray or brush or paint over the mask, then remove it to reveal an untouched area surrounded by color and texture. Thus, you are making an image in negative space.
Stencils
Adriana Puckett says, "I loved playing with Julie Balzar's 'Blazonry' stencil together with inks and mist. I inked Ranger's 'Broken China' blue distress ink on one part of the pad and the 'Seedless Preserves' purple on the other part, and then pressed it on the stencil, creating a variegated look."
I also made a mist with purple Perfect Pearls and water in my Mini Mister and misted the page around the stenciled pattern to create a more blended look. It's possible to create really neat designs with the stencil – I can't wait to play with it more on tags and cards as well as layouts."
[hr]
Katie Scott says, "I used the 'Mini Sunburst' stencil from Crafter's Workshop with a Stampin' Up yellow ink pad on plain white paper.  I wasn't sure what I was going to do with the paper while I was making it, but as it came together I thought I'd use it for the background of a page about the Artist/Nun Corita Kent."
"I found images of the Boston gas tanks that she painted in 1971 on the internet (photo credits:  Photo by Derek Johnson / Drawing by Captain Parker).  I also found information and other images by Corita Kent online, including the heart with Love (which was later adapted to a postage stamp).  I handpainted the heart and love with a paintbrush and acrylic paint. I used the leftover red and black paint to create a painted mat for my photo.  I used a medium black Sharpie to do the journaling."
[hr]
Paula Gilarde created a dimensional background using modeling paste mixed with paint. Her stencil was the packaging from a set of chipboard letters. Paula says, "I wanted to convey my daughter's interest in words and spelling using letters for my background. The end result adds a lot of dimension to the layout. I added a shipping tag, decorated with some punchinella and inks, finished off with my photo and quote."
[hr]
Dina Wakley says, "I have a serious addiction to modeling paste. It adds amazing texture and dimension. For this layout, she started out with an "inky stencil blot." In other words, she used a stencil on one project, and then, once she lifted the stencil up, she flipped it and pressed it onto another piece of paper.
Dina says, "After than I added modeling paste over the ink. I also painted through a stencil. All of those elements combine to give lots of visual texture."
[hr]
Tami Taylor took photos of her sons jumping on an outing to the Valley of Fire State Park. Tami says, "Because this particular image has no story, I scrapbooked the trip separately. I was left with an amazing photo and no journaling. When journaling isn't needed, I will often use this as a time to 'play' on my layout. I'm free to try stencils, sewing, using songs as titles. I feel a little more free because I don't need to worry whether I'm getting the story or the feel across to my viewer."
Debbie Hodge used a digital stencil and misting brush by Nisa Fiins on "Museum of Natural History." She applied the mist heavier at top left and at bottom right to create a downward diagonal flow on the page. To get this effect, she kept the opacity of her brushwork low and went over the corner areas extra times.
Masks
Ashley Horton says, "I thought the Mister Huey's 'Bubbles' mask was perfect for creating a fun background for a sports-themed page.  I placed the mask on my cardstock and used a fine tip Sharpie to trace around some of the circles.  Once I finished tracing, I placed the mask back in place and used 'Smooch Spritz' from Clear Snap to mist over the mask. I removed the mask and sprayed Tattered Angels mist  to create mist drops on my page, by removing the nozzle and tapping it over my background paper."
[hr]
Amy Kingsford used a digital product from Sahlin Studio that did the masking for her. The png file is of sprayed mist around a butterfly shape, and Amy changed the Blending Mode to Overlay on this misted layer to get a realistic look.
The masked floral piece behind her photo was made by cutting a shape from the existing mist. Amy says, "I positioned the leafy flower behind my photo, selected the area it filled (by control-clicking on the layer thumbnail) and then I selected the misty butterly layer and deleted  the selected area. I hid the leafy flower stamp layer, and: voila!
I used a similar mask from the same misted butterfly set on my journaling tag and re-colored it to recreate a popular art journaling trend (altered tags) on my digital scrapbook page.
[hr]
Meghann Andrew used a chevron mask to add an interesting pattern behind her photos.
Meghann says, "Once the mist dried, I used Versamark pen to 'color' in the white lines. I added clear embossing powder to the Versamark ink and then heat-set it. The resulting negative space has a glossy, wet look, which adds a different texture."
"I selected two different patterned papers that would not compete with the large-scale mask and funky embellishments that add to the fun feel of this layout."
Lisa Dickinson masked off a grid of circles on "My Boy." The white circles became homes for smaller patterned paper circles and embellishments.
Kelly Purkey used punched butterflies to mask off butterflies on American Crafts "ruffle paper." The masking is less precise on this heavily textured page.
[hr]
The beauty of digital stencil is that it's easily turned into a mask. Select the openings for applying brushwork and you've got a stencil. Select the inverse of those openings and you've got a mask. When making the background on "Peace, Love & Ice Cream" Debbie Hodge used a burst stencil by Audrey Neal, selecting the area surrounding the openings rather than the openings and applying digital "mist" to that surrounding area.
[current]