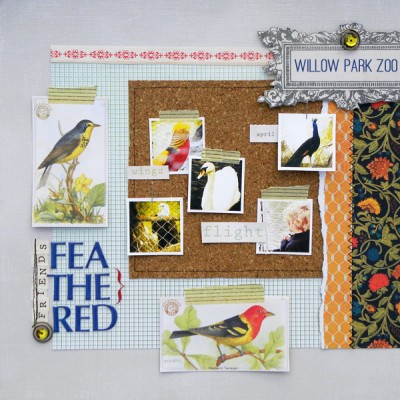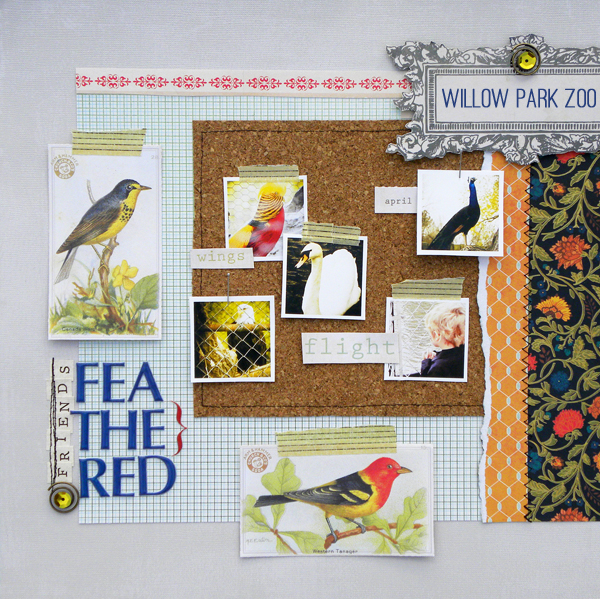 Common associations with birds are of freedom, nature, monogamy and spirituality. Particular types of birds are often associated with a variety of other meanings including love, bravery, and wisdom.
Combine the beauty of bird images with the abstract feelings they can evoke and you've got a great addition to your scrapbook pages on a variety of topics.
A little bit about Birds
Due to similarities in their skeletal structure the modern bird is believed by scientists to have evolved from the dinosaur.
An Albatross can sleep while flying at speeds of 25 miles per hour.
The largest egg ever laid weighed 27 pounds and belonged to the now-extinct Elephant Bird of Madagascar.
There are over 40 million birds kept as pets in the United States.
The oldest parrot on record is a blue and gold Macaw named Charlie. Charlie is reported to be 104 years old and  to have once been owned by Winston Churchill.
Migrating birds fly in a "v-shape" as a means of saving energy.
The Hummingbird is the only bird that can fly backwards.
An Emu can run at speeds of nearly 30 miles per hour.
An Ostrich can grow to be over 9 feet tall.
Chickens are the most common bird on the planet.
Once paired, bald eagles fly together until their mate dies.
Ideas for using Birds on your scrapbook pages
Turn your photos of birds into artwork for your pages.
Parrots were a popular motif  used in home and personal fashions during the 1950s and 60s. Chris Asbury used the following watercolor technique to turn a photo of two blue and gold macaws from her local zoo into artwork for her page "Explore."
Use an image of birds that parallels a relationship recorded on your page.
On "Then & Now" Katie Scott used the bird motif in a small but impactful way.  This cute image of a mother and baby bird symbolizes the important relationship between parent and child and complements the underlying message in her story about being taken to the zoo as a child and carrying on the tradition with her own children.
Use bird ephemera to create a "nature journal-inspired" look.
Amy Kingsford paired bird-themed post cards with her photos from a local aviary to recreate the look of an old field journal on "Feathered Friends."  She brings a "scholarly" feel to the page by fastening her ephemera and photos with tape and pins to a cork mat, thus completing the "nature journal-inspired" look.
 Use bird-themed embellishments to reinforce page title.
Adriana Puckett chose fun, light-hearted papers, colors, and embellishments to scrapbook this photo of her oldest daughter. An adorable bird sticker reinforces the title she chose for her page: "Early Bird."
Marie-Pierre Capistran accented "Mes Duex Oiseaux," meaning "My Two Birds," with cute bird transparencies.  The use of these embellishments not only reinforces the page's title, but also lets her incorporate repetition of a motif that creates a diagonal flow from the top left to the bottom right of the page.
Repeat the bird motif with multiple and different images and/or products on one page.
Amy Kingsford was drawn to the muted colors and soft prints in the Sara Gleason's Olive Tree digital kit because they matched the tone and feel of this photo of her with her oldest son.  She combined a tag with the image of a bird's nest and a resin bird embellishment. The two complemented her other product choices in both color and theme .
Scatter bird-shaped die-cuts throughout your page to establish a sense of theme.
Ashley Horton used several bird silhouettes cut from wood and paper in a variety of sizes on "Tweet Talking."  By sprinkling them throughout her page she created emphasis and established a clear theme.
Use bird embellishments to infuse your design with movement.
I love how Deborah Wagner used the bird attached to a string on "When Did Time Fly" to create movement and establish flow.  The eye naturally begins up at the focal cluster which includes her photos and a fun tropical cluster with another cute little bird. As a result of repetitions, we are  drawn to the second little bird whose flight path–indicated by the string–draws the eye back over the remaining details on the page.
Use mirrored bird cutouts to represent feelings of love and communication.
We are accustomed to seeing bird motifs that feature two equally sized birds facing one another because most species of birds live in "bonded pairs." Jennifer Matott  used this motif to accent her titlework and highlight the message behind her page "Communication" in which she discusses the important role that  communication plays in her own marriage.
Use a large blended photo of birds and minimal elements to establish a peaceful scene.
On "Take Flight," Vicki Walters paired a large blended photo of  three birds with subtle papers and soft brushwork to set a serene tone while piecing together a complementary setting for her photo.  The composition of this photo couldn't have been more perfect, since using it in an enlarged format and accenting it with the loop-da-loop brushes established a clear flow, pulling the eye from the bottom left to top right.
Use repetition of the bird motif to create flow.
Kiki Kougioumtzi establishes a diagonal flow on "Leaving the Nest" by repeating a bird motif in three strategic locations.  First she created a cluster at upper left incorporating two small birds.  Next she accented her focal block with a large, inked chipboard die cut of a bird. Finally, she created another small cluster containing a tag with a bird on it at bottom right.  This repetition pulls the viewer's eye through her page.
Use birds as a "sign of the season" by pairing them with your spring-time photos and stories.
Debbie Hodge used a vintage bird cutout  in combination with other bits and pieces of ephemera in the lower right cluster on "Every Spring." This embellishment choice not only complements her color scheme, it also provides context for the spring tradition she recorded.
[akingsford]
[current]