by Tami Taylor
On the 1st Friday of each month, Tami Taylor gives you a sketch and shows you how she's scrapbooked the past month. She's also got  prompts for gathering memories in the upcoming month so that you can get your photos scrapbooked "one month at a time."
I can't recall the last time I was so eager to get into a pool.  It's really funny considering I did not want a house with a pool when we moved here.  I hate admitting my husband was right, but with active boys a pool is more necessity than luxury.  They didn't care the water was still cold. Once they were told they could swim, it was all they wanted to do.  We've now entered summer: 99 days of wearing your swimsuit, sipping lemonade slushies and smelling like sun block.  I say, "bring it on!"
Here's how my month looked: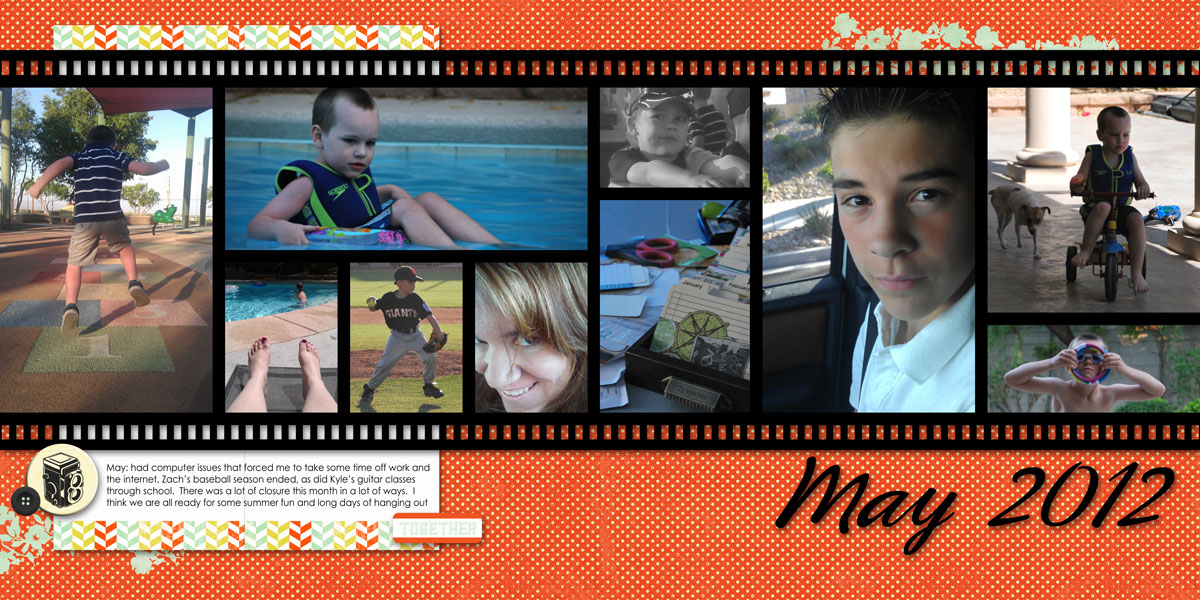 Are you ready to get this past month scrapbooked?  Here's the sketch and a few tips: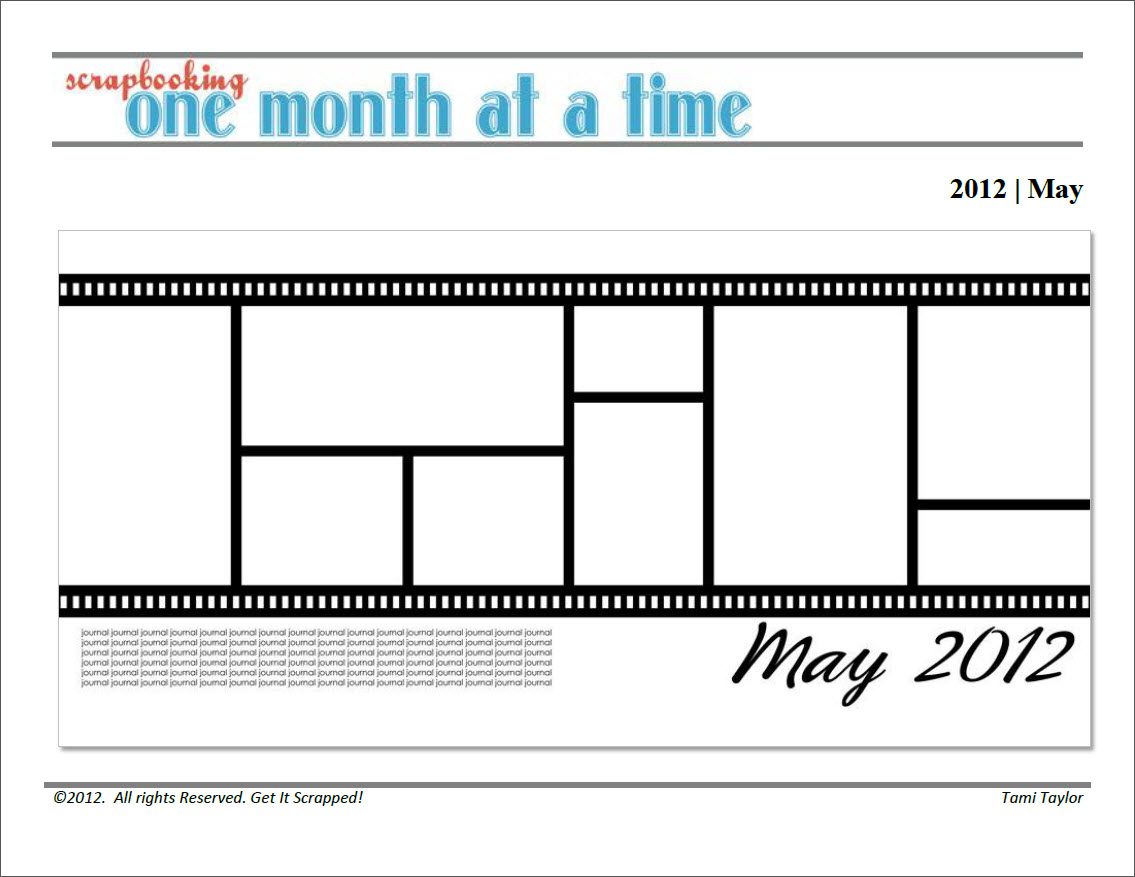 Click here to download the zipped psd file
Click here to download the pdf file
Honestly, the only downfall to summer scrapbooking when you have a pool at home is all of my summer photos tend to look exactly alike. When I start scrapbooking the summer of 2012, I already know it will get monotonous. The challenge will be how to give each page its own life and come up with stories for seemingly identical photos.
It's these times I love to explore and experiment. I am already planning on turning to my favorite editions of Masterful Scrapbook Design.  Practicing the ideas and inspiration I've learned over the past two years is a great way to spice up my pages and make these principles an organic part of my scrapbooking.
These are the 3 issues I think will help the most with my summer scrapbooking.  You can snag any of these or other previous editions here.
These Times – This edition covered capturing the current times in your layouts.  Using summer photos for a visual component (what's going on in our little world) and capturing current events in the journaling (what's going on in the world out there) would make a great contrast on my pages.
Stash-busting – What better edition to use up both the cool pool jumping shots and all the extra stash I have.  Maybe by the end of summer I'll have cleared enough of the 'old' to make room for some new goodies!
Portraits, Moments, Lists & 365ers – This edition is specifically for photos that don't have a true 'story' – perfect for endless summer photos!
Get Ready for Next Month
Here is the "By the numbers" sheet to help you keep track of the month: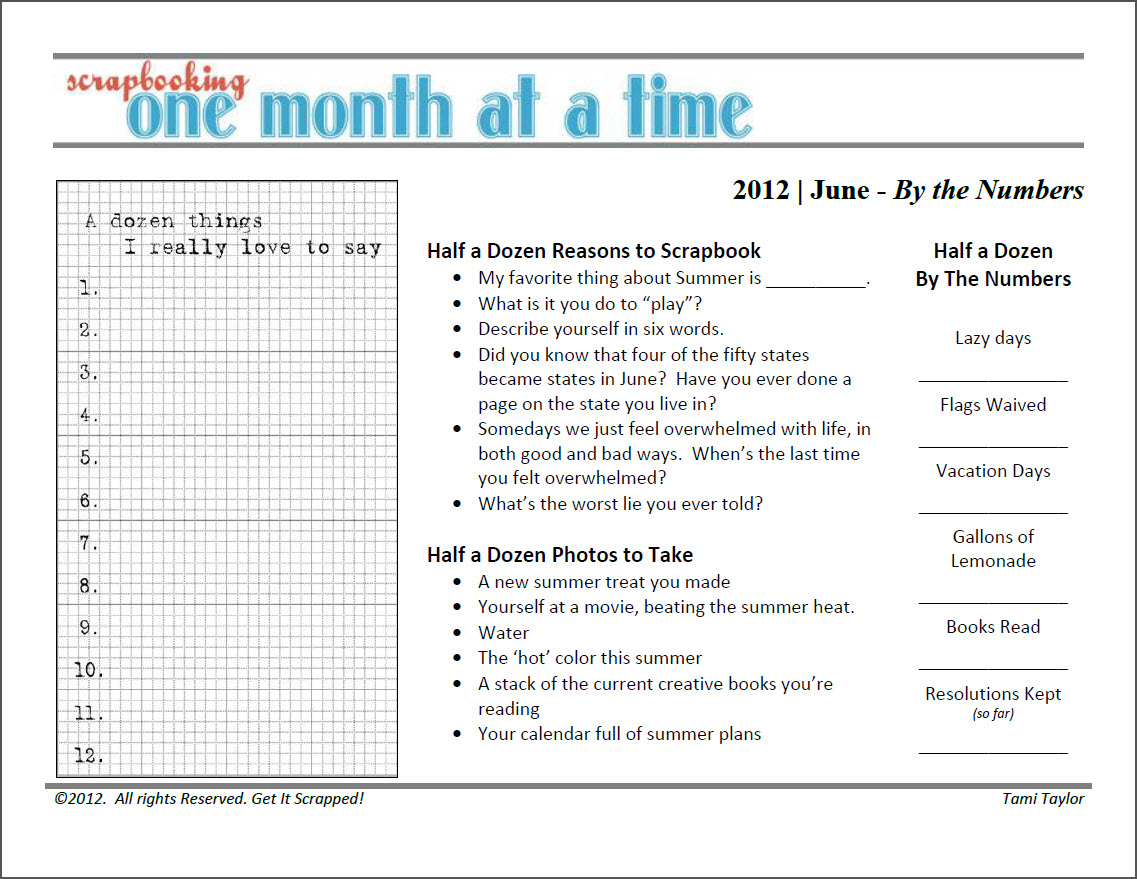 Click here to download the By the Numbers pdf.
Want just the "Dozen Things" list?  Click here.
[ttaylor]