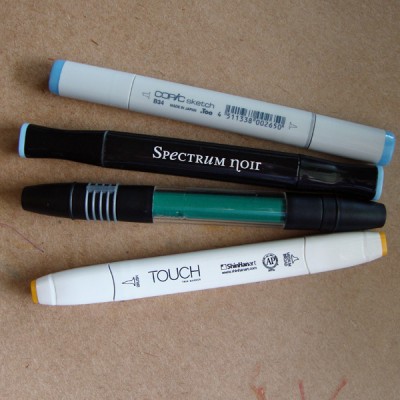 How do alcohol markers stand up in a direct head-to-head comparison?
I set out on a mission to answer that question not only for you but for myself.  In my last article I looked at Spectrum Noir markers.  I have another marker brand to examine for you in this tutorial.  I originally thought I would share two more today but there ended up being a lot of information to share so I've added one more installment to this series.
I am looking at all of these markers in direct comparison to my Copic Sketch markers. Remember that these are my opinions.
If you would like to see some of the facts relating to all four marker brands please refer back to my previous tutorial.
Letraset Trio Markers**
Looking at the body of the marker we see big differences right off the bat.
The Trio has a round body, and there are no markings on the side, but the cylinder is the color of the ink inside.
The ends have a color dot and number that you can see when you turn the marker, and the dots and numbers are protected under plastic so will last over time.
The lid and tip system is completely unique to the Trio.  One end has a brush nib; this nib is a little stiffer than the Copic brush.  On the other end there is a double cap system.  If you take the outer cap off you have a fine tip pen great for sketching or writing.
 Under the inner cap you have your chisel nib.  The ink actually flows through the chisel nib into a pad in the inner cap and into the fine tip nib.  The nibs are easy to find as each cap looks slightly different.
Letraset markers have a similar numbering system to Copic in that each of the 3 numbers signifies a portion of the color you are getting: hue, saturation and luminosity.
The colors that I purchased are G619, G917 and G935.  I chose these by looking at the colors on the site where I purchased the markers.  I should have done a little more research. When I received the markers, they were not a great blending set.    I did go back and study the color chart at the Letraset website and I'll admit even with the knowledge of what each number signifies, I am still a little confused as to what to look for to make a good blending series.
The colors I purchased were equivalent to BG11, BG72 and G28 in my Copic markers, which as you can see, is a real stretch even with great ink!
Below I have used my Copic Multiliner SP to draw a simple leaf to color with both sets of markers and here are the results.
Blending with the Trio was a lot of work.I knew I would have a difficult time due to the colors I selected.  I had to do a lot of back and forth with all three colors to get a blend that looked somewhat reasonable.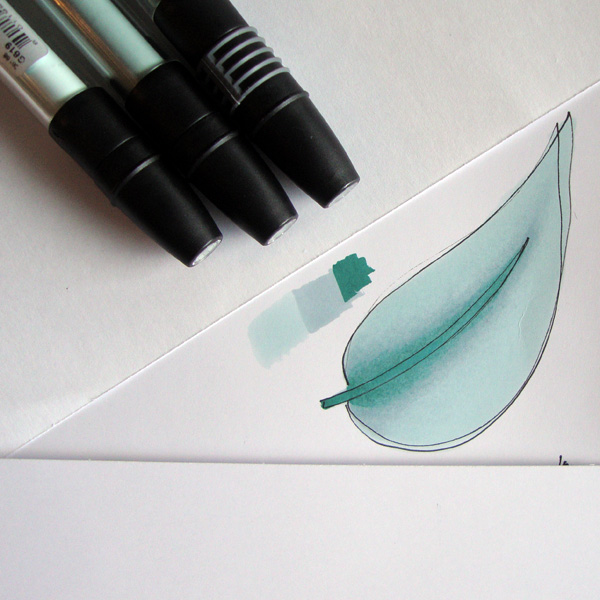 Then I moved on to my Copic markers I had a difficult time getting this set to blend as well.  There was not quite as much back and forth as the Trio but still not an easy combination.
The most interesting part to me was when I came back to my coloring about 15 minutes later the Trio colors had changed SIGNIFICANTLY!  Here is a quick look with the ink combination wet and one where the same coloring has dried.  The photo might not show the extremeness of the change but will give you an idea.  To me this would make it difficult to know what you are going to end up with while you are coloring.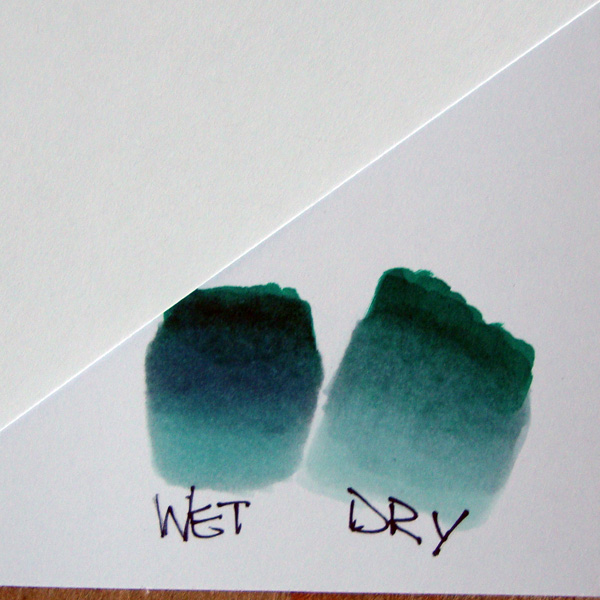 The advantages to the Letraset Trio marker:
Three nibs in one marker body
Slightly less expensive than the Copic Sketch
Well-constructed
The disadvantages to the Letraset Trio marker:
The brush nib is very stiff
The wet versus dry color is extremely different
As color dried and faded, mine appears grainy
I will be taking a look at the Shin Han Touch Twin Brush marker in a final article.  If you are curious about another brand that I have not shared let me know and I will add them to the comparison if I can find them.
**Letraset also makes markers called Pro, Flex and Aqua markers.  Each one has different features, including varying price, features and number of colors available.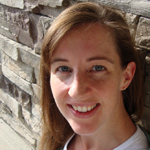 Michelle Houghton is a wife, mother and artist living in Iowa. Even before she began scrapbooking, she was a lifelong artist, majoring in Fine Arts at the University of Oregon and then teaching high school art for 7 years. Michelle has been scrapbooking for more than 15 years and she enjoys adding her own art, doodles and handmade elements to her pages for a one-of-a-kind look.
Michelle teaches doodling, Copics, handlettering and more at workshops throughout the country. She writes tutorials at Get It Scrapped and is an instructor for Imagination International Inc., the US distributor of Copic products. The best way to learn more about Michelle is at her website, scrapweaver.com.