by Tami Taylor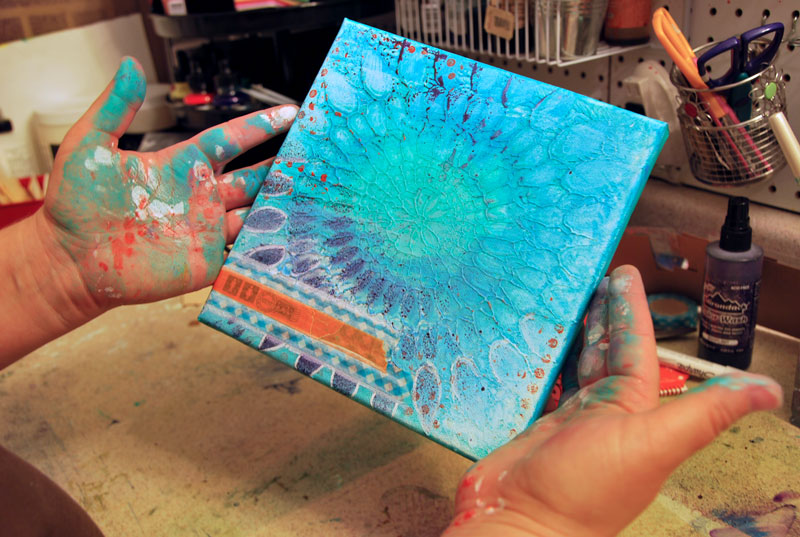 Are you looking for a way to end a creative slump? Make a "challenge kit" that limits and defines the supplies you can use, and make art today.
In the slump
Shakespeare wrote "All the world's a stage, and all the men and women merely players."
Me?  Lately I'm stuck–I'm an observer rather than a player (And not a cool, mysterious observer like you see on the TV show Fringe).
Every day I see an unbelievable amount of creative inspiration.  I run Creative Passion, meet guest designers each month who are uber talented at Masterful Scrapbook Design, and regularly spend hours writing for or reading the blog here at Get It Scrapped! One would think this would translatee to me being inspired and producing numerous layouts and art journaling pages each day.  But it doesn't.  I can't blame time, kids, or money (I have plenty of supplies in my stash). What's to blame?  Habit.
I've gotten in the habit of being an observer and not a player.  I realized the way to get out of my self-imposed slump was to grab a brush, a canvas, anything, and do something.
Moving out of the slump
I can not stress enough: the best way to get out of a slump is to do something.
Seriously. Read that again, because it's a powerful truth.  It's one thing to read and study art journaling and scrapbooking, but if you don't take action with what you are studying, you're wasting your time.
Use a challenge kit to start creating
On Saturday afternoon, I kidnapped a dear friend, Angie Lourenco, and we headed to the art store.
On return, we used my stash to make a "challenge kit."  A "challenge kit" consists of the supplies and tools you're limiting yourself to using. When you take away the number of choices you need to make, it can be easier to get going.
Our challenge kit:
1 Canvas (Artists Loft)

1 Brush (Unknown)
3 Colors of paint (Liquitex Basics)
1 Spray Ink (Adirondack)
1 Stencil (Crafters' Workshop)
Gesso (Dick Blick)
2 Paint Markers (Sharpie)
1 Texture stamp (Unknown)
2 Packs of rub-ons (Maya Road)
2 Rolls of Washi-tape (Unknown)
2 Texture tools
Our "rules:" we could only use what was in the pile, but we didn't have to use it all.
Start creating
I started with a gesso layer, and as soon as I started doing something, I started wanting to do more.  I received a flood of ideas.  I made textures, wiped the gesso flat with my brush, and started over.  Angie was having a ball doing the same.  We kept talking about how long it had been since we had ink on our fingers and paint in our hair.  When I grabbed the stencil and pushed it into the gesso, I literally giggled with excitement.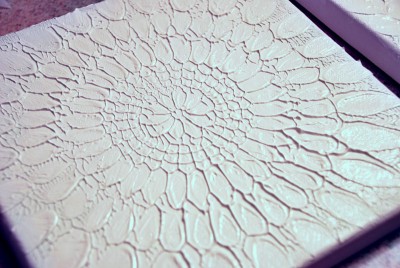 The results
Here are our finished pieces.  It was so much fun comparing what each of us did with the same supplies.  We both come from the same "school of art" and have learned many of the same techniques, since we are usually sharing with each other what we know.  Yet, we had different approaches.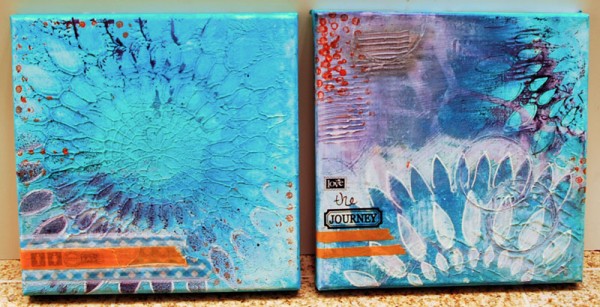 Let's recap
How can you end a creative slump? Limit your supplies and tools and just get up and "do!"
Now that I've reminded my fingers of how fun playing in ink is, I can't wait each day to just do a little something.  It doesn't have to be a masterpiece or a full canvas – it can be something as simple as a card or a page of doodles.  Just do it.
PS.  I just recently found a video Dina Wakley posted on her blog with the same message of creative exercise. Go '"exercise!"
[ttaylor]
[designclass]