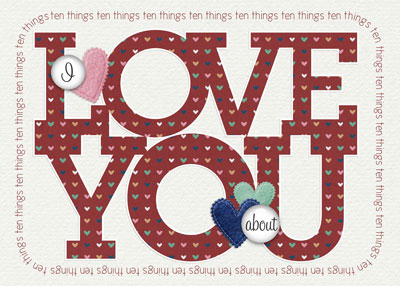 Using digital word art as a title for your scrapbook pages can be quick, fun, and, best of all, super easy!
Ideas for turning your favorite word art into the perfect title for your next scrapbook page follow.
Note: If you're in need of word art to put the following ideas into practice check out our Quotations and Wordart Series for free word art to use in your paper and digital scrapbook pages.
1. Clip a photo to your word art title.
Maybe all your word art needs to be transformed into the perfect title is a "face-lift."
On "Everything Has Beauty But Not Everyone Sees It" Anna Aspnes used a powerful word art message in a way that doubles as both title and a clever photo mask.  This design choice allowed her to display  an over-sized title and a beautifully blended photo without the worry of overcrowding and distraction.  This technique also complements the idea behind her layout perfectly.
2. Modify your word art title to customize its message.
Digital word art offers the opportunity to play with the words  in your titles. Switch things up a little bit and you've got great visual interest
On "Nookworm," I used word art that read "bookworm" and altered it by covering the "b" with a star sticker that I topped with an "N" to make a playful title tailored to this page about my excitement over a brand new Nook!
3. Leave your word art title unchanged and use its message to help you find your story.
Sometimes the message behind a particular piece of word art is all we need to be reminded of an untold story from our memories.
The word art "Remember He Knows If You've Been Bad or Good" that I used in my page by the same name, acted as a great reminder of how we had  held the idea of Santa over my son's head long before the Christmas Season was upon us.  That this was the essence of my story, made it a great choice for my title. Since it coordinated so well with my page there was really no need to alter the word art itself.
4. Accent your word art title with embellishments that draw the eye and impart meaning.
Embellishing your word art title is yet another way that you can customize it to create visual impact and convey meaning.
Pattie Knox customized this word art by adding her own personal touches. She digitally "clipped" a fun patterned paper to  give it a fresh look and then went a step further by embellishing her word art title with felt hearts.  This extra step not only draws the eye, but also strengthens the meaning of the page.
5. Do the unexpected with word art titles.
Ask yourself where you WOULDN'T put word art — and then put it there.
For more ways to use digital tools like word art to make dynamic titles for your digital and hybrid pages–check out the February 2012 webinar recording of Digital U at Creative Passion Classes.
Digital U is a FREE webinar series hosted by Creative Passion Classes.  Each month Creative Passion teachers Pattie Knox, Jana Morton and Amy Kingsford get together to share their ideas for using Photoshop to create wonderful photos, projects and memories.
Click here to register for this FREE webinar series and you'll be able to access past recordings and register for upcoming webinars.
[akingsford]
[learndigi]