It's the accumulation of well-chosen and carefully crafted details that create a masterful scrapbook page. Check out 5 details on "The World's Worst Dog" by Lisa Dickinson and see if one or two of them can inspire your next page.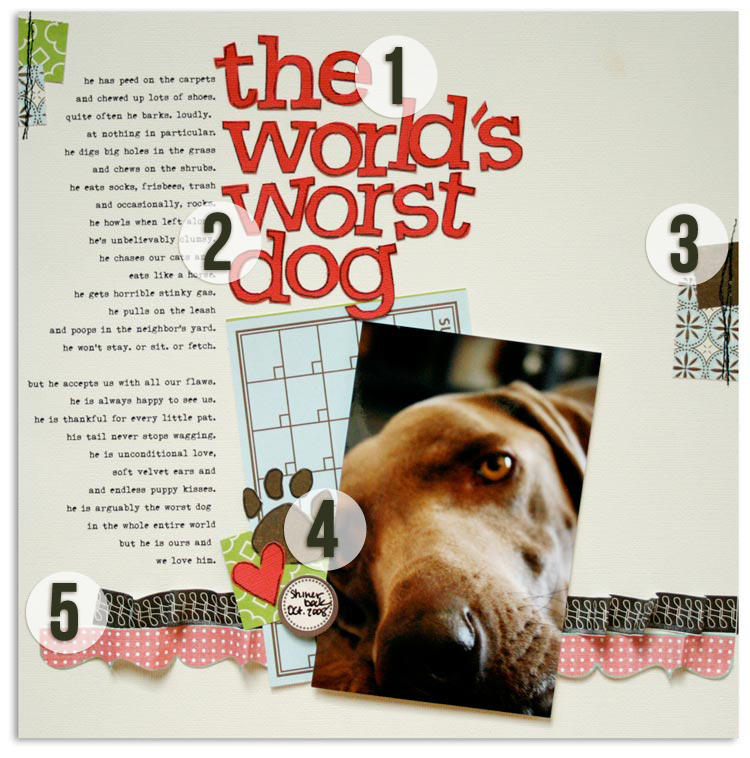 1. Stamp a title and cut out each letter
Stamp a title on cardstock, cut out each letter, then mount them with tilts and layers for a fun look.
Lisa says, "The wavering and slightly wonky placement sets the mood of this whimsical, humorous and heartfelt page. The font and color choice of the title reinforce the sentiments echoed in the journaling: that life with this dog is chaotic and crazy, but we love him nonetheless."
2. Make a strong line with right-justified journaling
Lisa says, "I love using large columns of text like this as a design element. Here, my journaling fills the space on the left hand side of the layout and makes it feel 'full' without being too heavy or distracting from my focal point. This is mostly because I used a generous leading (or space between the lines),  to create a lighter, airier feel in the text block. By right-justifying the column of text, it backs up nicely to the title and photo (without crowding them or looking scattered, as a left-justified column might) and the resulting margin between them forms a strong vertical line for the eye to follow down my page.
3. Embellish with small bits bleeding off page edge
The small bits of patterned paper, stitched and bleeding off the page at top left and at the right side are in keeping with the "rumpled" theme of the page.  They are charming and they create a page flow.
4. Make your own themed embellishments with simple cut-out shapes
Lisa designed and cut the heart and pawprint embellishing this page about her love of this sweet and nutty dog. These are shapes that we immediately understand even when the rendering is simple.
5. "Ruffle" a punched border
The bracket punched border here is transformed to a light-hearted and comfy embellishment with dimension by Lisa's "ruffling" of it.
Lisa Dickinson's scrapbook designs appear regularly in Creating Keepsakes, Scrapbook Trends, and Scrapbooks Etc. She designs for KI Memories, Lily Bee Designs, Jenni Bowlin Studio, and Creative Memories. She authored the book Design Workshop from Ella Publishing–grab it from the link on her blog sidebar. You can catch up with Lisa at Gettin' By, where she blogs about scrapbooking, motherhood, running, and her deep-seated hatred for the Comic Sans font. You can also find her on twitter!
Lisa is a frequent teacher at Masterful Scrapbook Design and this page is a part of her lessons on typography there in March, 2012.
[getinspired]