It's the accumulation of well-chosen and carefully crafted details that create a masterful scrapbook page. Check out 5 details on "Sustainable Sustenance" by Kelly Purkey and see if one or two of them can inspire your next page.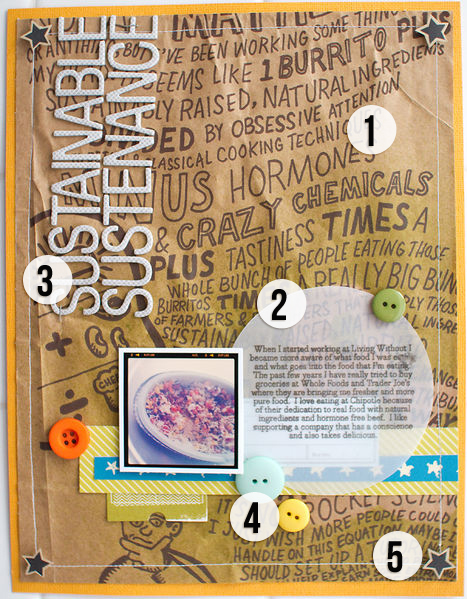 1. Use a printed paper bag (or menu or map or other memorabilia) for your page canvas.
Kelly trimmed a bag from the restaurant chain Chipotle to make the background  for this page about a restaurant that takes sustainability seriously. It's a bit smaller than 8.5 x 11″ and mounted on bright yellow cardstock base which gives it stability and a narrow mat.
2. Journal on a vellum shape.
Vellum is great for layering because it lets some of the background show through. The circle shape here repeats the shape of the buttons and the curve of the print on the bag while contrasting with the many right angles added by photo, paper strips, and matted base.
3. Rotate your title 90 degrees.
Kelly's long title is rendered in two equal length lines, all in the same chipboard alpha. The letters together create a visual block — a long and narrow rectangle approximately the same size and shape as the yellow-print strip of paper.  Placed like this,  it combines with the horizontal grouping to create an "L" shape that frames the text print on the paper bag which is a key part of the page's message.
4. Embellish with buttons for meaning-neutral interest and spots of color.
This page is already packed with words and images that support the page meaning. Buttons are meaning-neutral yet add color and interest to the design.
5. Frame a page with stitching and corner embellishments.
With the text and images on the paper-bag canvas bleeding off all edges, framing directs the eye back into the piece. In addition to the cardstock mat, Kelly framed the page with white machine stitching and accented each corner with a small star at each corner.
Kelly Purkey
 lives in NY and works from home as a product designer and education manager for Studio Calico, but is often flying around the country to teach classes or dip her toes in the ocean. Kelly has worked as a product designer at American Crafts, was a member of the 2008 & 2009 Creating Keepsakes Dream team, has contributed to a variety of publications, and is an instructor at Creating Keepsakes Conventions. Look for her
Signature Series book at Northridge Publishing
, keep up with her designs at her blog:
It's Me KP
, and
follow her on twitter
.
[getinspired]