Use Valentine's Day and love quotes and printable word art on your paper or digital scrapbook layouts and projects — for titlework, embellishing, and even journaling.
For it was not into my ear you whispered, but into my heart. It was not my lips you kissed, but my soul.  ~Judy Garland
Love is the only game in which two people can play and both can win. ~Eva Gabor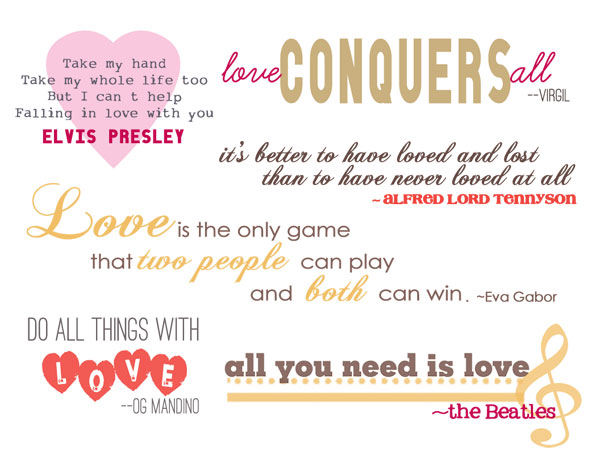 Wordart by Amy Kingsford
 Download PNG file for your use on your digital scrapbook pages
Download PDF to print out and use on your paper scrapbook pages
Take my hand, take my whole life too, but I can't help falling in love with you.  ~Elvis Presley
Do all things with love. ~Og Mandino
Gravitation s not responsible for people falling in love. ~Albert Einstein
Love conquers all. ~Virgil
Tis better to have loved and lost than to never have loved at all.  ~Alfred Lord Tennyson
Love begins with a smile, grows with a kiss, and ends with a teardrop. ~Anonymous
All you need is love, love. Love is all you need.  ~The Beatles
Sometimes the heart sees what is invisible to the eye. ~H. Jackson Brown, Jr.