Use New Year quotes and printable word art on your paper or digital scrapbook layouts and projects — for titlework, embellishing, and even journaling.
In the New Year, may your right hand always be stretched out in friendship, never in want. -Irish toast

One resolution I have made, and try always to keep, is this:  To rise above the little things. -John Burroughs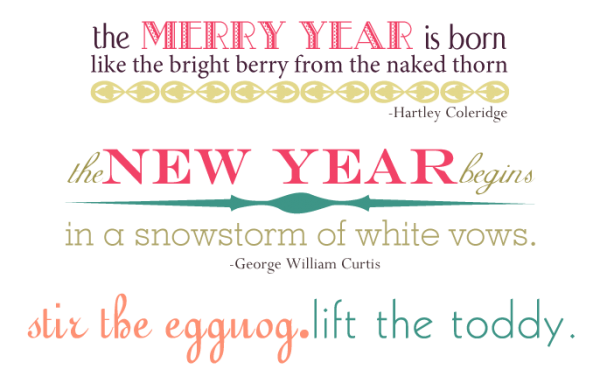 Click here to download zipped file with pdf and png versions of this wordart.
The merry year is born / Like the bright berry from the naked thorn. -Hartley Coleridge
Be always at war with your vices, at peace with your neighbors, and let each new year find you a better man.  -Benjamin Franklin
New Year's Day is every man's birthday.  -Charles Lamb 
Then sing, young hearts that are full of cheer, with never a thought of sorrow; the old goes out, but the glad young year comes merrily in tomorrow.  -Emily Miller
We will open the book.  Its pages are blank.  We are going to put words on them ourselves.  The book is called Opportunity and its first chapter is New Year's Day. -Edith Lovejoy Pierce
The new year begins in a snow-storm of white vows. -George William Curtis
Good resolutions are like babies crying in church. They should be carried out immediately. -Charles M. Sheldon
Year's end is neither an end nor a beginning but a going on, with all the wisdom that experience can instill in us.  -Hal Borland 
Stir the eggnog, lift the toddy, Happy New Year, everybody. -Phyllis McGinley
The object of a new year is not that we should have a new year. It is that we should have a new soul.  -G.K. Chesterton 
It wouldn't be New Year's if I didn't have regrets. -William Thomas
Of all sound of all bells, the most solemn and touching is the peal which rings out the Old Year. -Charles Lamb