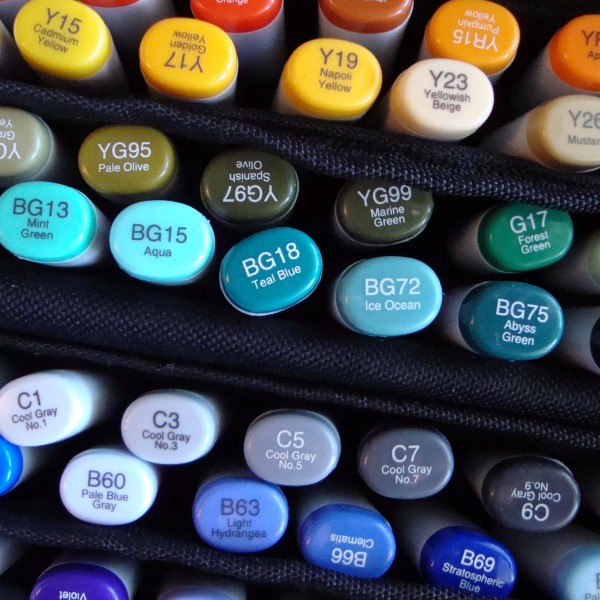 How many markers do I need in my collection?
I continue to get asked "What EXACTLY do I need to have in my marker stash to color images?"  "Do I really need all 344 colors (and more as the collection grows)?"
Sorry, Copic fans, there is no clear cut answer for this.  But I can share my common sense approach on how to start your collection.
Your collection should start with a base of 36 markers
Why 36?  This number allows you to get one blending set in each color family group with a couple to spare for skin and a gray. Here is the list that I would recommend.  The colors I have chosen are some of the most common you will see in crafting and Copic tutorials and it is the reason they are in the base set of 36.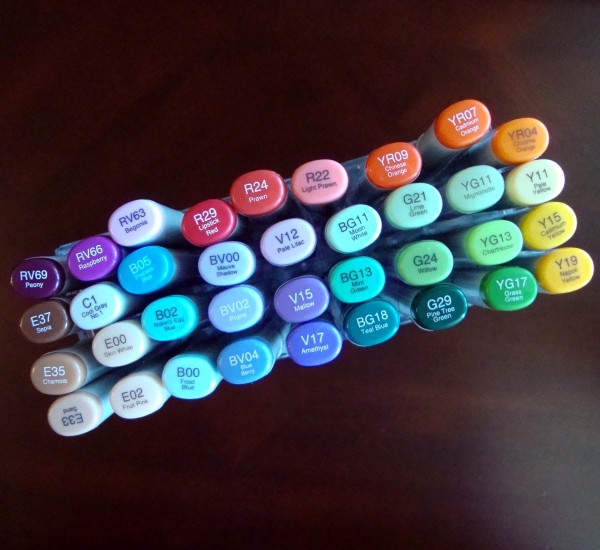 B00, B02, B04 (beautiful sky blues)
BG11, BG13, BG18 (mint greens) OR BG72, BG75, BG78 (sea greens)
BV00, BV02, BV04 OR BV11, BV13, BV17 (both fairly similar blue violet series)
V12, V15, V17 (pretty purples)
G21, G24, G28 (nice rich greens)
YG11, YG13, YG17 (grass greens)
Y11, Y15, Y19 (bright yellows)
YR04, YR07, YR09 (oranges)
R22, R24, R29 (the must have set of reds)
RV63, RV66, RV69 (raspberry pinks–this is a total preference ) OR RV21, RV23, RV25 (if your prefer bubble gum pinks)
E33, E35, E37 (this is a great starter set of Earth tones or browns)
E25, E27, E29, E00, E02 (the standard for skin tones–but there are TONS of options)
N1 (just to have one gray for simple shadows and edging images)
Note: In the starter set above I did not include a Colorless Blender in the set, but I would still consider this to be a must-have, so that is marker number 37.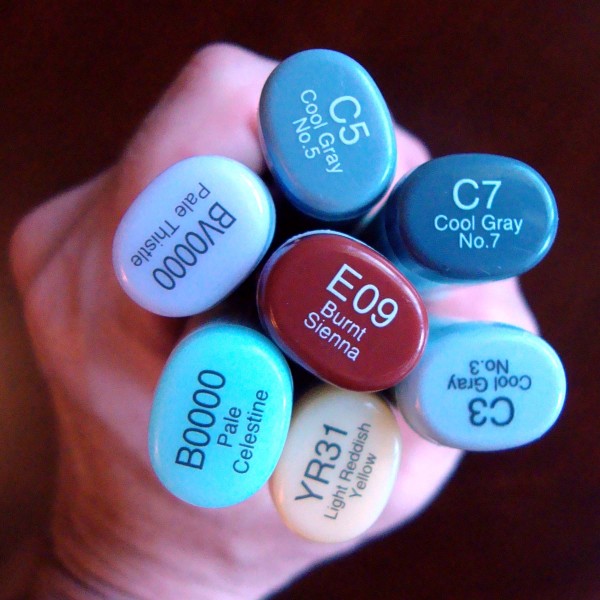 A few of my favorites
I also have a few favorites beyond these first 36, that that I use FREQUENTLY.  Remember: this is a list of my favorites.  Every artist–yes that means you–will find a few of their own personal favorites.
E09 is a color I love to add to red hair and brighten up my browns.
YR31 is one I love to use under yellows and yellow reds to warm them up.
B0000 and BV0000 are favorites to fade backgrounds to white and fairy wings of course.
A few more grays to color black and white objects (one series really is enough for most people)
A look at my personal collection
I currently own about 130 markers. Yikes that is a lot!  And I am quite happy with my set.  It does all that I want it to do and I know I do not need ALL the colors.
In addition to what's listed above, here is what else I have in my bag:
B21, B24, B28 (royal blues)
B91, B95, B97, B99 (denim blues)
BG (I have both the teens and the 70's series)
BG93, BG96, BG99 (very dark gray blue-green)
BV (I have both the 0's and the teens, but really do not need both)
BV23, BV25, BV29 (this is a great set for shadows!)
V01, V04, V06, V09 (not a real big fan of this series I like 04 but by itself)
V91, V93, V95, V99 (a very light grey purple series except for the 99)
G17 (a bright kelly green)
YG93, YG95, YG97, YG99 (a great olive series)
Y23, Y26, Y28 (love this series for blond hair, but do not use the 28) 
Y32, Y35, Y38 (yummy golden yellows)
YR14, YR15, YR16, YR18 (very similar to the 0's but slightly warmer) YR30 (a nice partner to YR31)
R000, R01 (another skin tone)
R83, R85, R89 (a lovely rich wine series)
RV (I have others but honestly the ones that come out of my bag are the 60's)
E (I have the 20's and the 30's and use them both regularly)
E11, E13, E15 (suntan skin)  
E44, E47, E49 (my newest additions a very nice gray brown group)
C1,3,5,7,9 (these  greys seem to suit me just fine)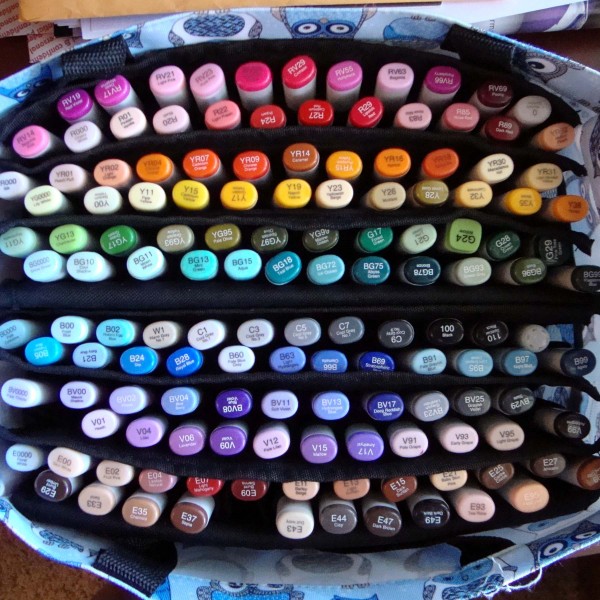 I see you counting and it is not adding up is it?  I did not list them all.  There are a few that I count them in as a part of the whole, but did not list, because I've found I simply do not use them.
So there you have it, "Michelle's Picks"–my personal list of markers.  I hope it can help guide you in your choices.  And if you have questions as always please ask!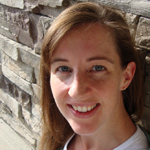 Michelle Houghton is a wife, mother and artist living in Iowa. Even before she began scrapbooking, she was a lifelong artist, majoring in Fine Arts at the University of Oregon and then teaching high school art for 7 years. Michelle has been scrapbooking for more than 15 years and she enjoys adding her own art, doodles and handmade elements to her pages for a one-of-a-kind look.
Michelle teaches doodling, Copics, handlettering and more at workshops throughout the country. She writes tutorials at Get It Scrapped and is an instructor for Imagination International Inc., the US distributor of Copic products. The best way to learn more about Michelle is at her website, scrapweaver.com.