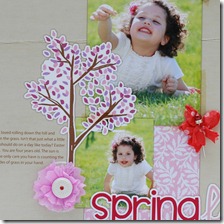 While I don't make digital scrapbook pages, I do love adding digital bits to my paper scrapbook pages. I think of my computer as another tool in my scrapbooking tool box. It helps that this "tool" is fun to use and has limitless applications!
Making hybrid scrapbook pages lets me mix the best of each format. I can find the perfect digital image, recolor and/or resize it, print it, and then add it to my paper page.  Or—I can print a digital background and then add vintage bits and pieces I found at a flea market.
Check out these ideas for leveraging the power of your computer for making hybrid scrapbook pages.
Choose digital elements that can be used over and over again.
Not only can digital elements be reused—they can be re-colored and resized. Flowers, leaves, and butterflies often make their way onto my pages with this method.
I needed leaves to accent "Autumn Hugs" and realized the only paper leaf product I had on hand was a teeny tiny leaf punch.  The digital kit "Feels Like Fall" by Jen Martakis had the perfect leaves. Downloading these digital leaves allows me to resize them, recolor them, print them on various media, and use them over and over.  I could even have changed the shape if I wanted. The title and journaling on the tag were also done using my computer.

Supplies: digital kit by Jen Martakis, May Arts ribbon, Jenni Bowlin patterned paper, buttons, tickets, and stickers.
Add digital journaling and title blocks to your paper pages.
Get the tag or block along with the content of your journaling or title all in one fell swoop – sized to fit perfectly and rendered in a font that supports the page tone and subject. Most of the time I make my own tags using Photoshop Elements shapes or other images off the internet. (See how I printed title and journaling together on a tag on the layout above.)
Use digital products to make the base of your layout.
Once you've got the base, embellish it with traditional supplies. This is a great thing to do on vacation since it doesn't require a ton of supplies. I keep a folder on my computer of digital bases for pages. I upload them in bunches for printing at an outside lab.
The digital base of this layout is an 8" x 10" digital layout printed professionally. I mounted it on die cut paper and added some of my favorite embellishments. The "Sweet" title covers the original digital title that I didn't like after I saw it printed.

Supplies:  Digital paper and digi stitching by Jen Martakis, diecut paper by Jenni Bowlin Studio, and all other embellishments by Jenni Bowlin Studio.
Layered digital templates provide the layout and (many times) embellishments and title work.
I made "Spring Fever" using a layered template by Katie Pertiet. In addition to a basic layout, this template came with the fun tree, yellowed tape, and title work. I turned the template on its side and moved a few elements around to suit the photos I had. The base for my layout was done so quickly that I had plenty of time and freedom to experiment with making the crepe paper flower embellishments.

Supplies: digital template by Katie Pertiet, digital kraft paper by Jen Martakis, digital patterned paper by Jenni Bowlin Studio, button, pin, and crepe paper by Jenni Bowlin Studio.
Betsy has plenty more layouts and hybrid ideas, and she shares them in one of our 8 hour-long video/audio interviews at Masterful Scrapbook Design this month. It's a part of the August Smorgasbord issue available for $12.50 today (or $36 on September 1st).
Although Betsy Sammarco has always had a love affair with her computer and used it in some way to enhance her pages, it wasn't until 2009 that hybrid scrapbooking became part of her regular scrapbooking routine.

Betsy currently designs for Jenni Bowlin Studio and Jen Martakis Designs. Get more ideas and inspiration from her blog, www.justapharmgirl.blogspot.com.