by Debbie Hodge
Every part you add to a scrapbook page takes time. When you title a scrapbook page, you spend time deciding what your title will be, what product you'll use, how you'll incorporate the title into the page design, and then getting the letters and words of your title onto the page.
Here are ten ideas for saving time getting titles onto your scrapbook pages.
Save time coming up with a title
1. Use your subject's name
While it can be satisfying to come up with a title that's a clever play on words or that gets at the heart of your page's story, there are times that a simple label of page subject is all you need.
Here, Celeste Smith titled her page with her subject's name: Lila. The sparkly, curvy alpha is perfect for the girly-page. (From Masterful Scrapbook Design "Fast Starts" issue.)
Vee Jennings went with the name of the restaurant she's scrapbooking rendered in oversized, distressed chipboard alphas. (From Masterful Scrapbook Design "Fast Starts" issue.)
2. Use wordart
Stumped for a title? Not up for rendering the long title a page might need (such as "Coming Home on the Last Day of School" which I actually considered for the page below)? Grab some word art that supports your subject and use that.
The wordart by Ali Edwards on "What I Want t Remember About Today" is perfect for conveying my desire to hold on to the memory of my son and a neighbor scootering home from the bus stop on the last day of school.
3. Let handwritten "subject, date, place" suffice
It's OK. Not every page needs a title.
I'd left the titling of this page to the end — and once I got to the end I really didn't want to add anything more to the design — and I wanted to call the page done. The photos, the note of my son's name, the date, and the place the photos were taken along with journaling provide more than enough details here.
Save design time
4. Let a pre-printed label or tag work as both title AND embellishment
Do you have labels, stickers, tags, or rub-ons with a variety pre-printed phrases or expressions in your stash? Let one double as embellishment and title. You'll save time in coming up with a title, rendering it and figuring out where to put it on the page.
There are some subjects and locations and I scrapbook over and over through the years. When I made this page, I didn't want yet another layout called "Jenness Beach." I scrapbooked these photos almost a year after they were taken and I didn't have any story or details to share. I just love the photos and want them on a page. The "Great Memories" label by Lynn Grieveson went with the look of Katie Pertiet's Coastal papers and brushes and took care of my titlework.
5. Incorporate your title into your journaling block
When you can fit your title into the space you've saved for journaling, the design process is simplified.
Once again, I'd left title-work until the end and hadn't planned for incorporating it into the page design of "Boston." What's more – I wasn't sure what to call the page. The "West Side Story" in the photo is prominent and conveys that we saw the play. Adding a small scale "Boston" at the top of my journaling block let me get a low-key title onto the page.
6. Put your title on a photo
When you're struggling with where to place a title, look for some clear space on a photo and put it there. You don't have to move other elements around to accommodate it and it's an efficient use of space for multi-photo pages.
Photos and journaling on "Fishing" defined a rectuanglar "inner canvas" I didn't want to disrupt with the addition of a title. The open sky on the larger photo makes a nice home for page title.
7. Span the width
Incorporating alignments into a layout design is a good way to give your page unity. If you've got a defined block of elements and open space nearby, place your title to begin at one side of the block and end at the other.
Paula Gilarde has used many alignments on "Storyland" to create a well-designed page. Her title's alignment with the photo block on right and left sides echos the journaling block alignments below the photo block. (From Masterful Scrapbook Design "Smorgasbord" issue.)
Lynnette Penacho turned her title on its side and extended it from the bottom of her photo block to the top. When things aren't quite fitting, even when you've played with spacing, insert a spacer like Lynnette's orange flower to get it all lined up. (From Masterful Scrapbook Design "Fast Starts" issue.)
Save time getting your title onto the page
8. Use a premade label
Selecting and then placing each alpha you need to make the words of your title can take more time than you sometimes have. Pre-printed labels are the speedy solution to this.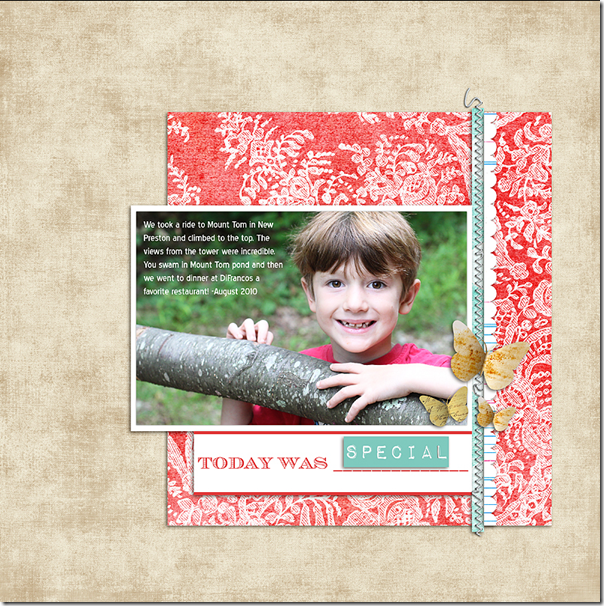 Celeste Smith used a label and a word sticker to put this title together quickly. (From Masterful Scrapbook Design "Fast Starts" issue.)
9. Use a font instead of alphas
Using a font rather than alpha saves paper and digital scrapbookers the time of selecting and placing the letters in your title words one by one.
Vivian Masket used a typewriter font to create her title "A Good Role Model" supporting her page subject and making for a quick page title. (From Masterful Scrapbook Design "Smorgasbord" issue.)
10. Jiggle, wrap, split, and fit
Cut down on time spent lining things up all nice and tidy or finding the perfect spot for your title by going with a purposefully messy look.
Michelle Clement fit her title "Oh, Worry" onto a tag-sized piece of paper and got a funky look to boot by splitting the word "worry." (From Masterful Scrapbook Design "Smorgasbord" issue.)
Are you already using some of these ideas to save time on your scrapbook page titlework? Are you inspired to give one of them a try? Link us up if you do.