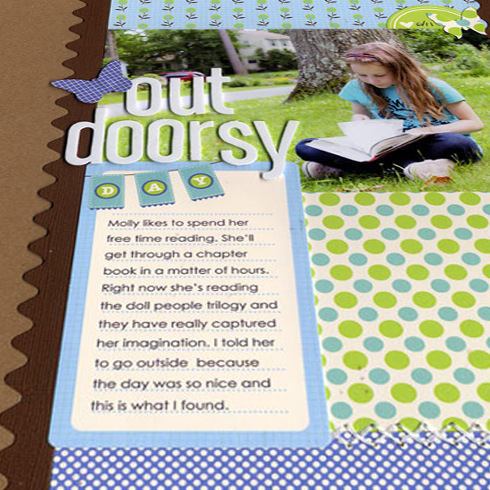 By Paula Gilarde
I like adding computer-printed journaling to my paper scrapbook pages.
I frequently use strips or journaling blocks, but I also like to use decorative journaling spots and tags.
While it can be a little trickier to add printed journaling, it's  not impossible. Here are a few tips to get you started.
1. Measure the journaling space.
2. Type your text in Photoshop Elements or in your word processor.
Here's how I did this in Photoshop Elements:
Create a standard document – 8.5″ x 11″, 300 dpi.
Turn Grid on (View, Grid).
Drag out a text box of 2″ x 3″ using the Horizontal Type Tool (T). This is when having the grid turned on is useful.
Select your preferred font size (I often use 10pt or 11pt for paper pages). Type your journaling into the text box.
Determine how many lines the  journaling should fill. This is determined by the journaling tag. In this case there are 11 lines.
Adjust the space between lines (or leading). You may need to play around with this. Select the Character Palette and change leading as I've shown in the screenshot shown here. Remember, you can type a number into the box, you are not limited to the numbers in the drop down list.
3. Print a test.
Do a test run on a regular sheet of printer paper to make sure you've got your size and spacing correct. Hold the journaling tag over the printed journaling to check. I do this at window so the light shines though. You can also use a light box.
4. Adhere and print to decorative tag.
Finally, adhere your journaling tag on top of your test page using re-positionable adhesive and send it through your printer again. Viola! Now you have perfectly aligned journaling on a pre-printed tag!
[lovejournaling]
[pgilarde]