For some people the term "scrapbook" evokes visions of construction paper, shaped photos and stickers.
But, for me, scrapbooking is about so much more:
In scrapbooking events and moments from my life and that of my family, I get a chance to re-live them, to reminisce.
In doing so, I've found that I've learned to appreciate my life more while I'm living it. It's made me realize that my life is pretty good, and pushed me to be thankful for my wonderful husband and enjoy the crazy times with my ever-growing and changing children. No, my life isn't extraordinarily interesting but it's my life and nobody else is living it quite like me.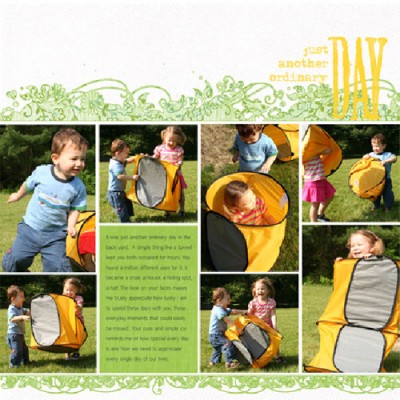 Just Another Ordinary Day by Paula Gilarde
Scrapbooking has improved my photography skills
Because of scrapbooking, I've learned to appreciate photography, and I am actively working to improve my skills.
Prior to taking up scrapbooking I really didn't have any interest in photos. In fact, I recently discovered that I possess only two photos from 2001, a year when many very big things happened in my life and in the world in general: I got engaged to my husband, we bought our first house together, we traveled all over Ireland among other places, we went to multiple weddings, I became an aunt for the first time. My nephew is the only reason that there are any photos of me at all from that year, and now, I could kick myself for not making more of an effort to record such a time of change in my life.
Photos are important! Even if you don't think they are right now, you will later.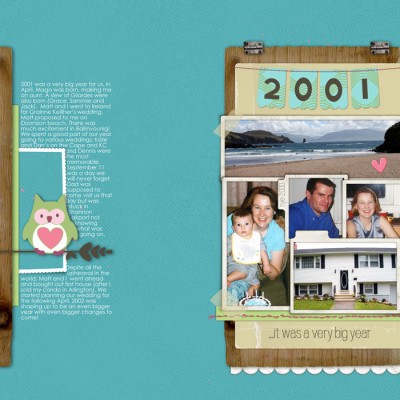 Scrapbooking has ensured I'll remember the "little things"
The devil is in the details – and so many of those are quickly forgotten.
Photographs are a large element in scrapbooking but the story and the details are just as important. Thinking back to my 40th birthday (which wasn't that long ago!) I remembered the people who were there, the weather, and the fun. It was when I read the journaling on my scrapbook page, that I recalled that my husband bought TWO cakes for me – one chocolate, one vanilla, one said happy and the other birthday. Tiny little details that make me smile now – I'm glad that I recorded them. And let's not forget all those cute things the kids do and say, relegated to the past sooner than you'd think.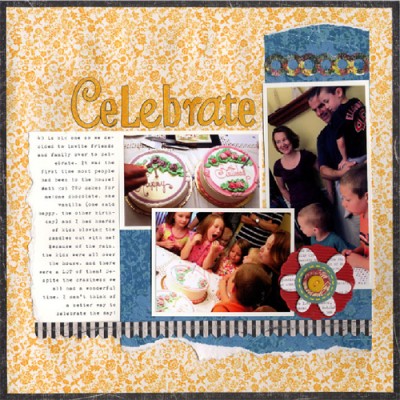 Scrapbooking has given me a greater appreciation for color and design
Paper crafts have always been a love of mine, and scrapbooking is a way for me to play with lots of paper. Digital scrapbooking has the additional benefit of playing with the same paper over and over!
I love learning new skills and there are so many techniques and tools to learn in every medium that I can satisfy that desire every single day. I've learned about graphic design and it's made me look at the world in a different way – I never flip through a magazine now without noticing the layout/design/colors. The following layout was inspired by a magazine ad for Kleenex!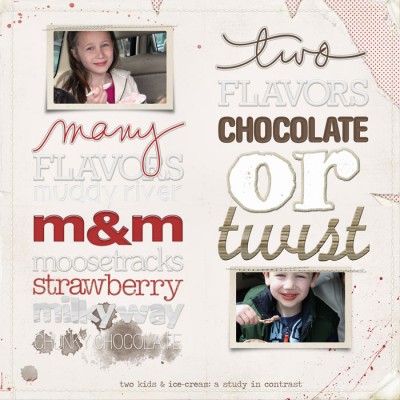 Ice Cream by Paula Gilarde – ad challenge inspiration
Through scrapbooking, I found friends with shared  interests
I've made many good friends through scrabooking.
Online message boards, challenges and design teams have provided me with many friends who share my interests. I've been fortunate to meet many of them in real life, also. We chat every day, not just about scrapbooking, but about everything going on in our lives. I feel very lucky to have these women in my life.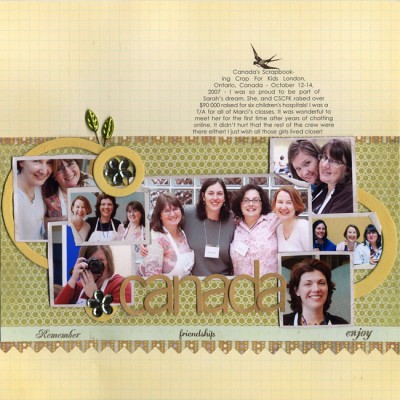 10 ways scrapbooking could change YOUR life…
I'm such a believer in the positive impact of scrapbooking, I made a layout listing MORE ways in which my life has been improved by scrapbooking: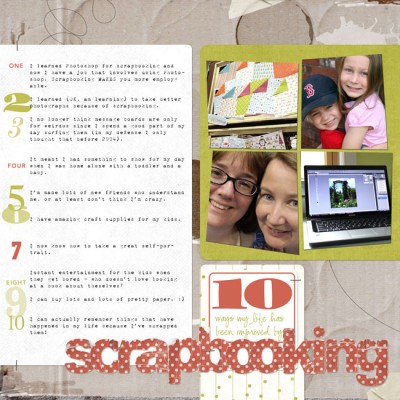 10 Ways my Life has been Improved by Scrapbooking by Paula Gilarde
Leaning Photoshop can make you more employable.
Scrapbooking can inevitably lead to improved photography skills.
Scrapbooking message boards introduce you to new friends and ideas.
Meeting other scrapbookers creates a feeling of acceptance and understanding.
Recording memories gives you a sense of accomplishment and fulfillment.
Having a handy stash of scrapbooking supplies increases your readiness when it comes to last-minute projects, gifts and crafting with your kids.
Scrapbooking helps remind you of the importance of capturing self portraits and personal thoughts.
Looking at scrapbooks is a great way for children and adults to pass time, share stories and reminisce.
Scrapbooking gives you an excuse to buy pretty things.
Now you can remember all of those extra special memories…because you've scrapped them!
Make some time to try out a craft that could enrich your life.  As the old slogan goes – "try it, you'll like it!"
[pgilarde]