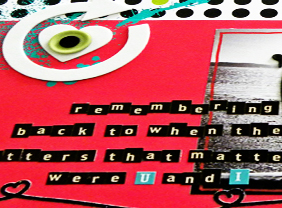 Whether you're a speedy scrapbooker or one who puts things together at a slower tempo, there are times when you need to step up the pace — and, yet, you still want your page to have a "wow" factor. You want it to be eye-catching and appealing without requiring hours of crafting.
I love the handmade details other scrapbookers add to their layouts, but I don't always have the time or patience for them. For me the trick is making the details I do spend time on really count. Elements that are well thought out and put together don't necessarily need to be time consuming.
Here are five things you can add to your pages to upgrade them almost instantly. You can take your pages from good to great in no time at all!  And they'll be easy to remember because they all start with "S." I call this my "S" factor.

#1- Splatters
Splatters add both realism and originality to a scrapbook page.  Whether used as a foundation or a simple accent, splatters, stains, smears or strokes of your favorite medium can give your layouts dimension and interest.  If you'd like to quickly add a bit chaos to your page, get out your paints, inks, or mists (or if you're a digital scrapbooker, your brushes) and have a little FUN!
Layout by Amy Kingsford

Sometimes a  splash of contrasting paint–or in the case of my layout, "Love Letters," a paint splatter rub-on–is all you need to add pizzazz to a page.  This page has a fairly graphic and clean look, but the small splatter on the left side adds to the fun color scheme while creating a visual triangle around the key elements of the page.

#2- Scatters
The randomness of scattered elements can evoke a carefree, even whimsical feeling.  Take your next layout from simple to stunning by adding a scatter of beads, flowers, buttons, sequins or another small element.  If you're feeling really adventurous you could throw in all of them!
Layout by Amy Kingsford

The background paper on "Together,"  already had the white outline of scattered flowers.  It was the perfect guide for the addition of a few buttons, sequins and rhinestones. When you really look at it, there's not much to this layout besides a photo, a frame, a flower and a bow, but to me it feels full of dimension and detail.

#3- Swirls
Swirls not only add motion to a page, they can unite the elements on it. If you'd like to give what seems like a lifeless page a new pulse, add a bit of swirl to the mix.
Layout by Amy Kingsford

For my layout "Bumblebee,"  I chose a template with a wonderful swirl of stitching across it, and then I added another set of swirls near the title to keep the eye moving throughout the page.  Although my son is sleeping in the photo, I wanted the page to have an intense and passionate feel to it.  The swirls go a long way toward evoking such feelings.

#4- Stitches
Stitches lend the feeling of permanence to the objects on your page.  They add charm and interesting detail while also contributing to the sense of things being complete.  If you've got unfinished business with one of your layouts, a few strategically placed hand stitches or a even a machine-stitched border could be just what you're looking for.
Digital scrapbookers can keep their favorite digital stitches in a "favorites" folder. Paper scrapbookers can keep their sewing machine loaded with white thread and easily accessible. Don't worry about the accuracy of your stitching — it's about the homemade touch rather than precision.

Layout by Amy Kingsford

On "Sweet Dreams" I stitched down an assortment of patterned blocks along the left side of my page.  The stitching unites and makes all of these colors and patterns feel like a collection.
#5- Sparkles
A little bit of sparkle can go a long way.  Glitter, rhinestones and jewels are a fabulous way to take an understated layout up a notch, while giving it a polished look. If you think your layout is missing something, why not try a bit of bling!
Layout by Amy Kingsford

When I took that final glance at my layout, "A Family That Plays Together," I  felt like it was missing something.  My design was completely centered around that wild multi-colored neon paper.  Because of its loud colors and large-scale print, I was worried about overdoing it, so I chose a very clean design and simple elements.  At the end, though, I was a little under-whelmed. A touch of bling turned out be just what this scrapbook page needed to make the important elements shine.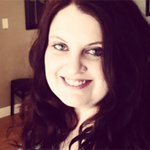 Amy Kingsford
Amy writes for and administers the Get It Scrapped blog. She's also our Creative Team Coordinator and a teacher at Masterful Scrapbook Design.
Amy Kingsford is a happy wife and blessed mother from Northern Utah. In addition to her work here, she also shares ideas and inspiration on creative approaches to modern scrapbooking and papercrafting at her blog My Letter-Sized Life.
The July issue of Masterful Scrapbook Design is all about speeding things up. Join us!

In-depth seminars, focused lessons, live webinars (with video & audio recordings), and annotated galleries make membership at Masterful Scrapbook Design an inspiring and instructional value. Join now and grab a discounted bundle of archived issues.