Do you love finishing a page and the accompanying sense of accomplishment? One memory down; hundreds more to go!
If you want to be a more productive scrapbooker, check out these ideas for making the most of your scrapbooking time.
1. Speed up your scrapbooking with a digital quick page or paper page kit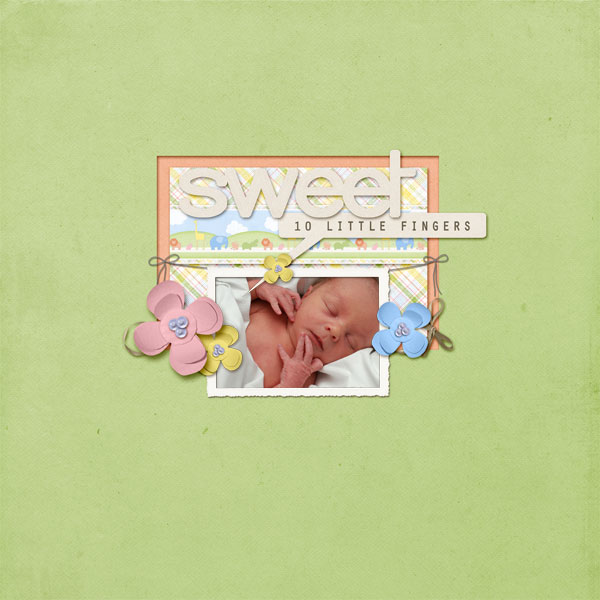 A surefire speedup to scrapbooking is to use a paper page kit or a digital quick page.
When you purchase from a paper kit club, you get the benefit of papers (and even embellishments!) that already coordinate all selected for you.
A digital "quick page" is different from a digital template. A template lays out all the spots for papers and photos — which you select. A "quick page" already has papers and even embellishments — you just add your photos.
When I was first starting out with paper scrapbooking and then again with digital scrapbooking I found page kits and quick pages quite useful. Even today, one will catch my eye because it suits my style or is simply too cute to pass up.  This was the case with the quick page Ten Little Fingers by One Little Bird Designs.  It took me all of five minutes to insert my photo and move onto to my next layout. Talk about a time saver!
2. Speed up your scrapbooking with a page sketch or digital template
Sketches can be especially useful when working with shapes you don't typically use.  Because I don't often use round mats on my layouts, I was having trouble getting started with my layout Family Man. Instead of pondering this design for the next week, I started out with one of Becky Fleck's Round Map Sketches. I'm sure glad I did.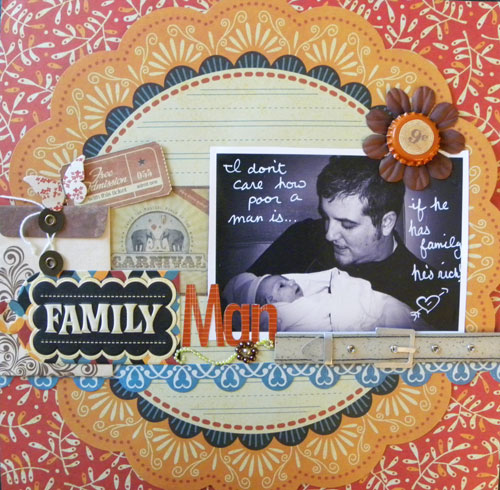 Coming up with a perfect design for each individual layout can be a time-consuming process, but when you use digital templates you've got a great design to build from and you can easily alter it for a different look every time. This digital template from Kitty Designs was perfect for my layout, They're Playing Our Song. It offered me those lovely layers I was looking for, as well as the ability to customize the design to fit my needs.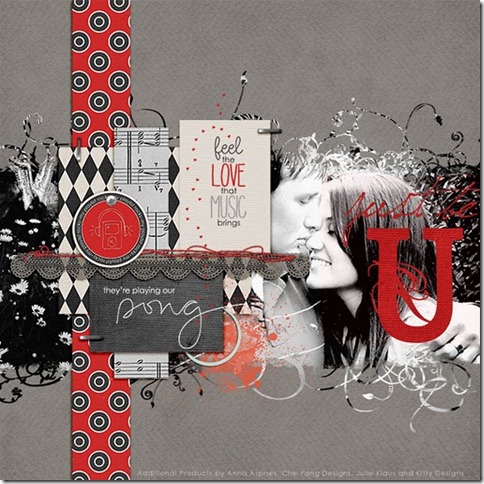 3. Speed up your scrapbooking with a "lift"
When you find a page you like, use it as your inspiration: "lift" it. My Life Is is a direct lift of Laura Bush's page Duck Landing, I loved how she used her date stick in this layout and wanted to replicate it.  Though I loved these date sticks when I bought them, I always seemed to pass them over because I wasn't sure how to use them. Scraplifting can be a great way to get ideas for pages that use new product.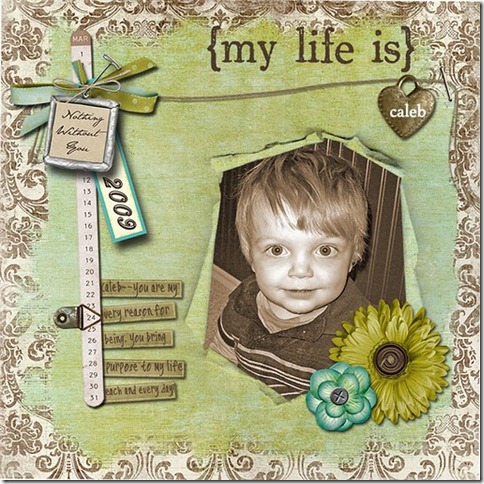 In He Said, She Said, I used the same general idea that Maggie Holmes used in her layout Opposites Attract to illustrate the differences between my husband and myself.  When scraplifting you don't have to confine yourself to the design of the layout: look for inspiration in the journaling, theme or even the title to help jump start your creativity.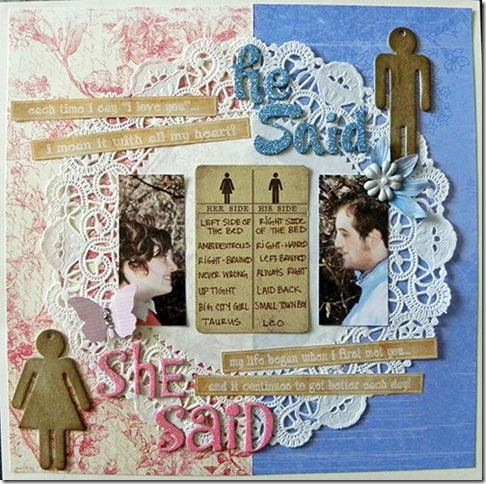 4. Speed your scrapbooking by working with one coordinated collection of product
You can save precious moments by confining yourself to using a single kit or collection to create your pages.  Oftentimes too many choices is overwhelming.  Using  collections cuts out the guess work of matching things up and it saves you the time you'd otherwise spend combing through your stash.
I used a digital kit by Danielle Young, in my layout Simply Unforgettable.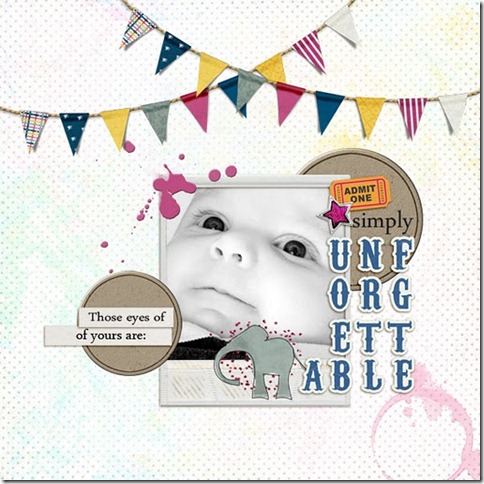 The beautifully feminine papers and embellishments included in the November kit from Scrap This Kit were perfect for my layout, "Just Be You." As a mom of two boys, I don't typically make overly feminine pages, but it's nice to have a change once in a while.  That is what I love most about kits–not only do you not have to stress about matching colors and searching your stash for the perfect complements, you also get an opportunity to use colors and products you may not normally work with.  This way you make the most of your time while trying out something new!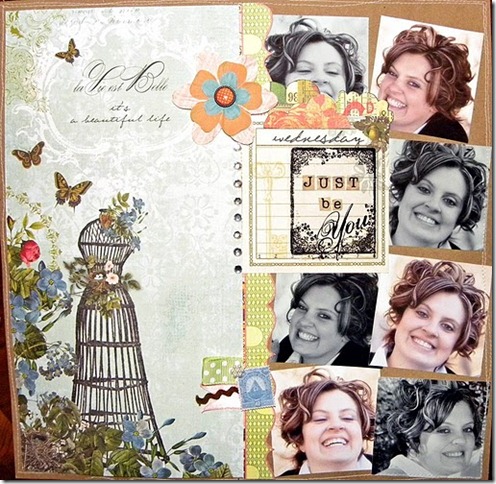 5. Use an Inspiration Piece
Getting inspiration from something other than a scrapbook page or scrapbooking product is a great way to get started and make something original.
My layout, "You're Why I Love Being a Dad," was inspired by a ruffled messenger bag designed by Donna Downey.  I instantly fell in love with the idea of adding ruffles to my layout. Because they are so dynamic, I was able to use with a simple page design. It turned out the most time-consuming part of this layout was threading my sewing machine!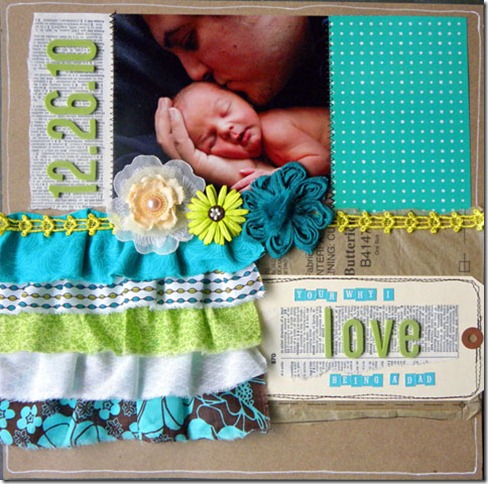 In A Family That Plays Together…, I was inspired by a photo of a chalkboard and neon colored chalks.  Not only did I want to create a chalkboard effect by using elements that would contrast well with my dark background , but the neon colored chalks in the photo also played a key role as far as color inspiration.  With this layout I tripled up on my time-saving techniques by working with one coordinated collection, as well as using a page template (both by Biograffiti). I completed this layout in under 30 minutes!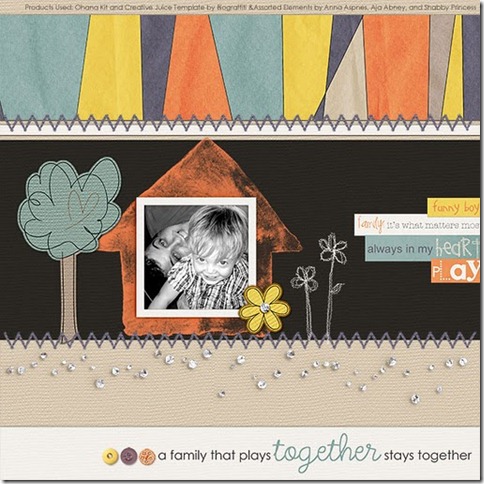 The next time you'd like to make the most of your scrapbooking time, give one or even a few of these time-saving ideas a try.  When you save time recording one memory, you be able to spend that time recording another!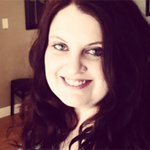 Amy Kingsford
Amy writes for and administers the Get It Scrapped blog. She's also our Creative Team Coordinator and a teacher at Masterful Scrapbook Design.
Amy Kingsford is a happy wife and blessed mother from Northern Utah. In addition to her work here, she also shares ideas and inspiration on creative approaches to modern scrapbooking and papercrafting at her blog My Letter-Sized Life.