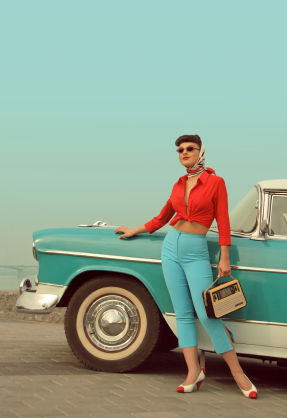 By Pattie Knox
digital technology is a boon for scrapbooking 25-year-old photos
Are you a child of the 1960s? Did you grow up in the 70s or 80s?
Hard as it may be to swallow, those days gone by are now considered "Retro."
While I no longer own shag carpeting or a lava lamp, my aunt recently gifted me with a huge collection of 'retro' photos from my past. I'm starting an album of these photos as a Christmas gift for my brother this year. As much as I'm delighting in sifting through these old shots, I'm also discovering that there are certain challenges involved in scrapping 25- to 35- year old photographs.
Photos from that era are often yellowed with age, out of focus, and grainy due to the quality of the Instamatic type cameras that were so popular then. The colors of the fashions and home décor featured in many of these priceless memories pose yet another problem for the modern scrapper.
Digital design to the rescue once again! Armed with your scanner and digital imaging software, you can perform minor miracles in terms of restoration. Let's begin the process with the photos themselves.
---
how to scan older photos
settings for smaller (3″ x 5″) photos
600 dpi resolution
enlarge 150% to 200%
turn off all automatic scanner sharpening
set your scanner to its highest bit readout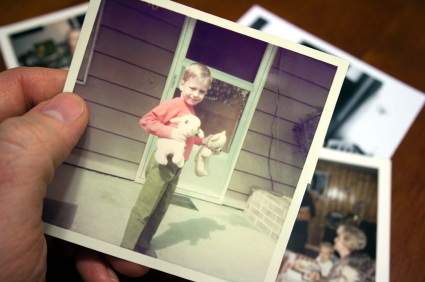 Many of the photos in my collection are 3″ x 5″ and some are even 3.5″ square. In order to get the most detail possible out of the photo and enlarge it a bit for use in my layouts, I scan at a 600 dpi resolution with my scanner set to enlarge the scan by anywhere from 150% to 200%. It may be my imagination, but I think that the photo is a bit crisper and clearer when I enlarge via the scanner software rather than within Photoshop.
While sharpening is a matter of personal preference, I always turn OFF all the automatic sharpening and other functions in my scanner as I prefer to do my "tweaking" in my image editing program.
For the best results when scanning make sure that you have your scanner set to its highest bit readout if the option is available to you. For more in-depth discussion regarding scanners of all makes and models along with tips for successful scans visit http://www.scantips.com/ on the Web. It's an excellent resource and is chock full of informative articles.
---
how to restore color to older photos
When I scanned in the photos of my siblings in the layout below, they were faded and had a yellowish cast.
There are many options available to you for altering the colors of your photos.
1. free filters
Filters provide a quick method of editing your scanned photo. I used the popular (and free!) Virtual Photographer filter available for download at: http://www.optikvervelabs.com/
2. image editing software (like Photoshop/Photoshop Elements)
You can achieve the same results filters offer with manual adjustments in  your image editing software. Be sure to work on a duplicate copy of the scanned photo when experimenting! Try adjusting any of these settings in Photoshop or Photoshop Elements: curves,
levels, contrast, sharpness, hue-saturation, color balance or selective color options. I often have great results just by clicking on the "Auto" Levels, "Auto" Curves, "Auto" Contrast or "Auto" Color in Photoshop. ()
If you are a Photoshop Elements user you can correct a yellowish cast by choosing "Enhance", "Adjust Color" and moving the bar away from yellow and towards pink.
3. convert to sepia or black and white
Another option for photos with clashing colors or an extreme color cast is to convert the photo to sepia or black and white.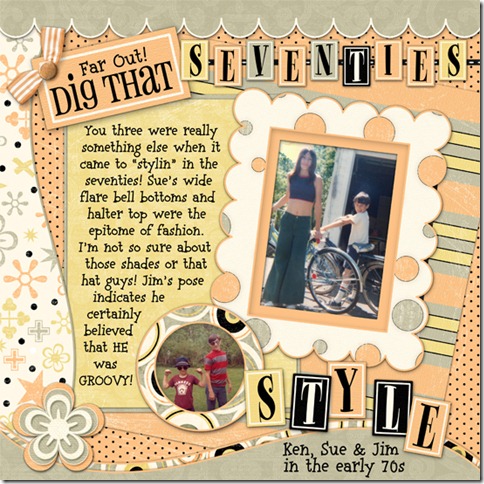 ---
choosing scrapbook product colors and patterns for older photos
When I think of certain eras, I tend to think in color. I've already mentioned the olive green, gold and burnt orange that scream 70s at me, but let's look at a few other color schemes, patterns and fonts that are representative of an era.
1960s
During the1960s, bright bold colors and patterns abounded in every aspect of life.
Geometric and floral designs were in along with the "hippies" flaunting their tie dyed T-shirts. Bright reds, hot orange, green florals and mod shapes filled homes. Cars in yellow, rust, pink and various shades of blue were featured in showroom floors.
About.com offers some suggested Sixties Color Combinations with CMYK Formulas at: http://desktoppub.about.com/od/colorpalettes/l/blcpsixties.htm
1970s
I started my married life with in the late 70s with avocado, gold and burnt orange items. Popular colors in the 1970s were olive green, mustard yellow, burnt orange, rust, powder blue, turquoise and brown. Fashions exploded with pattern! Paisley, madras plaids, jungle prints and huge tropical flowers were the rage. Hemp, velour, rickrack, and corduroy were hot textures along with the unforgettable polyester double knit fabrics! Wood paneling (the darker the better) was installed everywhere.
1980s
In the 1980s, the fashionable sported neon "day-glo" colors, preppy pink and green combined, lots of pastels and stark black and white outfits with no touch of color at all. Patterns were wild! Checkerboard, paint splattered, comic strip motifs, outrageously large roses, and oversized numbers & letters took center stage. Stone-washed denim, leather, spandex (think biker shorts), parachute nylon and metal accents are textures that exemplify the 1980s.
---
retro fonts to use on scrapbook pages with older photos
Well chosen fonts can add an air of authenticity to your retro layouts. A few of my favorite places to seek out free funky fonts are:
---
additional resources for inspiration and information when you're scrapbooking "retro" photos
Take a trip back in time (and gather some ideas for your layouts) by visiting these sites on the Web:
Sixties – http://www.sixties.net/sixties.htm
The mega-site on the 1960's-all the people, places, events, music, news, politics,
fashions that make the '60s so unique.
In the70s – http://www.inthe70s.com/index.shtml
70s Nostalgia page devoted to music, movies, TV, world events, and fads.
In the 80s – http://www.inthe80s.com/index.shtml
80s Nostalgia page devoted to music, movies, TV, world events and fads.
There are many, many more internet sites available than I have listed here. Just enter the decade you are seeking information on into any search engine and be prepared to spend some time visiting.
I'm looking forward to seeing some…like…totally cool …layouts from all of you with retro photos to scrap. Link us up in the comments and happy scrapbooking!
[pknox]