We've all used a computer to type up our journaling – right? Digital labels or journaling spots can add a lot of interest to your layout without a lot of effort. In my layout I used the Spring tag from Ali Edwards' Spring Celebrations Element  Pack. I also framed my photos with Katie Pertiet's Photo Clusters No. 28 before printing and then cut them out with the frame.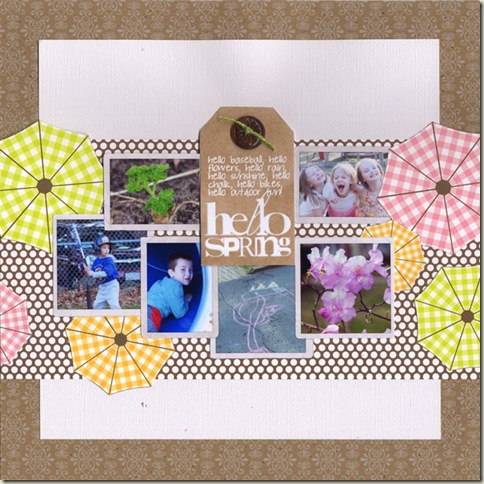 Here's how I did it in Photoshop or Photoshop Elements:
I created a new 8.5×11 file in Photoshop – ctrl-N, preset: "letter" (8.5×11).
I opened the label .png file in Photoshop and dragged it onto my canvas using the move tool.
Using the Horizontal text tool I drew a text box inside the label, and typed my text.
I printed my label on photo paper, cut it out and placed on my layout. You could also print it on patterned paper or card stock depending on what effect you are trying to achieve.
This can also be done in MS Word:
In Word, open a new document.
Select Insert, Picture, From file.  Browse your computer for .png file and click Insert.  You can resize the label or image by dragging the corners.
Add you text to the label by adding a text box on top of the image – making sure that you set the fill and line color to be none.
Print your label and cut around the edges before adding to your layout.
[pgilarde]