By Pattie Knox
As memory keepers we recognize that photos only tell part of the story. We fill our own cardboard boxes, knowing that this memorabilia contains the missing pieces in the tale of our lives. My own two children are now in their twenties. I have folders and boxes scattered throughout my house containing art work, report cards, sporting awards, greeting cards, etc. With the aid of my scanner and digital editing software I've embarked upon a mission to bring these treasures out of the box and preserve them before time, light, and air take their toll.
My son wrote this story in 1987 as a First Grader. I scanned in the individual pages and used Photoshop to reduce the resulting scans in size. I changed the blending mode of the artwork layer to "Multiply" and then used Photoshop's clipping mask feature to combine the drawings with digital papers.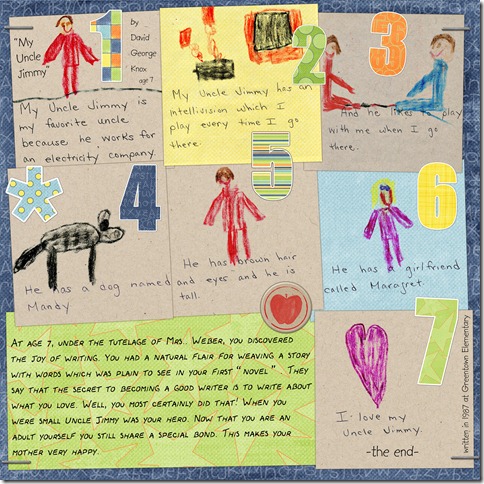 Before we know it another back-to-school season will be upon us, bringing with it more and more reams of papers and assorted items. Do you find that you are loath to dispose of anything, but wonder where to store it all? Consider taming the clutter by adding these treasures to your digital layouts and rest assured that future generations will appreciate your efforts. (And you may just gain a little added closet space in the bargain!)
Tips and Tricks for Adding Memorabilia to Your Layouts
Consider scanning in a sample of your child's handwriting and creating a custom brush from the scan. Using your "digital stamp" you can create a custom background for your layout in a variety of colors and sizes. Try the same technique with artwork created by your small artist.
For the best results when scanning make sure that you have your scanner set to it's highest bit readout if the option is available to you. For more in-depth discussion regarding scanners of all makes and models along with tips for successful scans visit http://www.scantips.com/ on the Web.
When you scan a drawing on white paper, the paper often has a grey tint. To turn the grey back to white, adjust the levels using your photo editing software. In Photoshop you can click the white (rightmost) eyedropper on the Levels dialog box. Move the cursor onto your image and click on the grey area. The grey will be converted to pure white automatically.
The translucent nature of newsprint can cause the text on the opposite side of the paper to "ghost" through when scanned. Lay a piece of black paper on top of the clipping before scanning to avoid this problem.
When scanning bulky items which keep the scanner lid from closing tightly, the light seeping in around the edges may create unfavorable results. Prevent this from happening by covering small items with a shoebox lid before scanning. For larger items (such as a book) try covering the entire scanner with a heavy dark cloth or towel.
Avoid scratching the scanner bed glass by laying a clear transparency sheet under items such as buttons, pins, etc. that could damage the glass when the cover is closed.
Scan items such as artwork, certificates, diplomas, etc. at full size and then reduce them with your photo editing software. You'll be amazed at how many pages you can consolidate into one layout.
If the item is too big and bulky for your scanner (or you don't own a scanner), take a close up photo to incorporate into your layout.
Suggested Memorabilia
Hospital bracelets, bassinet ID cards, itemized hospital bill
Label from first jar of baby food
Piece of wrapping paper (baptism, birthday's, Christmas, etc.)
Pair of baby booties
First tooth your child loses
First attempts at writing letters and numbers
Labels and boxes from favorite foods and/or beverages
Kid's Meal box from favorite fast food restaurant
School art and papers, awards, and certificate
Postcards from places visited
Favorite family recipes
Military records
Newspaper articles
Ticket Stubs
Medals and pins
Emblems of a favorite sport or team
Team rosters from sports or school organizations
Party favors from birthdays
Covers from favorite books
Stamped fingerprints/footprints
Greeting cards and letters
Store receipts showing items purchased and prices
Fabric scans – security blanket, favorite item of clothing, furniture upholstery
CD Covers, IPod playlists, DVD cases
[pknox]