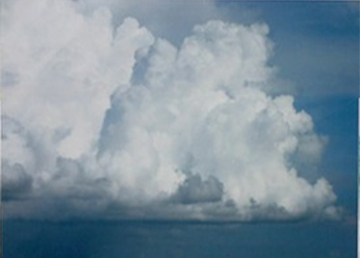 Clouds happen to be one of my favorite motifs!  I find that they are so versatile.  They can bring a carefree and cheerful feeling to your whimsical pages or a soft and dreamy effect to your more romantic pages.   And as you will see below there are so many fun ways to use them on your layouts.
A few interesting facts about clouds
There are over 100 different types of clouds, however the flat-bottomed puffy clouds, pictured in many of the layouts below are called "cumulus" clouds
Clouds are made up of frozen water vapor that has evaporated from the oceans and lakes on the Earth's surface.
Rain falls from clouds when they become too heavy to hold any more moisture.
Saturn's clouds are composed of liquid methane.
The largest clouds in the sky are "cumulonimbus" clouds and can stretch over six miles high and hold more than half a million tons of water.
Some religions, such as Hindu and Buddhism consider clouds  to be the "spiritual" manifestation of the elephant and as such hold clouds in great regard.
Lt. Rankin of the USAF is the only man known to have survived falling through a  cloud.  After his plane had crashed at 50,00 feet in 1975, he was ejected and was caught up in the clouds treacherous pressure and hail for over an hour.
Ideas for using clouds on your scrapbook pages
1. Use clouds to set the scene for your story.
In Kayleigh's layout, "School" she has set an adorable scene, with the sun and cloud above and tree below, this not only frames her photo and journaling and draws the viewer into the layout's "world of elements," but it also helps to set the overall tone for the page.
2.  Bring  a soft, dimensional effect to your page with puffy felt clouds.
In this fun layout by Doris, she charms the viewer with an adorable homespun feel she's created with the use of her puffy felt clouds and stitched-fabric sun beams.  She also uses them to complete a vibrant visual triangle, which directs the viewer's eye around the page to her small excerpts of journaling.
3. Bring a bold contrast to your page with some beautiful cloud pattered paper.
Aaron's use of this bold patterned paper, in his layout "Let Your Dreams Soar" creates a a great sense of contrast right off the bat—allowing the other elements on his page to really pop.  However working with such a bold pattern can often lead to a look that some might feel is a little "busy".  Aaron avoids this appearance by clustering all of his elements tightly and allowing for a great deal of white space.  This helps give the eye one focal point, thereby avoiding the distraction that can occur with bold patterns.

"Let Your Dreams Soar" by Aaron Morris (SirScrapalot)
4.  Reinforce a vintage theme by using clouds cut from book print or other ephemera.
Like Kayleigh's earlier layout, I've used clouds in my layout to create a scene in which my photos and journaling can reside.  But in order to further my vintage theme, I've chosen to use clouds with a worn book print pattern and accented them with sprinkles of rhinestones to mimic rain.
5. Let your clouds take center stage by incorporating a photo of them into your layout.
If you truly love clouds then why not let them be star of your layout! Along side the photo of her son playing in the water, Doris has also seen fit to include a photo of the beautiful clouds overhead that day, in her layout, "Ocean Symphony."   In this instance, Doris has used her clouds to help tell her story in its entirety.
6.  Bring some funky texture into your page with a cluster of stitched clouds.
Everything about this layout screams "hip," from its bold color scheme, to its paint-splattered foundation, to its black and white photo treatments.  Clouds can be hip too… when introduced in a new way.  So to top off this tribute to the two "hippest" people I know, I introduced my clouds in the form of some messy stitches for added texture and fun.
7.  Bring some fun into your  layout with doodled clouds in your background.
The title of Doris' layout couldn't be more perfect and neither could her adorable doodles, that set the "carefree" tone for this layout. Along with each of her other embellishment choices, these hand-drawn clouds bring a definite fun factor to Doris' layout, all while creating a beautiful scene.
8.   Create the illusion of real clouds with a beautiful misty overlay.
I just love this realistic cloud effect that Kayleigh has used in the upper corner of her layout, "Remember This Day."  With this misty overlay, its as if she's captured a cloud from the sky and lassoed it onto her page.  She has also created a visual interest by extending the clouds within her neat and tidy grid outside of its boundaries and into the whitespace of her layout, thereby creating a bit of pleasant tension.
9. Create a touch of whimsy in your layouts by adding some pattern paper clouds.
With this big bunch of patterned paper clouds, Karen has created a playful and carefree effect, which reinforces her title and supports these fun photos in her layout, "Play, Laugh, Love." Her use of a series of contrasting patterns creates interest, while her efforts to coordinate her colors with her title, creates a nice diagonal pull, which leads the viewer's eye throughout the layout.
10.  Reinforce your theme and create unity through the use of a subtle cloud-like silhouette.
This sweet sleepy-time layout of my son wouldn't be complete without a few stars and of course a cloud to reinforce its theme.  However, with all of my subtle element choices from the soft color scheme, to my whispy title, to the sparse sprinkle of embellishments. I chose to go with a more subdued approach, by adding this wire frame with an adorable cloud- shaped silhouette.
Do you have a thing for clouds…?  We hope to see more of them in all of your layouts!
[akingsford]