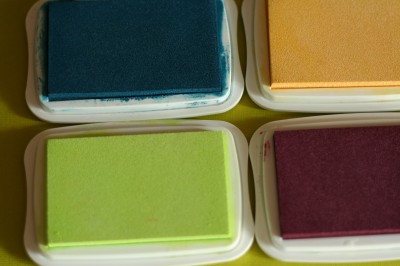 I like inks.
I like inks in multiple shades of blue, a wide variety of reds, and every other color of the rainbow. I also like inks from many different manufacturers and in many different styles.
So how do I keep track of my towering colorful stacks of ink pads?
Easy. I do it with one little swatch ring that I keep close at my desk, but is just as easy to tuck into my jacket pocket when I go to the store. Are you curious yet? Good!  Then read on…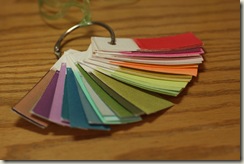 This is a picture of my ink swatch ring. I have it tied to a ribbon so that I can hang it easily right next to my work area, and I have it on an O-Ring so that I can easily add more swatches as I go– because you know I'm going to buy more inks.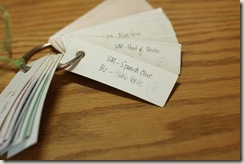 When I purchase a new ink, the first thing I do upon getting it home is to create a new swatch. My swatches are cut from white cardstock, measure one inch by three inches, and have just a simple hole punched in the one end. I apply the color to my swatch by simply rubbing the ink back and forth over the surface of the cardstock.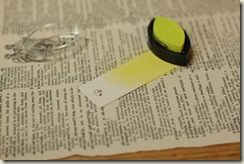 To take it one step further, I write the ink color and brand of ink on the back of the swatch. This helps me to narrow down which tower of inks that particular color is in. I also go so far as to write the name of the matching color of cardstock (and if it's Prism or Bazzil) because I sometimes enjoy (need) having my inks match my cardstock exactly.
I'll be the first to confess that I felt a little over-the-top when I began my ink swatch ring a couple years ago. I'm not usually quite so organized when it comes to my supplies. But honestly, it's the best thing I ever did when it comes to stamping. The time savings have been huge. No more guessing. I also love that it's so easy to grab when I go to the store and that it's also saved me money. I no longer accidentally purchase the same ink twice and I enjoy making sure I have all my favorite shades. As a bonus, it also makes it very easy to match the cardstocks right in the store.
Now to go add my purchases from this morning…. I was in a yellow mood!
Sharyn Tormanen developed her stamping skills and techniques while designing for stamping companies Close To My Heart and Technique Tuesday. See more of her work and get awesome stamping and memory keeping tips on her blog Live From Tormville.