by Tami Taylor
In Alice's Adventures in Wonderland, the King says "Begin at the beginning, and go on till you come to the end: then stop."  What fascinates me is how different the end is for everyone.
You could give a group of kindergartners the same three colors of paint and a brush and you would get as many different pieces of art as there are stars in the sky.  Seeing the different creations is one of my favorite things about scrapbooking.  It's what I love most about sketches and scrapbook kits.  Everyone starts at the same point, but the ends are all unique and exciting.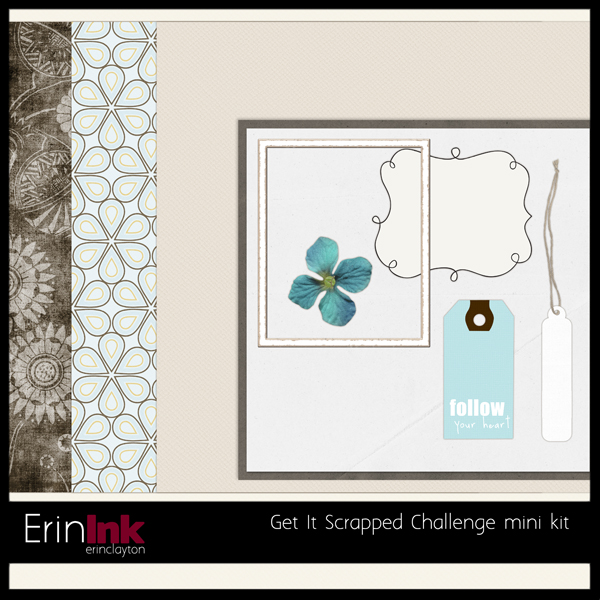 A few weeks ago I mentioned this idea to Amy Kingsford.  She contacted Erin Clayton of ErinInk who immediately jumped on board, agreeing to sponsor this challenge and donating a lovely mini-kit for everyone to play along.   The directions the designers were given were simple:  "Here's product, scrap."
Each of the designers did some very cool things while staying true to their own style.  The neatest aspect of the challenge was seeing product cross the line from digi to paper scrapping.  Without further ado, here are the layouts created by Amy Kingsford, Paula Gilarde, Michelle Houghton and myself.
Amy Kingsford is our resident "MacGyver", I honestly think she leaves nothing unaltered.  In one of her more subtle alterations she chose to shade the journaling box.  I love how the perfectly laid splashes of color add interest and draw your eye to the center of the layout.  (And framing that bit of brown patterned paper was brilliant!)
Paula Gilarde has a style that makes me giddy.  I can't believe how she can use just a few chosen details and wind up with a simply stunning layout.  I love how the tag lies down the side of the food photo with an extra tidbit about the event, it's perfect.
Michelle Houghton is an art teacher.  It was no surprise when I got her layout that there is a touch of doodling on it.  The surprise was that flower; it looks so real.  She told me the secret, she printed it out on photo paper then cut it out, genius!  (Don't tell her I told you her trade secret though.)
And lastly, my layout.  As soon as I received the digi kit I knew the flower, frame and cool patterned paper had to be printed on transparency.  Grabbed my scissors; trimmed the flowers, cut the hearts and–bob's your uncle–slapped the layout together!  The fun 'mistake' was when I used glossy accents to glue the flower layers together the ink ran a little and gave the layout this neat yellow center.
Now you try.
The kit is amazingly versatile so don't be shy.  When you're done, please share a link here in the comments, I know we'd all love to see what you do with the great kit ErinInk donated.
Erin Clayton has been designing digital scrapbooking under the name ErinINK for almost two years now, featuring designs that she calls "clean with a touch of whimsy." She specializes in digital templates and Project 365, and wonderfully contemporary papers and elements, that are sure to be the perfect addition to all of your digital and hybrid projects. But don't take our word for it…check out her shop at Memory Scraps to see for yourself! You can also visit her blog for fabulous freebies, hybrid project tutorials, Photoshop how-tos and photography tips.
[ttaylor]