Leaves can evoke a feeling of transformation and change in your scrapbook pages.  They can also signify the passing of time or they can simply mark that time of year that my family and I look forward to most!  To me leaves mean so much more than raking–they mean laughter and play, hot chocolate and pumpkin cookies and above all else a strong sense of gratitude.  What do leaves mean to you?

a little bit about leaves
While leaves from different trees can symbolize different things, generally we think of leaves representing  growth, life and transformation.
Four-leaf clovers are 10,000 times more rare than a three-leaf clover or shamrock—hence their association with luck.  However, a clover can have many more leaves than three or four, in fact the highest number of leaves on a clover recorded is 21.
Lilly pads are actually the floating leaves of the water lily, that sit on the surface of the water to collect light and make food for the flower.
Although it would be highly unlikely for two leaves to share identical prints, the same concept that applies to the human fingerprint, does not apply to leaves.  A leaf's print is composed of veins and developed largely as a result of external factors like temperature and humidity.
The oldest fossil of a leaf dates back to over 140 million years ago.
The beautiful orange and yellow hues of fall leaves are actually the original pigments present in the leaves all year long. They appear green because their natural pigments are overwhelmed by chlorophyll–whose production ceases during the winter along, with a tree's food making process, photosynthesis.
While some palms are said to have the largest leaves on land, Kelp leaves are the largest in the world with individual leaves that stretch approximately 200 feet.
Lettuce, cabbage, artichoke, and collard greens are just a few of the leaves we eat.
ideas for using leaves on your scrapbook pages
1. Use leaves in your patterned paper.
Sometimes using bigger or more intricate prints and patterns such as leaves can be intimidating, but in "So Happy to Have You," I've used a nature inspired pattern paper to set the tone for this precious layout of my first son's birth.

Layout by Amy Kingsford
2. Sprinkle your layout with leaves.
Leaves are so fun…aren't they?  Doris Sander, had a little extra fun with her leaves and created this beautiful sprinkle of leaves over her layout, "Can You Feel the Love."  This creates a great backdrop for her photos as she repeats the colors present in her photos, while reinforcing their bubbly tone.

Layout by Doris Sander
3. Use leaf brushwork as a backdrop to add depth to your layers.
Brushes are a great way to add an additional layer of dimension and interest without being too overpowering.  In Debbie Hodge's "Discovering Newburyport" she created a soft muted backdrop for her more prominent layers to project off of, giving her layers a strong presence, while maintaining the relaxed feel of her layout.

Layout by Debbie Hodge
4. Create movement and direction in layouts with leaves.
The shape of a leaf or stem of leaves can give us the ability to create direction and movement in our pages, depending on how they're positioned.  In Kayleigh Wiles' layout, "Construction Zone", she has used the overall arch of her leaf elements and nature-inspired brushes to create a visual triangle that directs the eye—almost like arrows– highlighting the most important parts of Kayleigh's page.

Layout by Kayleigh Wiles
5. Add an outline of leaves for charm.
In Doris Sander's layout, "Baby Girl" she added a small stamped stem of leaves that serves so many great purposes.  Not only does it accent her journaling, but it also creates a sense of flow by repeating the same shape and colors of the stems in her photo.  Finally this extra special detail brings a certain charm to her layout and the extra detail gives it a polished look.

Layout by Doris Sander
6. Use leaves in a cluster.
When used in a cluster, leaves can bring substance to the other elements, while creating dimension and interest.  The flourish effect that is evoked by a bunch of leaves can provide a dynamic backdrop to any cluster of elements–as with the cluster that Kayleigh Wiles included on her layout, "Fall Walk."  Notice how the stem of leaves that grounds her cluster of elements in the top left corner, lends weight to her other embellishment choices.

Layout by Kayleigh Wiles
7. Reinforce the theme of your layout or convey emotion with leaves.
Use leaves to remind your viewers of the theme or time frame that your layout relates to.  In my layout "Back 2 School," I've used this sprinkle of leaves–not only to reflect the season–but also to symbolize the transformation in my nephew's life, as he returns to school…another year older and wiser.

Layout by Amy Kingsford
8. Create depth and dimension by layering crumpled paper, fabric or felt leaves to your floral embellishments.
Stacking embellishments is a great way to bring visual depth and dimension to your layouts.  And adding the extra layer of a textured leaf to any floral embellishment is perhaps the simplest and most natural way to give a floral embellishment more weight on your pages.  In Tania Willis' "Everyday Life," she uses crumpled hand cut leaf shapes to give even more weight to her already visually stimulating stacked flowers.

Layout by Tania Willis
9. Create a vintage/collage look by cutting leaves out of ledger paper, cardboard, book pages or sewing patterns.
Whether your leaf shapes are hand cut, die cuts or digitally clipped, leaves cut from ephemera, can bring the perfect feel to your heirloom, collage and vintage style layouts.  Debbie Hodge's "Love Your Company" is the perfect example of how a few subdued and simple vintage-style leaf stems can really reinforce a vintage theme.

Layout by Debbie Hodge
10. Use a leaf mask and spray ink for texture and an added "artsy" feel.
Leaf masks paired with spray mist can be used to create voids for journaling,  beautiful patterns and wonderful texture.  In Dina Wakley's, "Sweeties," again we are seeing the attributes of the leaves being used as a dynamic backdrop, but this time with a super textured and artsy effect.

Layout by Dina Wakley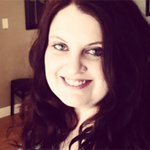 Amy Kingsford
Amy writes for and administers the Get It Scrapped blog. She's also our Creative Team Coordinator and a teacher at Masterful Scrapbook Design.
Amy Kingsford is a happy wife and blessed mother from Northern Utah. In addition to her work here, she also shares ideas and inspiration on creative approaches to modern scrapbooking and papercrafting at her blog My Letter-Sized Life.