by Tami Taylor
Monthly prompts, sketches, ideas & encouragement for getting your photos scrapbooked "one month at a time." See the all of Tami's One Month at a Time posts.
It's festival time!  Yes, there are festivals year round for various reasons, but for me October is the month we always went to the most festivals.  When I was a kid our big "fall is here" moment was attending the Huron Applefest.  We would go early, eat a dozen plain donuts and drink a gallon of apple cider.  We always ended up at this little hole in the wall tavern and gorge on the all you can eat fish & chip platter.  Among other things there were color tours, October Fest, and who can forget the Michigan Renaissance Festival.
What festivals are happening around you?  Try looking at your city's homepage or checkout Festivals.com to find one.  Another great way to get out and enjoy the beauty fall has to offer is to find local art events.  Many towns have art walks, art in the park events or gallery block parties.  Many cities from Las Vegas to Anchorage to Phoenix to Kalamazoo have these art events on the First Friday.  If you can't get out for these events then try making your own art tour on the computer.  Visit the Metropolitan Museum of Art or try the National Gallery of Art's online tours, how fantastic is that?
I've marked up my calendar for the local festivals I want to attend: Boulder City Art in the Park, Las Vegas RenFaire, & Nevada Day.  Share what favorite festivals you remember attending or what events you are looking forward to attending.  I'd love to hear what fall means to you.
Before you head out to all of those festivals, don't forget to keep track of October.
After you get inspired and rejuvenated catch up your One Month at a Time with this sketch for September.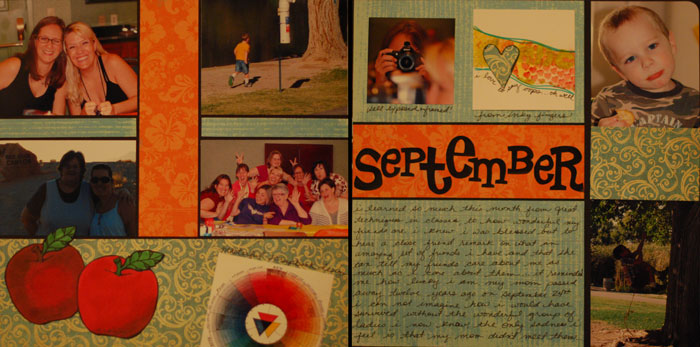 I admittedly had a harder time with this sketch as some of the blocks were in the wrong proportions for the photos I had, so I flipped one side!  I also had fun trying to incorporate some of the things I learned in classes this past month.  I colored my apples with my Copic markers.  You can tell the right one was done after significant practice, it looks much better than the left one.  I also did a mini-layout using some techniques learned from Dina's inky fingers class.  (I also added her mantra "Oops, oh well!") I took many photos in manual mode (note the blur, but go me! anyway).  The important things about this layout are: it's done, I had fun and I practiced some of my new mad skills!
[ttaylor]
[lovesketches]