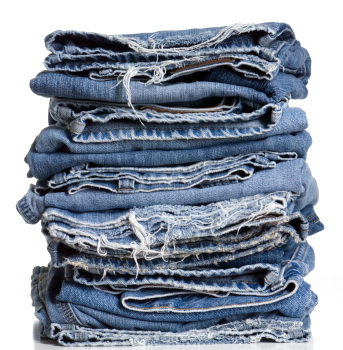 Now that you've gone out and replaced last years dud's with a whole new wardrobe and sent your kids back to school—it's time to put last year's outcasts to good use!  Use everything from mismatched socks, to old jeans, to out of date jewelry and make mp3 holders, cell phone carriers or small purses, for your children or yourself! Have a look at the creations below and get started transforming your old wardrobe today!
Supplies
Mismatched Socks
Jean Pockets
20+ inch Necklaces
Carabineer
Misc. Ribbons and Embellishments
Sewing Machine –OR–
Hot Glue Gun –OR–
A Needle & Thread
Hole Punch
Eyelets & Setter

Project 1: MP3 Player/Cell Phone Carrier
1. Cut the tube of your mismatched sock from the foot of the sock. You will be using a section that is anywhere from 3 to 5 inches long, depending on the size of your MP3 player. So depending on the length of the tube of your sock you may be able to make several pouches from one sock.
2. Using a needle and thread, your sewing machine, or a hot glue gun—close up the opening in the bottom of your pouch.
3.  If you're not using the finished edge of your sock at the top of your pouch, then turn down the raw edge and finish it, using the same technique you used to close up the bottom.
4. Punch a hole in the back side of your pouch, approximately 1/2 inch from the top and set your eyelet.
5. Thread your carabineer through the eyelet and embellish your holder as you see fit, then you're all set to carry your phone or your MP3 player in style!

Project 2: Pocket Purse
1. Carefully cut the back pockets from your old jeans.
2. Using a needle and thread, your sewing machine, or a hot glue gun—close up the bottoms and sides of your purse by placing the back sides of your pockets together.  Use a bit of fray check, if necessary, along the top edge of your pockets to minimize fraying
3. Decide whether you want a single strap or two handles, for your purse and then punch the necessary holes through your denim pouch and set your eyelets.
4. Use a 3-in-1 Jewelry Tool (or a pair of needle-nosed pliers) to open the links in your necklace and close them inside the eyelets.
5. Now embellish your pockets and you have an adorable new pocket-sized purse!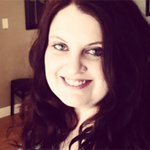 Amy Kingsford
Amy writes for and administers the Get It Scrapped blog. She's also our Creative Team Coordinator and a teacher at Masterful Scrapbook Design.
Amy Kingsford is a happy wife and blessed mother from Northern Utah. In addition to her work here, she also shares ideas and inspiration on creative approaches to modern scrapbooking and papercrafting at her blog My Letter-Sized Life.