Monthly prompts, sketches, ideas & encouragement for getting your photos scrapbooked "one month at a time." See the all of Tami's One Month at a Time posts.
by Tami Taylor
How many of us moms were counting down until the day we sent our kids back to school?  I'll admit my count down this year full of joy and excitement for my kids one day, and a sad one the next day.  My little Zach started kindergarten this year.  On the first day I managed to keep the tears at bay, even when Keagan my littlest cried because his big brother wasn't coming home with us.
Here's my August layout.  I changed the sketch a little to fit some first day of school photos, it was so easy with this sketch!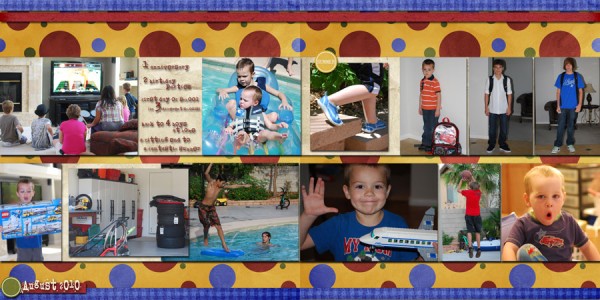 Download layered template in psd file. or Download printable sketch in pdf file.
The entire month was a blur of fun birthday parties, a celebration of my 7th anniversary to my wonderful husband, my oldest son's return from his summer visit with his other mother, and trying to squeeze fun into every moment we could.  Even through all of this busy chaos I still took time to enjoy the one thing I enjoy probably more than any holiday or celebration through out the year.  I reveled in the excitement of school supply shopping.  I love the jubilation that comes from getting a box of crayons for $0.25 or the elation in opening packs of unused pencils and papers.  The idea that it's a fresh year with fresh supplies.
As a high-functioning unorganized person, I admit that at the beginning of each school year I think long thoughts that always begin with "this year I'm going to be…"  Each year the rest of the sentence may change but they all basically relate back to being more organized or getting the most out of the class.
This year as all of the cool online classes are starting to pop up I think the same thing over and over again.  This year I'm going to enjoy the classes.  As an adult doing this for pleasure and not for a degree or to land a high paying job, I can just do them for fun.  How awesome is that?
So I ask you my scrappy friends, what classes are you eager to join?
Don't forget to keep track of your September with this September by the numbers pdf.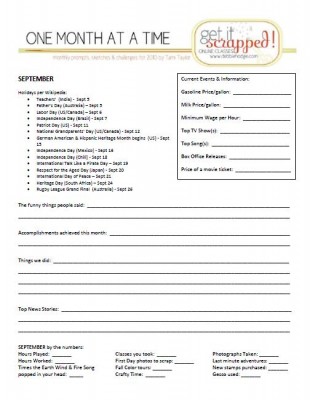 Download pdf with September prompts.
Come visit us in the forums to share how you are scrapping one month at a time!
[ttaylor]
[lovesketches]