by Debbie Hodge
I want to go home to the dull old town, with the shaded street, and the open square, and the hill, and the flats, and the house I love, and the paths I know – I want to go home. — Paul Kester
I'm grateful for home. And for me that means both my current home and the home I grew up in. I understand how fortunate I am that my parents still live in the house I was born and raised in. I firmly believe that the places we come from, the places we've traveled through, and the places we long to visit all inform who we are. In the stories by my favorite writers, place is as much a character as the people being written about in the stories. I return again and again to Alice Munro's stories of small towns in Canada and Manette Ansay's stories of the midwest.
I've scrapbooked my childhood home and my grown-up home almost compulsively–and I think this is for two reasons: first to remember and second to understand. On "Its Charm" I scrapbooked several of the sights that are a part of why I love my childhood home so much. (You can find the sketch for this page in the Get It Scrapped! Sketch Gallery.)"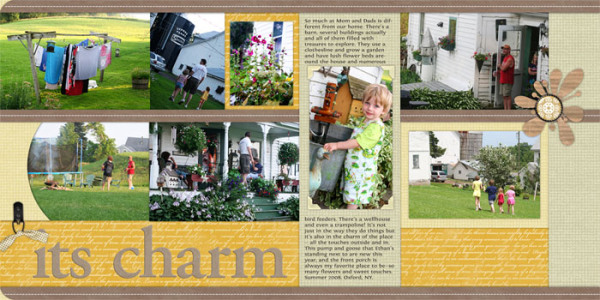 "Been There" is a page with journaling written to my nieces that talks about growing up on this New York state farmland, and what it is to leave it later, and how lovely it is to be able to return to it.
I hope my children experience home and the land around it in the same strong way that I have, and I often make pages about both the inside and the outside of our current home–the one my children have known since birth."Trestle" is about the train that runs by our neighborhood.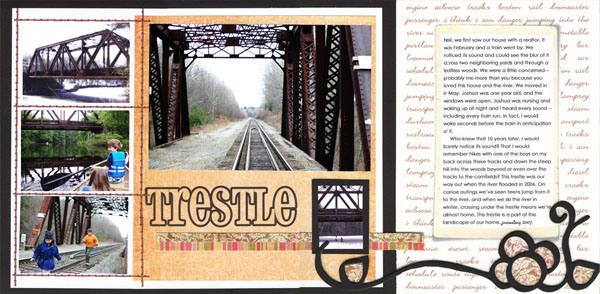 "The Long and Winding Driveway" shows our driveway in four seasons.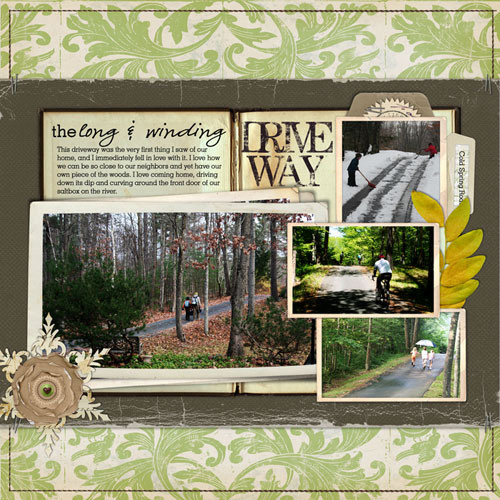 "Welcoming Summer" records the regular tidy up of our back yard that we do at the beginning of each summer.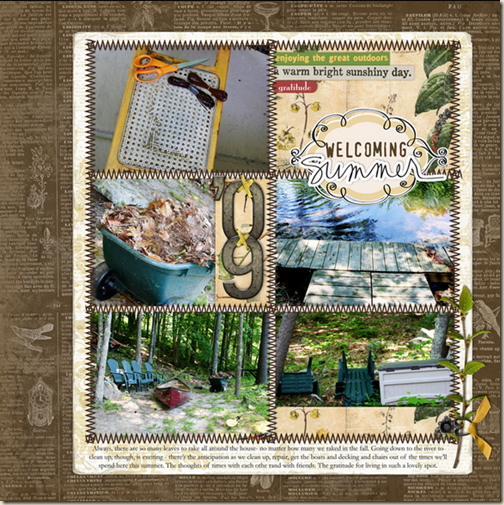 This page, "Little Messes Everywhere," shows our home in its frequent state of slight disorder. I made this a year ago, and already things have changed–the lego table has been removed and those old boots of mine have finally worn out. When I took and scrapbooked these photos, I had no idea which little things would resonate later.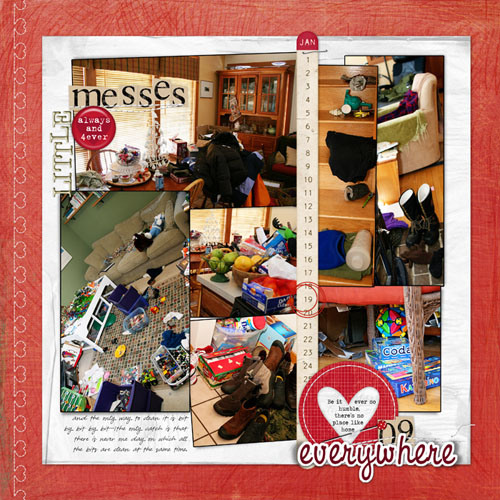 On "Like A River to the Sea," I zoom in even closer on a spot in my home – my dresser-top and all of the things that I see have accumulated there between tidy-ups.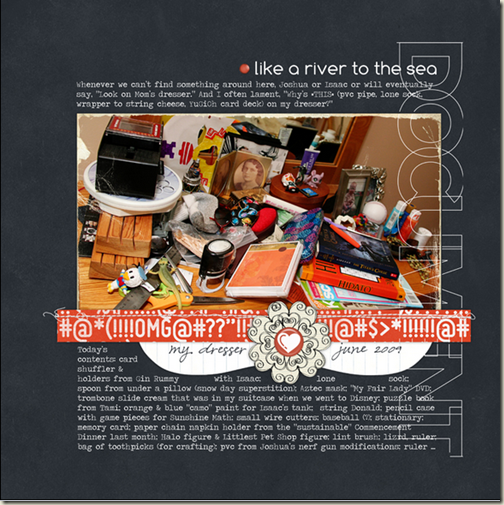 What aspect of your home are you inspired to scrapbook now? Your childhood home? The home of your early adult years? Your home now? And what angle will you take? A broad wide-angle look or a zoomed-in closer examination?
You can never go home again, but the truth is you can never leave home, so it's all right. – Maya Angelou