Making a wedding page? Use these "quickstarts" to get ideas for your page motifs, embellishments, wordart, titles, and fonts.
Hallmark Images    |   Sayings and Phrases   |   Fonts
This series provides "starter" lists for making scrapbook pages on a particular subject. Each post includes a list of hallmark images and motifs associated with the theme as well as phrases and sayings, and fonts well-suited for the subject. Use these "starters" to jumpstart your creative process and come up with layout ideas. It's all about the quickstart — check it out and see where it takes you. Click here for more themes.

Hallmark Images of Weddings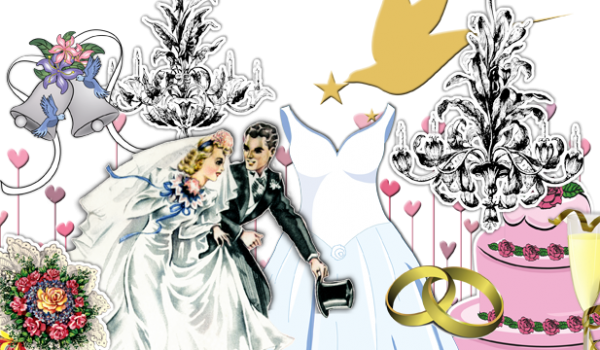 Rings
Cake
Doves
Bride and groom
Chandelier
Gown
Flowers
Hearts
Champagne glasses
Look for these images in your paper stash, your stamps, brushes or rubons. Or find a digital product or clip art or magazine photo you could transfer. The idea is to get the process started.

Wedding Sayings and Phrases
These are phrases commonly used for the subject of weddings. Use them to make titles or embellishments or, again, to spur your ideas. They are shown rendered in fonts that work well on birthday pages – the name of each font is below the phrase and links to the fonts are in the next section.

With this ring
True love
Cut the cake
I do
Kiss the bride
Just married
Black tie
Wedded bliss
To have and to hold
Cherish
Happily ever after
Fonts for Wedding Pages
These fonts would be great for wedding titles or embellishments–or to emphasize selected words in the journaling.
layouts
And, finally, here are a few wedding layouts to add one more bit of inspiration for your gardening pages.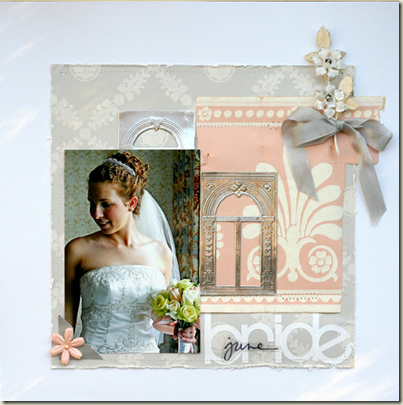 June Bride by Doris Sander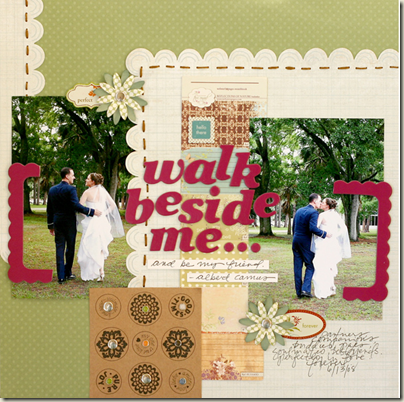 Walk Beside Me by Doris Sander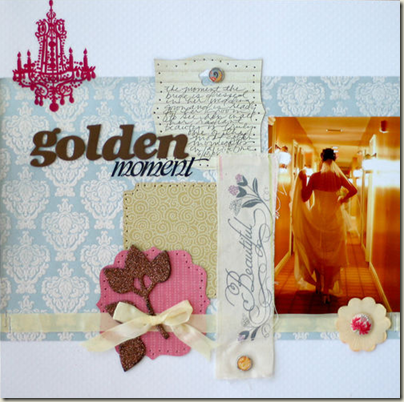 Golden Moment by Doris Sander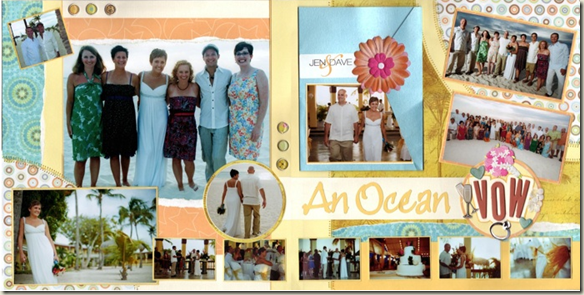 An Ocean Vow by Eric Erickson. Eric says, "This page is all about an August wedding on the beach. The bride sent blue invitations made with scrapbooking flowers – which I used for as the groundwork for the page's design."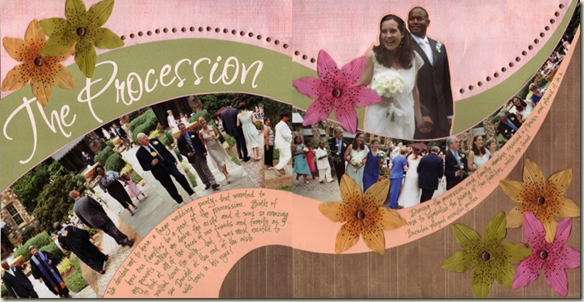 The Procession by Eric Erickson. Eric says, "My friend was married in a garden so including flowers on this page was a no-brainer. I used the swoop of pictures from the lower right-hand corner to the upper left-hand corner to mimic the motion of the procession and lead your eyes all over the layout."