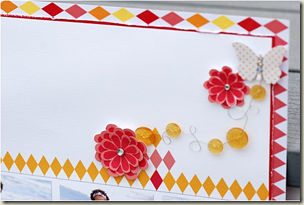 Betsy Sammarco made this page of her niece while she was on vacation! "Hybrid is vacation friendly," she said, explaining that she doesn't usually scrapbook on vacation.
She began the page with a Jen Martakis template and American Crafts digital elements from DaisyTrail.com
Before leaving for vacation,  Betsy printed the base of the layout with the borders of diamonds. She also printed digital American Crafts flowers in varying sizes on a sheet of cardstock to take with her.
In the evening "while everyone was chillin' in front of the TV," she had fun putting it all together. She cut out the flowers she'd printed, added photos, jeweled brads, glitter buttons, and a Jenni Bowlin embellished butterfly!