Monthly prompts, sketches, ideas & encouragement for getting your photos scrapbooked "one month at a time." See all of Tami's One Month at a Time posts.
by Tami Taylor
I am proud of myself.  It's not the pride where you puff out your chest and brag because you want accolades.  I have a different kind of kudos for what I did.  But I am going to brag, I followed my own advice.  In July, I played.  I played legos. I played pretend. I colored. I drew.  I made wooden trains out of kits.  Heck, I even made a game of eating animal crackers.  By the end of the month, my kids weren't asking me if I'd play but what we were going to play.  That makes me smile from ear to ear.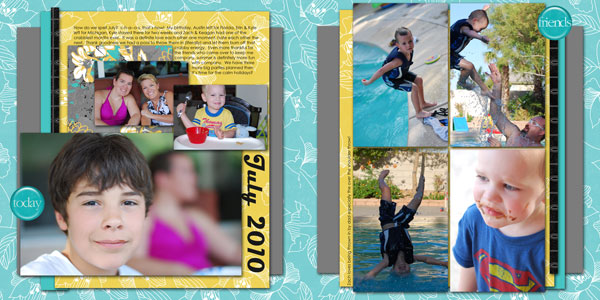 I used this month's sketch to capture some of that fun I had in July.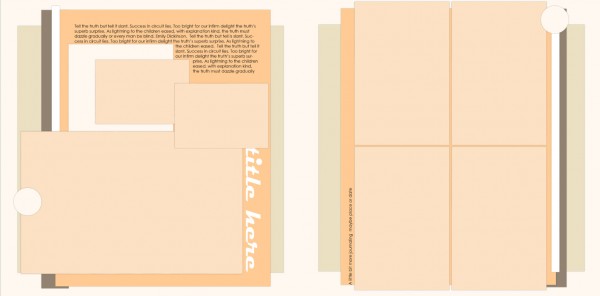 download July Sketch pdf – download July layered template
I imagine August will be a month of play here as well; with only a few weeks left of summer one has to squeeze as much sun & fun in as possible.  I've always liked the month of August the most.  It is a silly reason, but I liked that there were no major holidays that I or my family celebrated.  If there was a party the sole reason for the party was for socializing not because it was expected to get together for this or that holiday.  Up until 5 years ago, I didn't even know anyone with an August birthday.
That's changed. While I still enjoy August because I see it as a month to relax and avoid plans, I do have a soon-to-be 5-year-old in the house.  Having one of my babies turn a milestone age and ask daily when does Kindergarten start really has me on philosophical vortex.  It didn't help that while completing the "by the numbers" for August (check it out below), I saw that August was the "What will be your legacy?" month.  Since my mind has already started down that road thinking about what kind of parent I'm going to be for my newest elementary school kid, I thought it was a great thing to bring to your attention.  What will your legacy be?  Before you think I've gone crazy, I don't intend on spending the month trying to find some deep, profound idea as my legacy.  I do not imagine announcing my legacy and having the internet do a collective gasp followed by retweets and facebook posts about what a genius I am.  However, do try to appreciate the simplicity of it.
I am going to concentrate on my immediate relationships.  My legacy is to teach my children that your relationships are the most important thing in your life.  I am going to be a better wife, mother, friend and family member.  I will do this by spending more time with my loved ones whenever I get the chance.  Yes, some days it's as simple as that.  So call up your friends, have a crop (or make plans to attend a cool one in Vegas…), cook up some BBQ or host a movie night.  Institute a mandatory date night with your partner, or, heck, add a second one just because it's August.  After all, you don't have a holiday to celebrate!  Just go have fun with your loved ones.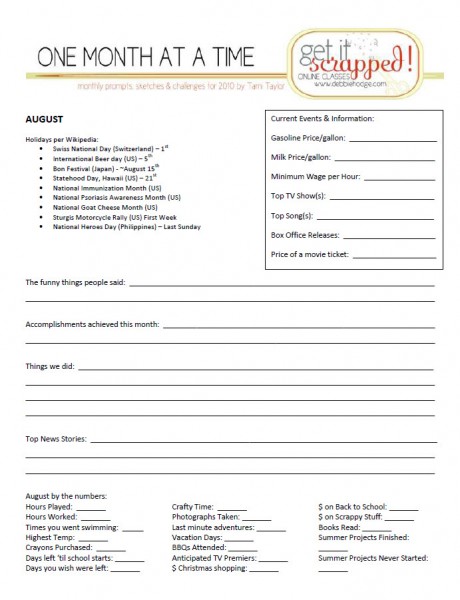 download "By The Numbers" pdf
[ttaylor]
[lovesketches]