by Debbie Hodge
"Boho" – as in Bohemian – is back, Baby! It's been a couple of years, but bohemian-inspired styles have shown up in the 2010 fashion lines.
See it in fashion and home decor
In the Anthropologie catalog, "richly detailed Bohemian decor is on the rise."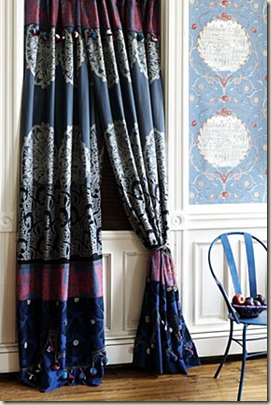 Source: Anthropologie
Harper's Bazaar reports that "Bohemian is back, like a posh Stevie Nicks minus the frayed edges."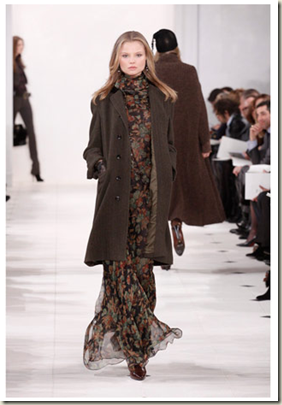 Source: Harper's Bazaar
Elle Magazine has recipe for dressing "boho" that included this tunic from Vivre.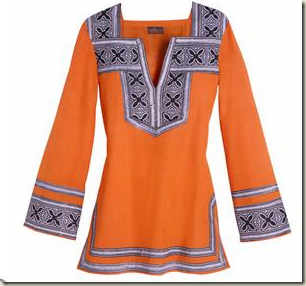 Source: Vivre.com.
WhoWhatWear's recent accessory report showed the new trend for bright boho bags.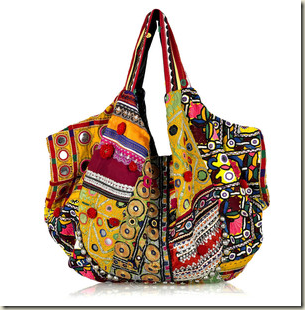 Source: net-a-porter.com – Simone Camille Carryall
Where did the term "Bohemian" come from?
Bohemia was an historical region of the Czech Republic, but it was Gypsy refugees travelling through Bohemia to France in the 15th century, that were dubbed "la Boheme" by the French. They lived nomadically and were thought of as living in merry poverty. They made money with jobs like entertaining, knife-grinding, pot-mending, and field work. Gypsy (and Bohemian) values ran contrary to culture in France at the time. Three hundred years later (in the mid 1800s), a group of artists and students in France had adopted the Bohemian name and a lifestyle. They defied the government, renounced private property, and often lived communally with carefree moral values. Art and literature were their work and their lives.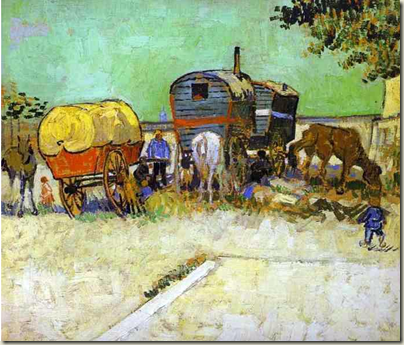 Vincent vanGogh's The Caravans – Gypsy Camp near Arles
How did this lifestyle become a style?
Bohemian originally described a people and then a lifestyle, but now it's come to be more widely associated with a style of decoration and dress. The original Bohemians loved beauty and surrounded themselves with it in resourceful ways, making do, not overly concerned with matching or variations in color, integrating various ethnic influences, using flowing fabrics and vibrant colors.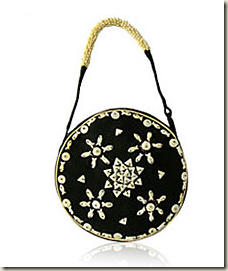 There were flirtations with the eclectic spirit of Bohemianism in fashions of the sixties and seventies. The Hippies brought a wide variety of ethnic styles to popularity, including Nehru jackets, loose flowing robes, and peasant styles. The evolution of this in the seventies was to keep the ethnic influences coming, with caftans, kimonos, robes, and muumuus rendered in a wide variety of fabrics with elaborate trims.
The 21st century began with increasing globalization and lots of eclectic ethnic influences, all of this culminating in the mass Boho Gypsy look of 2005. The Bohemian style embraces ethnic influences and comfort, incorporates flow, and aims at looking shabby but chic. In fashion, experimentation with anything from huge sunglasses to baggy pants is encouraged, and features are borrowed from a wide array of cultures. Anything goes from embroidery, primitive and tribal patterns, and beads, to batik and macramé tied belts.
Source: Embroidered Handbags
Bohemian looks on the scrapbook page
For paper scrapbooking supplies, the jump from runway to scrapbook page typically takes six to nine months. Does that mean we'll see more Bohemian-look releases in January? Here are a couple of recent lines that are great for getting this look. Note: the Nostaligic look is big right now and many of the releases geared toward that style offer elements that work well with Bohemian styled pages.
Lilac House is a new release from Fancy Pants Designs that incorporates the browns and greens of many Bohemian designs as well as a combination of floral and ornamental motifs. Ronda Palazzari's "In You" makes great use of this style on this page about a young girl.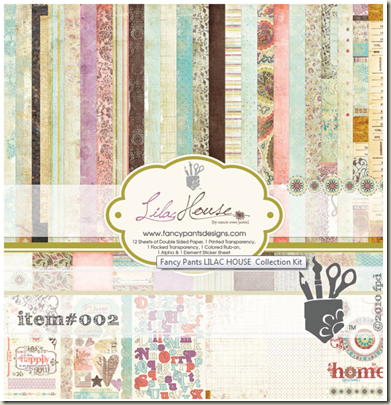 Source: Fancy Pants Designs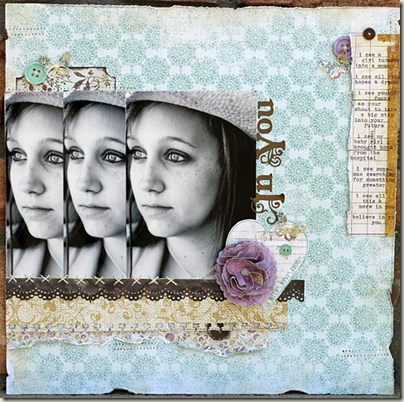 In You by Ronda Palazzari for Fancy Pants
Prima Designs' Paisley Road, especially when accented with rich Donna Downey pompoms, yields a bright modern Boho look as shown on Anabelle O'Malley's "Memories with You" below.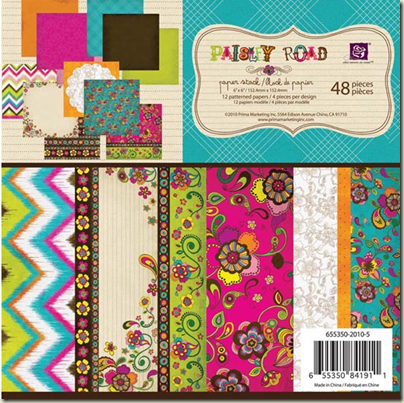 Source: Prima Designs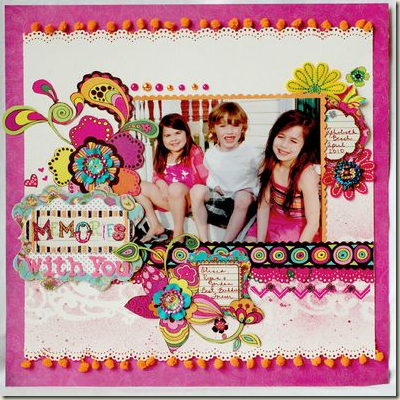 Anabelle O'Malley for Prima Designs (with Paisley Road)
In the Digital world, there are new releases every week and the Bohemian influence is going to be seen here first. Here's a brand new release from Jesse Edwards at Designer Digitals.com: Peacocking and a layout I made with it and some other products. The thing about making a bohemian-styled projects is: it's FUN! Just grab and mix and express yourself.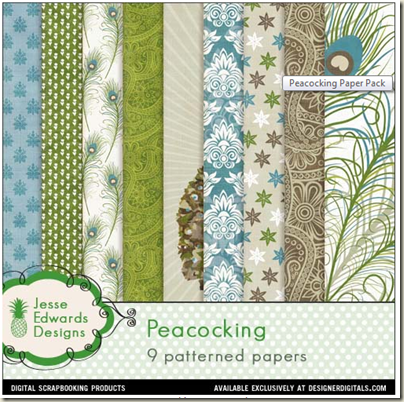 Source: DesignerDigitals.com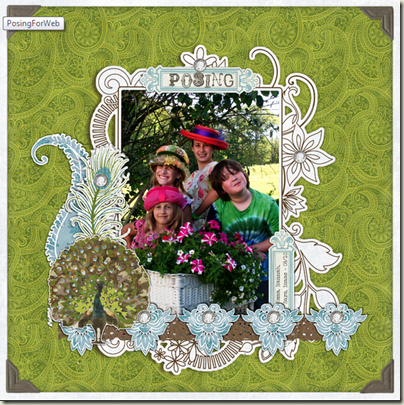 Posing by Debbie Hodge for DesignerDigitals
Hallmarks of Bohemian style
While Bohemian style is, by definition, open to personal preferences and welcoming of experimentation, there are several hallmarks of Bohemian style.
bohemian motifs
These motifs are rendered in many variations, from oversized to small, realistic or stylized, subtle or bold.
scrollwork
paisley
flowers
foliates
decorative ornaments
stripes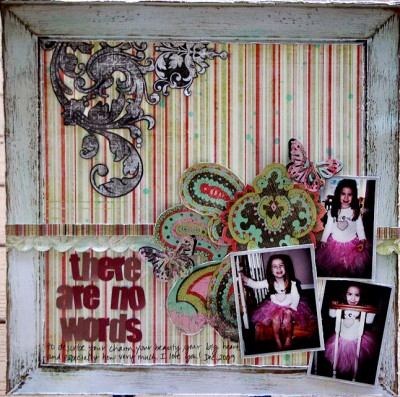 "There are No Words" by Staci Taylor for Fancy Pants Road Show incorporates paisley, scrolls, and stripes.
bohemian color and texture
greens and browns
rich jewel colors
velvet, felt, silk
decorative embroidery
woven textures
beads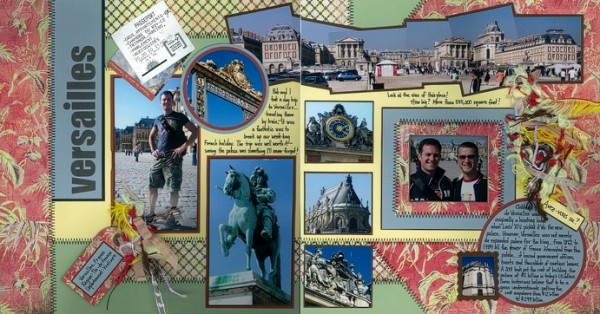 Of his page "Versailles," Eric Erickson says, "There's something about a French countryside and palatial gardens that fit the rustic and floral designs of Basic Grey's Urban Couture line. He's used reds, browns, and greens and incorporated lots of fibers and even feathers!
bohemian attitude
experimentation
flow
extremes
mixing without emphasis on matching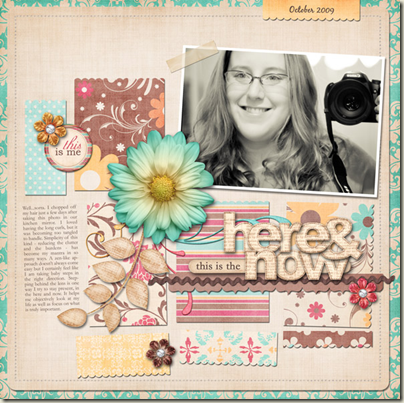 On "Here & Now," Jennifer Wilson of Simple Scrapper has mixed several patterns and multiple hues of blue, gold, and pink. The casual arrangement, scalloped edges, and tilted bits are all characteristic of a Bohemian attitude.
Bohemian with Eastern influences
Give your pages a Moroccan Bohemian look with:
motifs: flowers, leaves, geometric patterns, and architectural motifs (cupolas, columns, capitals, and arches)
colors: reds and oranges (sun); blues and greens (sea); gold and silver (sand)
materials: tile mosaic, stucco, ceramics, bronzework, rugs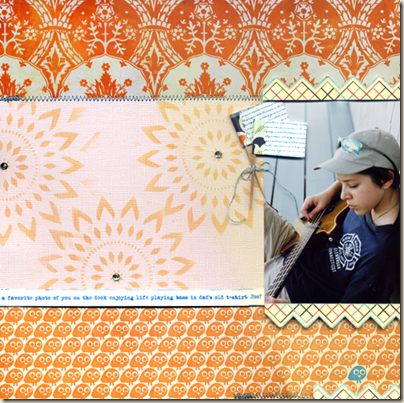 Betsy Sammarco used supplies from the Jenni Bowlin October 2009 kit  to make this page of her son playing his bass. Betsy said, "I thought the Bohemian motif of the top patterned paper and the star burst stencils were perfect for this subject. The pattern gives me a laid back, artsy feel – just what I was looking for."
I'm hoping this article and the images here inspire you to add a little of the carefree Bohemian style to one of your projects soon! Let us know what you're doing with it.

[ontrend]