Making a garden page? Use these "quickstarts" to get ideas for your page motifs, embellishments, wordart, titles, and fonts.
Hallmark Images    |   Sayings and Phrases   |   Fonts
This series provides "starter" lists for making scrapbook pages on a particular subject. Each post includes a list of hallmark images and motifs associated with the theme as well as phrases and sayings, and fonts well-suited for the subject. Use these "starters" to jumpstart your creative process and come up with layout ideas. It's all about the quickstart — check it out and see where it takes you. Click here for more themes.

Hallmark Images of Gardening
Look for these images in your paper stash, your stamps, brushes or rubons. Or find a digital product or clip art or magazine photo you could transfer. The idea is to get the process started.

Gardening Sayings and Phrases
These are phrases commonly used for the subject of gardening. Use them to make titles or embellishments or, again, to spur your ideas. They are shown rendered in fonts that work well on birthday pages – the name of each font is below the phrase and links to the fonts are in the next section.
everything is rosy
bring on the sun
busy as a bee
cream of the crop
cultivate
dig it
dirt rich
farm fresh
fat of the land
flower power
fresh as a daisy
garden goddess
God's green earth
green thumb
growing season
harvest time
heirloom tomato
home-grown
ladybug love
life's a garden
little sprout
make hay while the sun shines
master gardener
nurture
smell the roses
peace, love, garden
stake it up
Fonts for Gardening Pages
These fonts would be great for gardening titles or embellishments–or to emphasize selected words in the journaling.
layouts
And, finally, here are a few garden layouts to add one more bit of inspiration for your gardening pages.
Photo-op by Doris Sander for JBS Mercantile is all about enjoying the garden. Love how her son is taking in the flower with his eyes, his nose, and even his skin!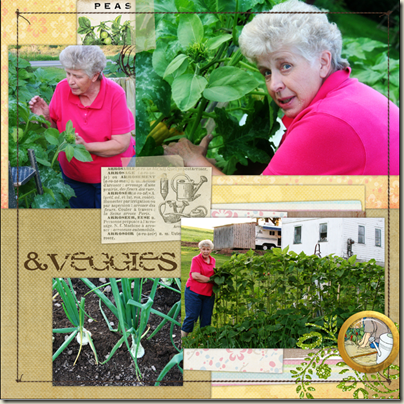 & Veggies by Debbie Hodge for DesignerDigitals shows my mom with her (always-impressive) vegetable garden. I embellished with a seed packet, an old clipping with a watering can, and glittery vines.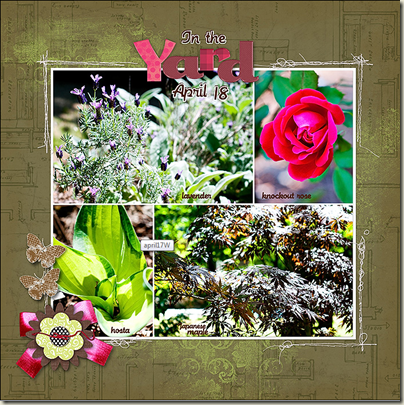 In the Yard by Amy LeJeune for DesignerDigitals is a collection of the plants in Amy's garden and what they were looking like in spring. She used butterflies and flowers for embellishing.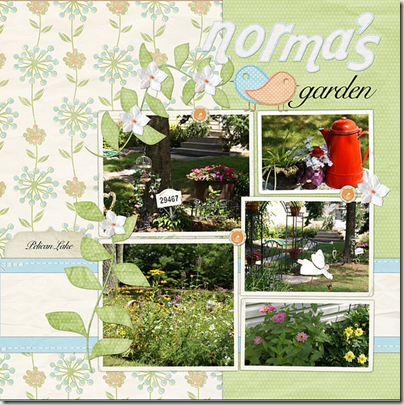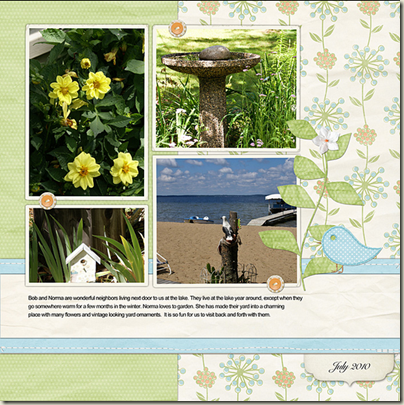 Of Norma's Garden by Merrilee Larsen for Designer Digitals, Merr says, "We are very fortunate to have wonderful friends living next door at the lake. One of Norma's hobbies is gardening. It's a casual garden with many little vintage touches placed amongst the flowers." Merr featured these touches and embellished with birds, vines, and blossoms.