Monthly prompts, sketches, ideas & encouragement for getting your photos scrapbooked "one month at a time." See all of Tami's One Month at a Time posts.
by Tami Taylor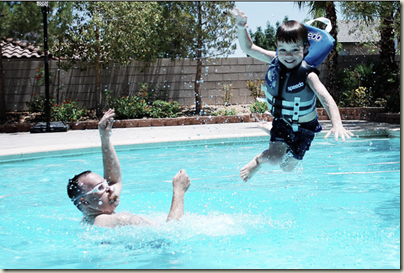 There is one four letter word you should say more often. That word is 'play.' Yes, that's the theme of my life right now. It's summer vacation, our first year in a house with a pool, and the ages my boys are at is perfect for group activities.
We do not stop playing because we grow old.
We grow old because we stop playing. – Benjamin Franklin
I have a goal to keep this month fun for them. About a week ago, I was working on my laptop and Zach kept interrupting. Each time I told him he needed to go play. Eventually my patience wore thin and I found myself lecturing Zach about how he should be glad I'm telling him to go play. I even added a trite "I wish someone would tell me to go play." This, of course, was followed by Zach replying "Just go play mom." Who can argue with that?
It was an eye opening moment for me. I realized that life is really that simple and play should be a priority in your life. Whatever "play" means to you, do it. Experts recommend spending at least 15 minutes every day playing with your child, but play what they want to play. I've been doing this every day for about two weeks. I am making time to do what my kids want to do for about 15 minutes. If that means putting a train track together, watching Dora or listening to the latest video game rehashing then that's what I do. Try it with a child you know and see what a happy glow they get from it.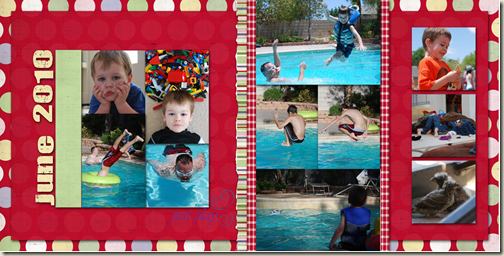 As you can see my kids don't need convincing to play.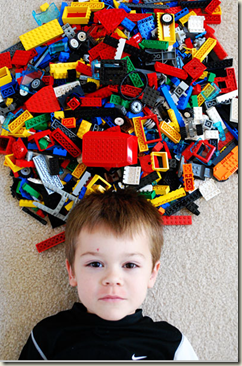 This new commitment to my kids and myself to play more has taught me a few things about myself. I have always loved puzzles and miss doing them. I love putting train tracks together and creating interesting configurations. I love the squeal of delight Keagan gives when I tell him it's finished and he can turn on his train. As far as legos are concerned, I'm an awesome constructor of moving vehicles. That's what is in demand at the Taylor House: helicopters, planes and cars. I like designing things with legos. The boys even let me build my girly things like houses as long as there is a garage attached where they can park their helicopter car. I've enjoyed legos so much that we splurged and now have 1000 legos.
Playing with children's toys is highly underrated. Using your imagination and letting go of all the adult responsibilities (even if only for 15 minutes) gets your creative juices flowing. (Not to mention bringing back all kinds of memories from your childhood that you could use for the Scrap Your Story: The Early Years lesson.
Some great links to get you playing:
http://www.bricklink.com/ (great lego site that you can mix and match the pieces you want)
http://eventful.com/ (because play doesn't mean you have to have kids)
And heck, if nothing else, go play with all those cool scrappy gadgets you have! We have some Midsummer challenges going on in the forums. You can play with those, or snatch up Building Pages before the early bird special ends tomorrow.
Do you have any great links to fun sites? Please share them in the forums or comments here. I have to point out yet another benefit of doing the One Month at a Time series: I'm all caught up so I can go play!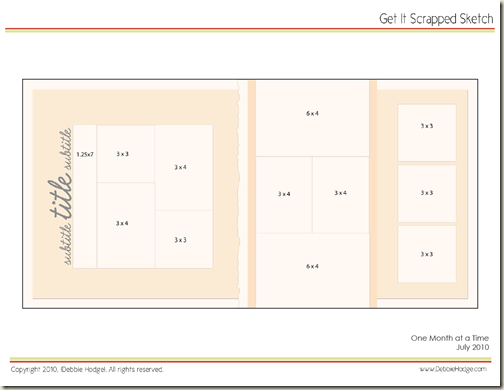 Here's the sketch Debbie made for scrapbooking your June photos. Click to download a layered Photoshop template. Click HERE if you'd like a printable sketch in a pdf.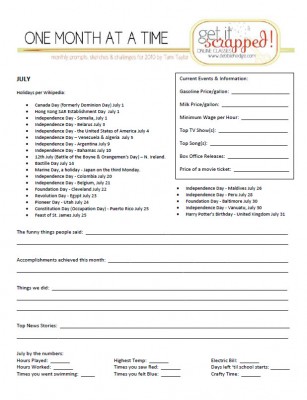 Download/open pdf with July Prompts!
[ttaylor]
[lovesketches]