If you're new to this series by Michelle, you can find all of her tutorials here: Copic Marker Tutorials.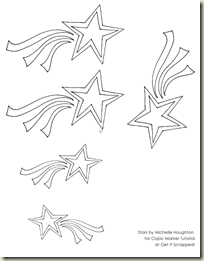 I had to squeeze in one more lesson for the fourth of July—especially since I have a friend with a birthday on the fourth. I needed a special card for her so I decided to share the star I came up with. I think this one will work equally as well as a scrapbook embellishment. I am planning to make more for a special page about our fourth.
Print out your stars and get them copied if you need to and then play along. Download printable pdf. (Note for those new to this series: you need to experiment with your printer a little to see if your printer ink will work with your Copic markers.  My ink jet printer seems to be working OK, but many will not.  If you have a laser printer you should be just fine.  If the image printed by your inkjet printer bleeds or smears with the Copic ink you can print it off and then take it to a copy shop to have them copy it onto your cardstock with a laser printer or use a trace or transfer method.)
For these stars I am using B21, B24, B28, R22, R27, R29 and 0 the Colorless Blender. The colorless blender is a fun add on for this lesson I am going to use mine for a fun easy addition at the end.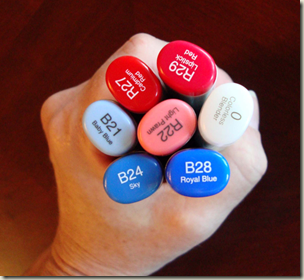 Step #1 – I started on my star and used my lightest blue B21 to fill the center star. Use small circular strokes to get nice even coverage and no streaks.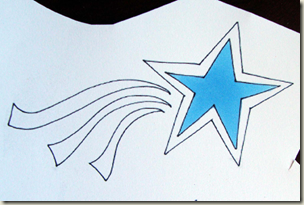 Step #2 – Next I used my middle blue B24 to add my first layer of shading. I am just working from one side over, slightly past the midline of the star. This is not exact three dimensional shading but will  add dimension to our star. Go back with B21 or your lighter color and with small circles blend your middle color into your light color.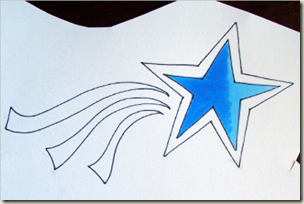 Step #3 – Lastly on my star I added B28, my darkest blue, to add my deepest shadows. Again I added from one side over, stopping short this time of the halfway point. I blended in with my middle color and then with my light color.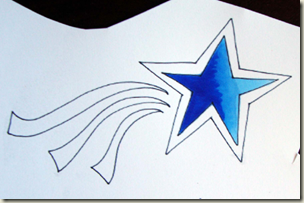 Step #4 – On the streamers I did all three streamers at once but you are more than welcome to do one at a time. You need to work pretty fast to do all three at once. I used R22 to start the streamers. I am only doing this lightest red part way to help avoid bleeding.
Step #5 – My middle red is R27 which is a bit of a stretch from light to middle color but it is what I have. I fill the end of my streamer up to about the front third of my streamer with my middle red. I went back with my light red to blend. Tread lightly, reds bleed quite a bit so use as little ink as you can.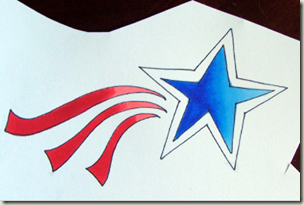 Step #6 – Lastly I used R29, my darkest red in this series, to darken the end third of my streamer. It is hard to see in the photo but I promise it is there and you can see when it is missing. Blend back with your middle and light reds.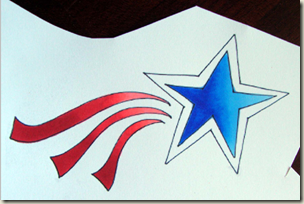 Step #7 – I used R29 to complete the outline of my star. No shading here just the bright red. You have to love a color called Lipstick Red.I do, so just nice solid Lipstick Red.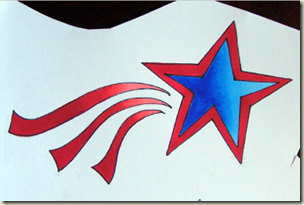 Step #8 – Here is the bonus! Your star is complete but here is a fun little pizzazz that is soooo easy to add you are going to want to give it a try. Once your image is done take your colorless blender and try adding polka dots and/or stripes to your star or streamers. I added polka dots to my star. It really is just as easy as drawing dots right on top of your star. I went back three times to lighten the dots. I added stripes to my streamers, again as easy as drawing lines. Now one little note here, notice on my image that because of how I drew the stripes I pushed the color outside my outline. If you are not planning on cutting out your image you will need to think of that before you start.
The card I completed turned out so fun and now I am excited to use these on a scrapbook page. I hope you can find a use for them as well.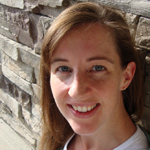 Michelle Houghton is a wife, mother and artist living in Iowa. Even before she began scrapbooking, she was a lifelong artist, majoring in Fine Arts at the University of Oregon and then teaching high school art for 7 years. Michelle has been scrapbooking for more than 15 years and she enjoys adding her own art, doodles and handmade elements to her pages for a one-of-a-kind look.
Michelle teaches doodling, Copics, handlettering and more at workshops throughout the country. She writes tutorials at Get It Scrapped and is an instructor for Imagination International Inc., the US distributor of Copic products. The best way to learn more about Michelle is at her website, scrapweaver.com.