You don't even need to have some fancy-schmancy photo editing software to try this digital technique. All you need is word-processing software like Word.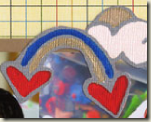 I used a dingbat font to create a fun custom embellishment for my page. Dingbat fonts are fonts that uses small pictures instead of letters. In this case the little "R" was a cute rainbow/cloud image. I printed it onto cardstock, cut it out and colored it in using markers.
The font I used was "Pea Stacy's New Doodles" which I downloaded from KevinandAmanda.com but you can do this with any dingbat style font.  I also printed out my title, done with Clementine Sketch font, and colored that in using markers — I thought it added another fun element to the page.
Supplies used: Coredinations cardstock, Jillibean Soup patterned paper, Sassafras patterned paper and sticker. Fonts – Pea Stacy's New Doodles and Clementine Sketch, Elmers Painters
[pgilarde]