There are common story forms that have been used through the ages, and you can use them to tell your stories on your scrapbook pages. Try this one (and look for others in upcoming posts).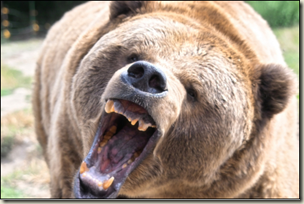 Tell a "bear at the door" story in your scrapbook page journaling
The beginning of your story is your hook, the element that you use to draw your listener in. One of the easiest kinds of stories to "hook" a reader with is the "bear-at-the-door" story. This is a story in which there's an immediate and pressing problem — like, say, if there really were a bear at your door. Check out the steps for telling this kind of a story with the journaling from "Heroes of the Day" used to illustrate the points.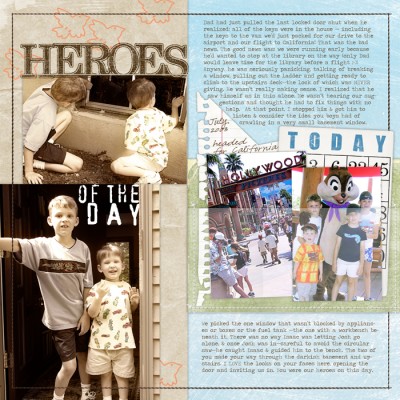 When telling a bear-at-the-door story:
1) Make your reader immediately aware of the problem AND of the urgency of the problem.
Dad had just pulled the last locked door shut when he realized: all of the keys were in the house — including the keys to the van we'd just packed for our drive to the airport and our flight to California!
2) Be aware of (and share) how the personalities of your main characters impact the events you're recounting. (Adding these aspects to the story takes it beyond an action-filled recount to a story that tells a longer-lasting lesson.)
That was the bad news. The good news was: we were running early because he'd wanted to stop at the library on the way (only Dad would leave time for the library before a flight ;-)) Anyway, he was seriously panicking, talking of breaking a window, pulling out the ladder and getting ready to climb to the upstairs deck–the lock of which was NEVER giving. He wasn't really making sense. I realized that he saw himself as in this alone. He wasn't hearing our suggestions and thought he had to fix things with no help.  At that point, I stopped him & got him to listen & consider the idea you boys had of crawling in a very small basement window.
3) Be sure to include how the problem was resolved, and, if it's relevant, any longer-lasting impact.
We picked the one window that wasn't blocked by appliances or boxes or the fuel tank –the one with a workbench beneath it. There was no way Isaac was letting Josh go alone, & once Josh was in–careful to avoid the circular saw–he caught Isaac & guided him to the bench. The two of you made your way through the darkish basement and upstairs. I LOVE the looks on your faces here, opening the door and inviting us in. You were our heroes on this day.
So . . . what's a story you'd like to tell that would benefit from this "There's-a-bear-at-the-door" approach?
[lovejournaling]