by Tami Taylor
Look for "One Month at a Time" on the 1st of each month in 2010. Tami Taylor gives you a sketch and prompts for getting monthly memories scrapped . . . "one month at a time."
Spring is nature's way of saying, "Let's party!"  ~Robin Williams
March is over, spring has sprung,  and you've stuck with me for the first quarter of 2010.  It does seem like just yesterday I was challenging you to do a title page!  I lost you when I said spring sprung didn't I?  Yes it is spring, officially, brighter days ahead, soon I promise!  Let me tell you, I am more than ready!  I have truly missed the sun, its warmth and the emotional uplifting it brings.   Check out Michelle's layout.  Even without reading the journaling I know she lavished in the sun when she could.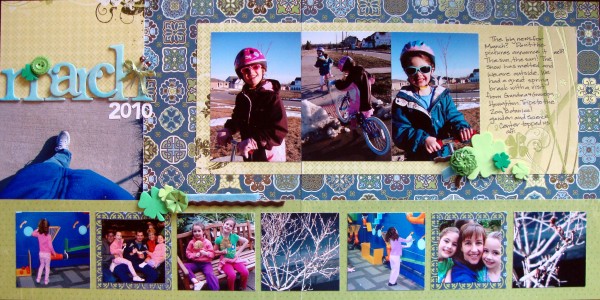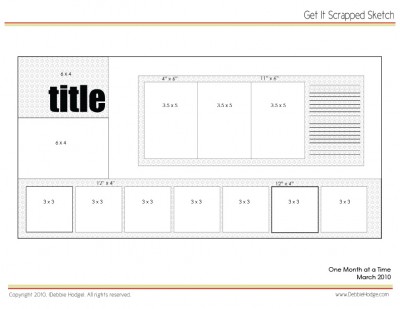 Here's the sketch for the month:
Click here to download a pdf with the sketch.
Click here to download zipped file with layered template.
Our family has definitely been hit with cabin fever this last month but at least we are finding ways to burn off some of that energy.  It seems our family has jumped on the fitness train.  It isn't just me heading to the gym. Both of my older boys have started working out at home to a program called P90X.
Since I am in charge of grocery shopping, we are all eating better.  I've cut back on several 'bad' foods and have filled our home with healthier options.  It received some disgruntled comments at first, then I decided get them in the kitchen more.  As any mother of multiple children knows; where one goes, the rest follow.
I tackled the eldest son first. He was eager to help with dinner.  Soon after dinner became an organized chaos.  The older boys and I prepare dinner with the younger two standing at the counter on their stools and putting things in bowls  (or their mouths). The highlight of this wonderful family activity was when I spent less than $5.00 on some ready-to-use pizza dough.  Everyone was in charge of rolling out their own pizza crust and topping it.  Austin even got brave enough to try tossing it!  It was a fabulous memory that I am thankful I took the time to make.  It would have been easier to just call and have delivery, but I wouldn't have the memory of my husband and oldest son trying to show off their pizza tossing skills.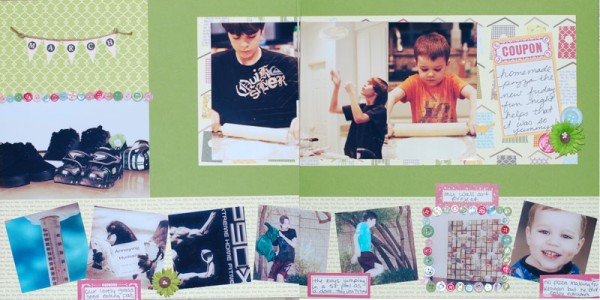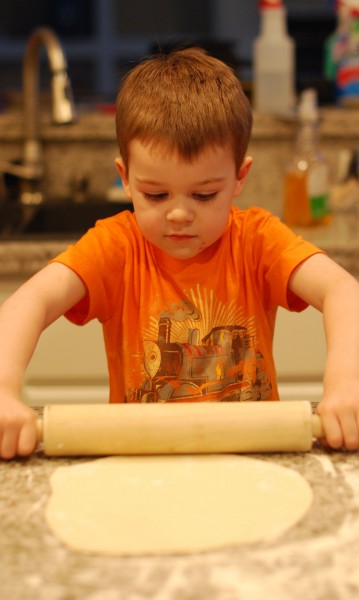 I leave you with this simple challenge.  Try something new with your family and friends.  I am very passionate about our family eating dinner together each night.  We have family movie nights and even family game nights.  They are all fun in their own way and I wouldn't trade them, but I am glad I added something new to the mix.  So spend an evening cooking with your kids, invite your friends over for a murder mystery party or just have a wine and cheese tasting night with the girls.  You make the memories, and we'll scrap them One Month at a Time!
P.S.  Check out what bizymoms.com has to say about cooking with your kids.
Here are prompts for capturing your daily life in April. Download pdf: April photo & journaling prompts.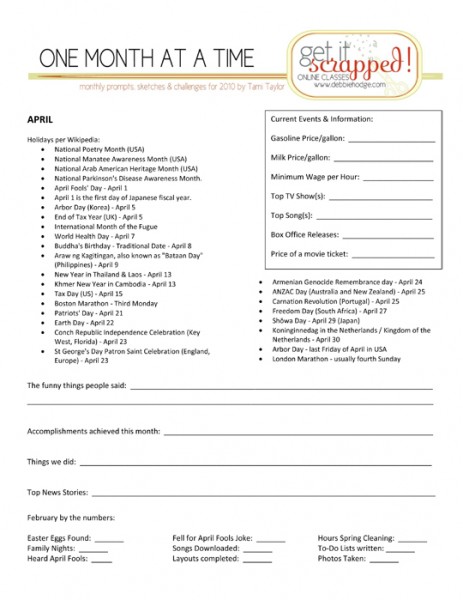 [ttaylor]
[lovesketches]