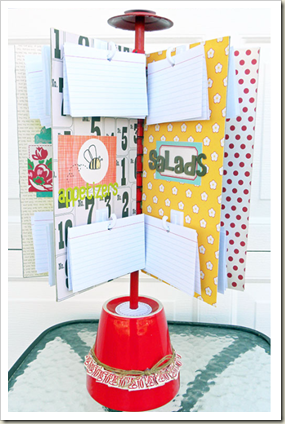 by Amy Kingsford
SUPPLIES for spinning recipe holder
6 pages of 12" x 12" double-sided patterned paper
4 pieces of 12" x 12" chipboard
flower pot with at least a ½" draining hole
1/2" dowel (yard long)
1/2" cable clamps (12 pk)
3/8" o-rings
stick on hooks (24)
Exacto knife/scissors
hot glue/adhesive
12 brads, rivets or eyelets
miscellaneous papers, embellishments, ribbons, etc.
hole punch
hand saw
paint
PREPARATIONS for spinning recipe holder
Step 1– Take 3 pieces of chipboard and your 6 coordinating papers and cut them in half lengthwise, so they now measure 6" wide by 12" long.
Step 2– Adhere your paper to both sides of the chipboard with adhesive, using each of your patterned sides.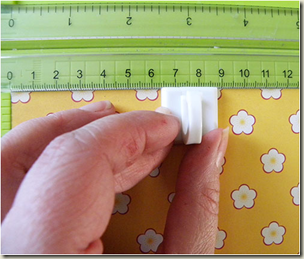 Step 3– Measure and place your stick-on hooks onto your newly covered chipboard pages. The top hook will be centered and flush with the top edge of your chipboard. The bottom hook will also be centered and placed so that the top edge of the hook is about 4" inches from the bottom of the chipboard page.
Repeat this step to the opposite side of the chipboard and then to each chipboard piece thereafter, until each chipboard piece has two evenly placed hooks on each side.
Step 4– Then measure the height of your pot and add 15" to your measurement—this will be the length that your dowel will need to be cut down to using a hand saw.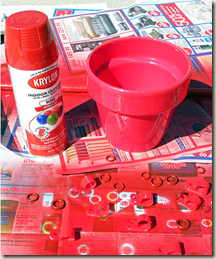 Step 5-Next decide whether you want to re-color any of your components (i.e. pot, cable clamps, o-rings, dowel, etc) using paint or other treatments. I chose to spray-paint all of mine red, using a Krylon Spray Paint for plastics, which also works well on metal, wood, and ceramics.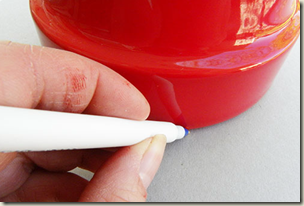 Step 6– Take your remaining piece of chipboard and trace around the opening of your pot and cut it out approximately ¼" smaller than the circle you've drawn.
Step 7– Find the center of your circle and draw/cut a ½" inch circle from it. This can be done with a punch, circle cutter, or by marking your center and using your dowel to trace around.
Step 8– Now place the circle inside the pot, you want it to fit snuggly somewhere between the middle and one to two inches from the opening of the pot.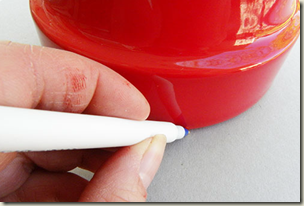 Step 9 –Guide your dowel through the drain hole and through the chipboard piece to make sure they line up properly and that everything fits securely.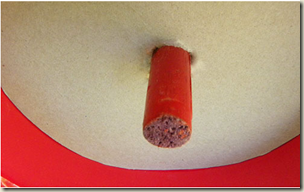 ASSEMBLY of spinning recipe holder
Step 10- Place a string of hot glue around your chipboard circle and push it up inside of your pot until it fits snuggly and hold it in place until the glue is dry.
Step 11– With your pot inverted (the opening of the pot facing down) on a hard flat surface, guide your dowel through the drain hole and then through the hole in the chipboard piece that you just secured inside of the pot until it hits the surface you're working on.
Step 12– Place a string of hot glue around where the dowel meets the pot, to fill any gaps and to make the dowel stationary.
Step 13– Now thread your o-rings onto your dowel. The first o-ring should be about two inches above where the dowel meets the pot and the last should be 2 inches from the top of the dowel. The other 10 should be evenly distributed between.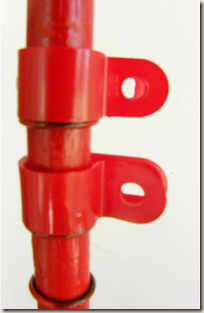 Step 14– Place your cable clamps above each of your o-rings.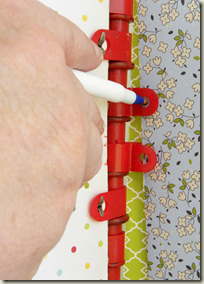 Step 15– Slide your first chipboard page into the top and bottom clamps and use a pen to trace the holes in the clamp onto your chipboard page.
Step 16– Punch the holes you've traced from your chipboard and then connect your clamps to your page using brads, rivets or eyelets.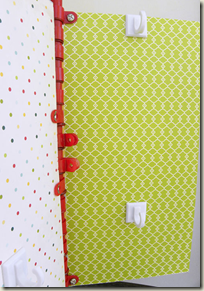 Step 17– Repeat steps 15 and 16 for each of your chipboard pages, remembering to use the highest and lowest clamp available for each page and continuing to move in a single direction.
FINISHING TOUCHES for spinning recipe holder
Step 18– You may want to add a topper to your fixture. This could be anything you choose to give your recipe holder a finished look. I used a small metal saucer and painted it the same red as all of my other components. You could also try a wooden ball or marble, a handmade embellishment, etc.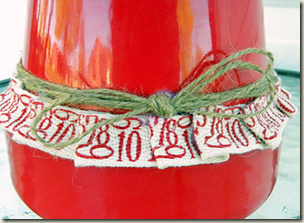 Step 19– Decorate the base/top of your recipe holder, I've used ribbon/string around the base of my pot and two journaling spots that cover where I have joined my topper and my base using hot glue, while creating a fun and unified look.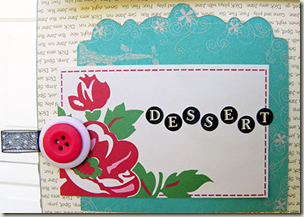 Step 20– Embellish your pages by creating titles, pull tabs and other special touches.
Step 21– You are now ready to gift that extra special cook in your life—or to place this on your very own counter and begin filling it with your favorite recipes!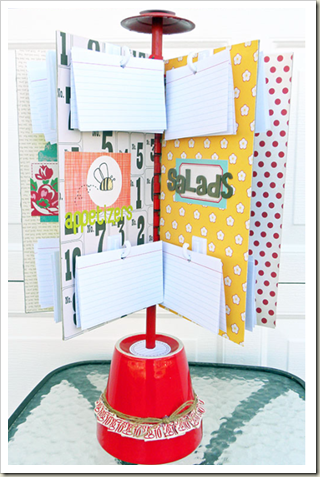 If you're worried you might not have enough space to accommodate this size of recipe holder, then why not try halving this recipe by using a 6"x6" format instead!
Also if you're wondering how I dressed my recipe holder up…all of the papers and embellishments came from April's Scrap This Kit!
Hope you all have a wonderful Mother's Day! Happy Crafting!
[akingsford]