Creative organizing is a great way to give your scrap space the makeover it needs while having a little bit of fun!  Check out these fun suggestions for organizing and storing your ribbon using everyday household objects, and see how a little bit of creative organizing can go a long way!
1. Glass Jars and Canisters are a perfect way to store your small scraps of ribbon.  You may be tempted to throw those smaller pieces out, but that would be a huge mistake!  Instead keep them handy in a small glass jar, so that you can see the variety of colors and patterns you have on hand. Then put your scraps to use by adding knots, tabs or even ribbon flowers to projects and layouts!
2. Paper Towel Holders are another great tool I use to temporarily store the spools of ribbons that I am currently using on a project or lo.  This way they are readily accessible at my work area through the duration of a project, then I can easily put them all away in their proper place when I've finished with them.
3. Recycled Boxes are perfect for making your own ribbon storage containers. Try using shoe boxes or photo boxes for larger spools, or plastic wrap, tinfoil, or wax paper boxes for smaller spools!  Simply paint or cover the box in your favorite paper or fabric, then measure and punch holes in the box's flap to create pull guides for your spools.  Add eyelets to the holes for reinforcement and you're all set!
4. Toilet Paper Holders –I know it sounds funny, but these can be helpful when  looking for a way to store your ribbon cards.  I simply love ribbon card spools, because they don't take up as much room and you can organize your ribbon by color or manufacturer on rings, for easy reference.  Buy hanging them on this flush mount Toilet Paper Holder, I can store them on the inside my scrap cabinet doors!
5. Curtain Rods are an inexpensive, yet totally decorative way to store your ribbon spools so that they are visible on the walls of your scrap space.  I'd look for rods whose ends pull off to make for easier access and make sure the brackets give you enough distance from the wall for your larger spools.  Another tip: when you've finished a spool of ribbon, save the spool so that you can wind ribbon you may get from kit clubs, or that you may purchase by the yard on it and store it with the rest of your ribbon!
6. Key Holders can be useful if you're like me and like to have 12 inch lengths of ribbon available in a variety of colors for borders on your layouts.  Using bulldog clips I clip ribbons of the same color or theme in a bunch and then hang them from the hooks on the key holder.For me its always the challenge of out of sight…out of mind…this way I know what I have and am inspired to use it!
Now get out there and get organizing…creatively!  Can't wait to see what you all come up with!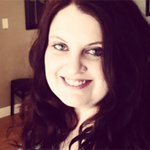 Amy Kingsford
Amy writes for and administers the Get It Scrapped blog. She's also our Creative Team Coordinator and a teacher at Masterful Scrapbook Design.
Amy Kingsford is a happy wife and blessed mother from Northern Utah. In addition to her work here, she also shares ideas and inspiration on creative approaches to modern scrapbooking and papercrafting at her blog My Letter-Sized Life.