by Debbie Hodge
Many of you have probably been using your computer and printer to make your paper pages for a few years. Others may be looking for some help getting started. Read on for ideas for using 7 digital scrapbooking products on your paper (or hybrid) scrapbook pages.
Digital Borders
You could print simple scalloped borders, doodles with a hand-drawn look, or even fancy edgers onto cardstock for original looks. I printed Katie Pertiet's Garden District Borders to cream cardstock for "bffs."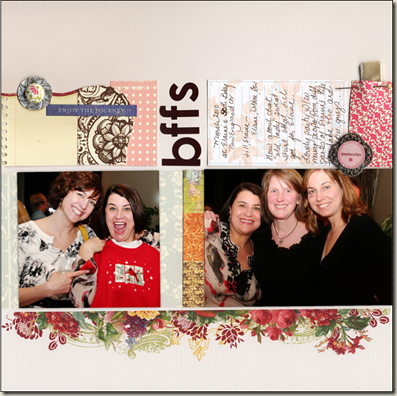 bffs by Debbie Hodge. Digital source: Garden District Borders
Digital Stitching
There are times that digital stitching is just a bit quicker (and more exact) than pulling out the sewing machine. I used Spool of Stitches by Tia Bennett to create a grid to hold my supporting photos on "Trestle." I frequently use digital stitches to make a quick page border or fill-in grid before beginning a page.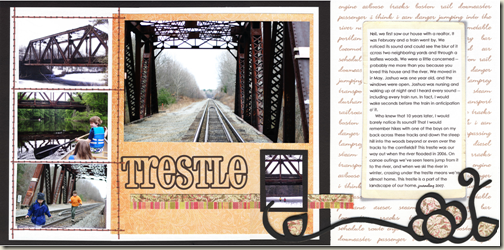 Trestle by Debbie Hodge. Digital sources: Spool of Stitches and Vintage Photo Frames No 7 by Katie Pertiet
Digital Frames
Paula Gilarde is a master at using digital frames on her paper/hybrid scrapbook pages—and not just single frames! On "O Canada," Paula arranged her photos within one of Katie Pertiet's photo clusters, printed it, then trimmed for mounting on her paper scrapbook page.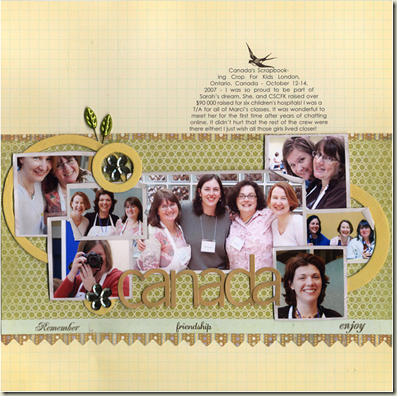 O Canada by Paula Gilarde. Digital source: Photo Clusters No 17
Word Art
You can use word art and quotations for titling and embellishing your pages. While I printed "today" (from Katie Pertiet's Doodle Do Titles) directly to white cardstock and mounted my photo below it, you could also print and trim word art to make tags. You could also print it to your photos.
Today by Debbie Hodge. Digital source: Doodle Do Titles No 2
Digital Images
When you don't have a particular image in your paper scrapbooking stash, you can probably find it in digital form. Dina Wakley printed and cut out the feathers on this page, which are from Kitschy Digital's Feather Accents.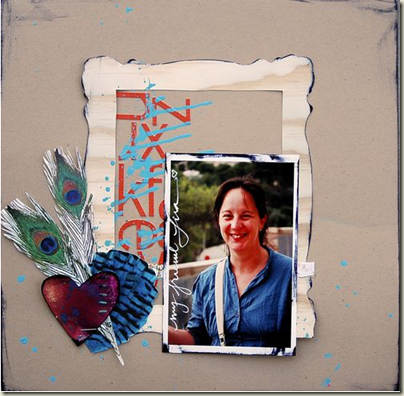 My Friend Lisa by Dina Wakley. Digital Source: Feather Accents.
Print your own ephemera, too! The ticket on "Everyday is an Adventure" by Amy Kingsford is from House of 3.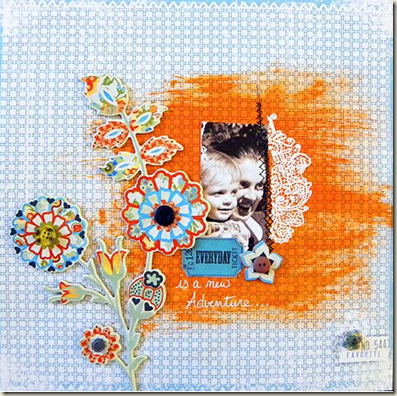 Every Day is an Adventure by Amy Kingsford. Digital Source: House of 3
Patterned Paper
You can use digital patterned paper for background, mats, accents, and tags. On "Cause and Effect" I printed brightly color papers for my page background. Before printing, though–to save ink–I layered white digital cardstock with digital stitching through the middle. Once printed, I then built my page on this digital canvas.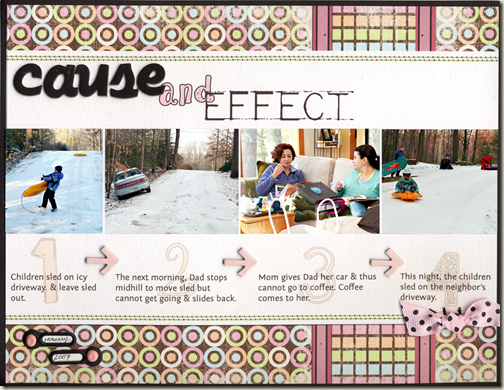 Cause and Effect by Debbie Hodge. Digital source: Floral Fantasy by Janine Papai and Doodle Berry Paper Pack by Scrapgirls Design. I can no longer find links to these products.
Journaling Spots
The variety of digital labels and journaling spots available makes it easy and tempting to customize your page. For "Cousins & Friends," Paula Gilarde used a free label by Andrea Victoria, recoloring it to match her papers and printing and trimming.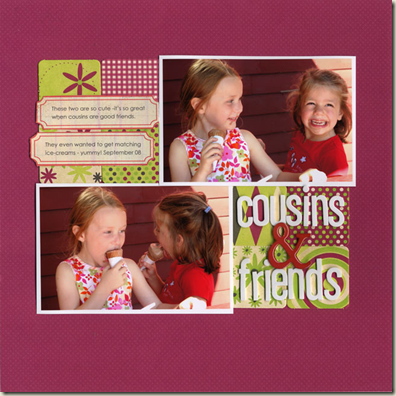 Cousins & Friends by Paula Gilarde. Digital Source: that label is no longer available, but these have the same look: Mod Bebe Girl Element Pack by Andrea Victoria.
Looking for more articles on hybrid scrapbooking?  We have a whole category devoted to it here at Get It Scrapped…have a look!