by Tami Taylor
Look for "One Month at a Time" on the 1st of each month in 2010. Tami Taylor gives you a sketch and prompts for getting monthly memories scrapped . . . "one month at a time."
Did you love the month of love?  Did you wish it was Leap Year? Did you know February used to be the last month of the year? Did you think you'd be quizzed just to get inspiration for scrapbooking One Month at a Time?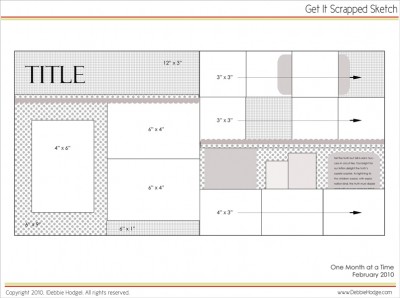 No worries, no tests for this.  It'll be as short as the month itself!
Up first the sketches:
Click here to download a pdf with the sketch.
Click here to download zipped file with layered template.
This month was different than most months for me; my dad flew in from Michigan.  His visit was as entertaining to me as it was for him.  My dad has only been to Vegas twice. He's a 'small town' guy so seeing him in the big city is quite comical.  He points at everything we drive by that looks interesting to him—which means he has his finger sticking up almost the entire car ride.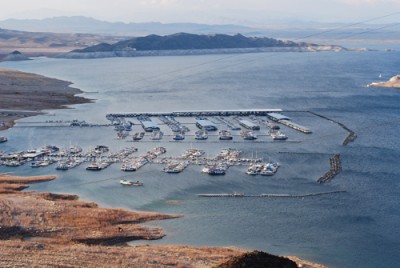 This visit we headed off to the Hoover Dam and did a little tour. I've been to the Hoover Dam a few times, but on the way back we decided to explore this scenic lookout. I had never bothered with it before, just another one of those "next time" things to do.  Well am I ever glad we stopped.  It was such a breath-taking site to stand on the side of a mountain and look out at the lake.  All of the boats, a slight haze, and the silence from everyone added to the peace and serenity of the spot.
Between this and Jane's Street Where You Live, I've realized that there is a lot of Las Vegas I haven't seen yet.  This is now my hometown and I loved exploring it that day.  Are you wondering what my point is? Well, it's simple.  Get out of your house and go take a drive.  Go see something new in your area or revisit a place you haven't seen in awhile.
Perhaps the desire to hit the road and explore is affecting everyone these days.  Terry is looking forward to her first trip in her new Winnebago Vista this next month.  She's just gotten it and shares the photos of her new baby in her February 2010 layout.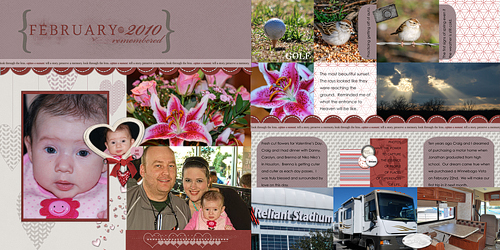 I'll leave you with a few sites to help if you've got a hankering to explore.
Road Trip America is a great site for planning a road trip—with forums to talk to others who are road-trip enthusiasts.
Byways is a site for finding those off-the-beaten-path scenic byways.
Roadside America is a personal favorite of mine. It's a fun site for finding unique sites to see—like the world's largest ketchup bottle.
Here's a fresh worksheet to help you drum up ideas for March so that you can get scrapping your 2010 "One Month at a Time!" Click here or on the worksheet image to download a printable pdf.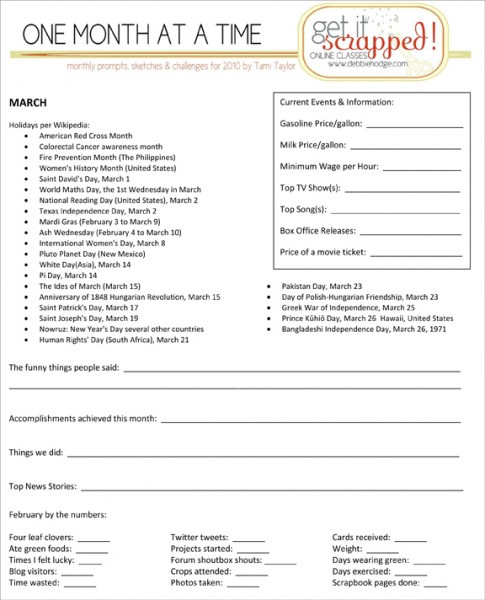 [ttaylor]
[lovesketches]