No photos for your scrapbook page? There are several alternatives you can use:
Use journaling only to tell your story and select colors, papers, patterns, and embellishments that support the subject.
Use one photo to spur your journaling. This black and white photo of my cousin and me dressed up, immediately recalls for me my great grandmother's home and the few huge family gatherings that were held there. I don't have other photos, but this photo is all I need to journal topic. Look for contextual details to trigger memories — like the cars along the lawn here remind me of the feeling of everyone rolling in. The layout is at the bottom of this post. See the layout with this photo below.
Take a photo of an item you have now that came from the time you're scrapping and use that to represent your subject. I actually have this alarm clock of my Grandmother's in my office now, and when I see it, I remember her saying she liked to go to bed with the chickens. I photographed it and used it as the only photo on  a page about sleepovers with her. The figurines in "I Collected Avon" are still stored at my parents' home and on a visit a few years ago, I got them out and took photos.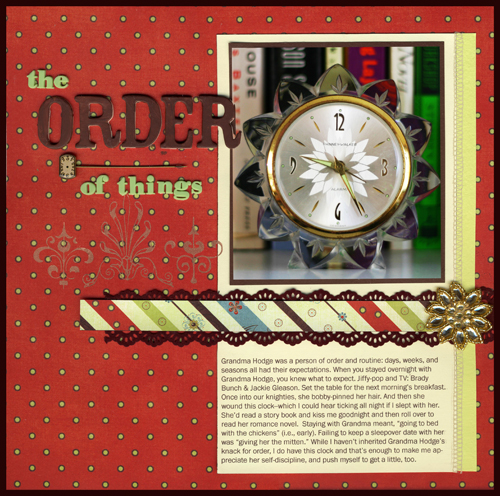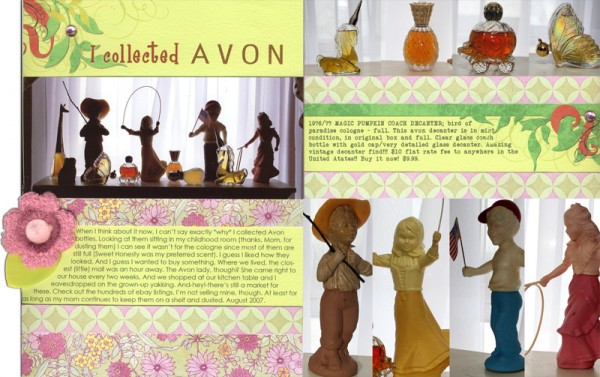 Use community and/or stock photos from web sites. Check out the site's licensing, copyright, or other usage guidelines. There are many sites that allow free personal use of low-resolution and charge a fee for higher-resolution photos and professional usages.
Look for memorabilia, maps, and other documents to include instead of photos. If you don't have any, look on web sites of local historical societies, chamber of commerce organizations, and you can even get aerial shots of any address from Google Earth. The top photo here is just such a shot of my parents' home and barn. To me and anyone who has spent time there, it's clear where the barn is, the three silos, the house and other buildings.
Edit poor photos with image editing software like Photoshop and give them an artsy or moody look that complements your journlaing. Since this aerial shot was of poor quality, I sharpened it up and then added a sketch effect.