by Debbie Hodge
The straight line is a basic element of design. This post shows you how to use it on your scrapbook pages to guide the eye and set tone.
Use horizontal lines to guide the eye across a page.
Connect the two sides of a two-page layout with horizontal lines as in "Rock My Soul" below. In addition to the wide dotted strips running across the middle of the page, note the stitching at bottom and top. Horizontal strips run across the top and bottom of "Corn Maze." Another one runs through the middle. NOTE: The eye will connect breaks in lines, moving the eye across missing spots, here where the strip runs behind a photo.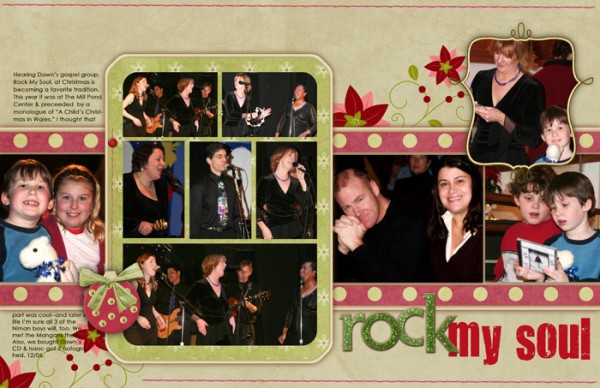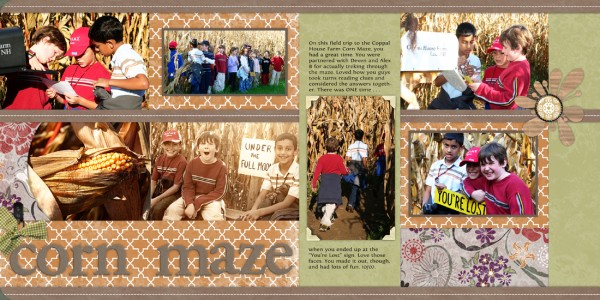 Use line to influence mood.
Vertical lines evoke a more dynamic mood than horizontal lines. "Doing It" uses narrow strips of vertically striped paper to convey the idea of movement and to add energy to the page. There's more, though. The vertical band of photos creates a line. And, what's more, the viewers eye make the jump to connect the two separate strips of striped paper–calling upon the viewer to make this jump gets them more actively involved in viewing the page.
The horizontally-striped paper on "We Burn Wood" contributes to a  more resful and cozy feeling that totally supports page subject.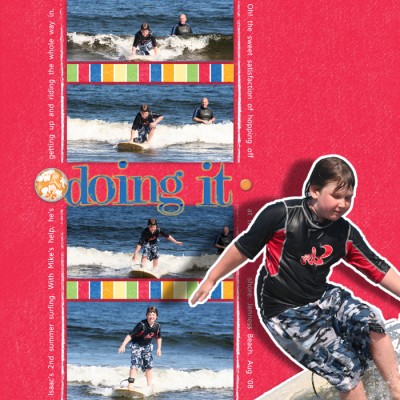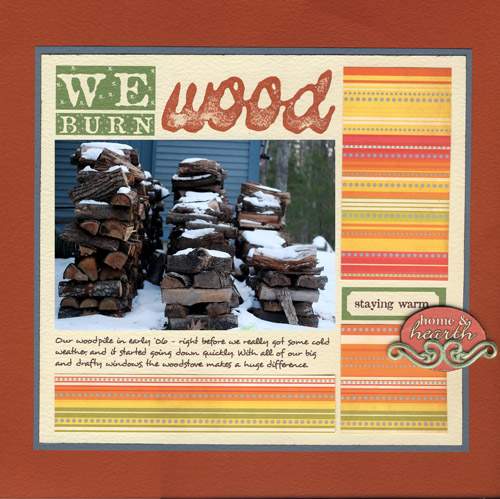 Consistency of line width and angle contribute to mood. A pattern in which stripes are all of equal width is the most calming configuration. Variations in stripe width, regularity of pattern, and even angle can all up the energy that a striped pattern conveys. While "Savor Autumn" features horizontal lines that should be restful, their bold colors, varying widths and angles add excitement.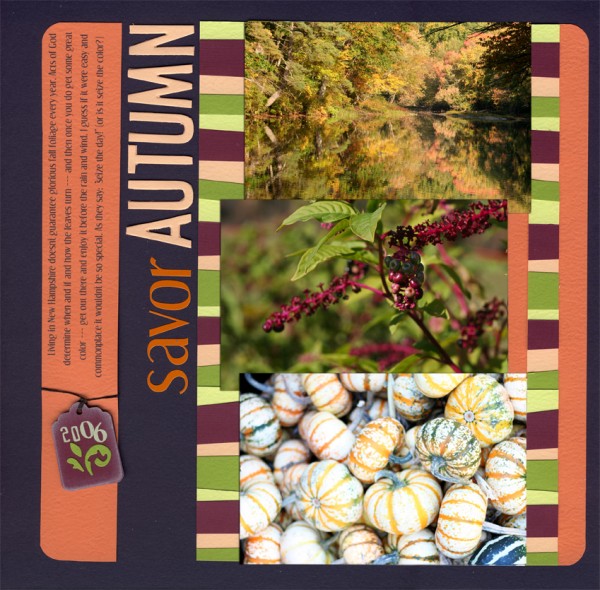 Some ideas for getting lines onto your page.
Use striped patterned papers.
Arrange "stuff" in a line. Consider buttons, brads, stickers, beads, chipboard shapes, and whatever else in your stash appeals to you. Notice the vertical line of buttons on "Hayseeds" that functions a border.
Arrange photos in a row or column.
Sew some lines — or use rub-ons.
Make your own highly-charged striped paper by cutting strips of paper in varying widths and angles, and gluing them to a card stock base (as on "Savor Autumn" above). Weave or intersect strips at right angles for a home-made plaid. Turn it 45 degrees for a diagonal plaid.