by Debbie Hodge
Do you plan out where to put your scrapbook page journaling as you start a page? Or do you figure it out as you go? Or do you reach the end and say: "Yikes! I don't have any room for my journaling?" I do all three. You'd think I'd get in a habit of some planning since I usually have a lot of journaling to include. Several scrapbook page ideas for your journaling follow.
1. Put your scrapbook journaling on a tag.
2. Put your journaling on your background canvas or mat.
3. Put your journaling on photos.
4. Put your journaling on a piece of paper layered into your design.
5. Put your journaling on strips.
6. Put your journaling on extended photo mats.
7. Put your journaling along the edge of and around other photos & elements.
8. Place your scrapbook page journaling to create a border.
9. Hide your scrapbook page journaling.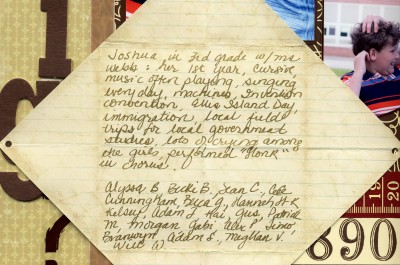 10. Put your scrapbook page journaling anywhere you can!
---
Don't miss the opportunity to delve into all things to do with scrapbook page journaling. In January, 2011, the Masterful Scrapbook Design Series focuses on scrapbook page journaling — learn how to develop your content, hone your writing skills and make your journaling an integral part of your page design with teachers Lain Ehmann, Paula Gilarde, Karen Grunberg, and Dina Wakley.
[lovejournaling]