Still haven't made your Valentine's Day gifts? No problem!  This Valentine's Flashcard Template is just what you need to make a sweet and simple Valentine's Day gift for your child, loved ones, or friends in just 10 easy steps!
If you'd prefer to make the card with paper supplies, download this template and use it as a guide for cutting your paper. If you take this approach and have supplies with quite a bit of depth, you'll want to skip step 9–laminating your flashcards!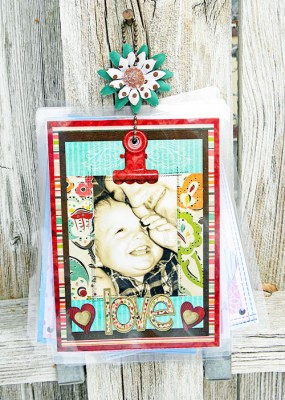 Here's what you'll need for the digital flash card
Photoshop or Photoshop Elements Software
Digital Papers, embellishments, etc.
8.5" x11" Photo Paper
Scissors
Adhesive
Thermal Laminator and sheets/ or Self Laminating Sheets(optional)
Crop-a-Dile or Hole Punch
Book Ring or Bead Chain and Connector
How to make flashcards
1.  Download the psd file for the Valentine's Flashcard here.
2. Open the psd file in Photoshop.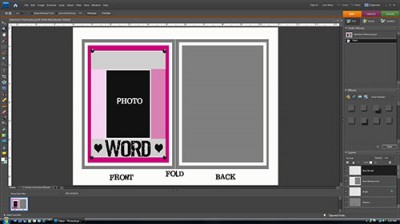 3." Clip" papers from your digital stash to the layers of your psd file. Do this by dragging digital paper to the layer sitting above the layer you'd like to "clip" it to. Then select >Layer >Create Clipping Mask to "clip" the paper to that area.
4. Embellish your flashcard by either clipping papers to the existing embellishments or replacing them with embellishments from your digital stash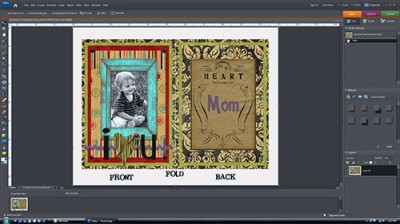 5. Update any fonts.  I used Jailbird Jenna (free from dafont.com). Or use your own font choice.
6. When your flashcard is completed, print it out onto 8.5" x11" photo paper and repeat these steps for each of the flashcards you wish to make.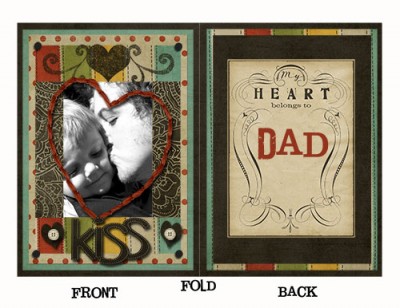 7. Cut out your flashcard and fold down the middle. Making sure that the fold is crisp will help when laminating it.  Adhere the two sides so that you now have a two-sided card.
8. Use your thermal laminator and laminating pouches or even self-laminating sheets to laminate each of the cards.  This step is optional, but it can help to preserve the printed images—especially if you have an over-zealous two-year-old who loves photos and books!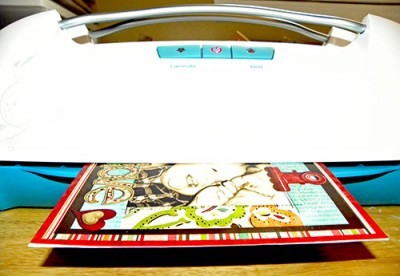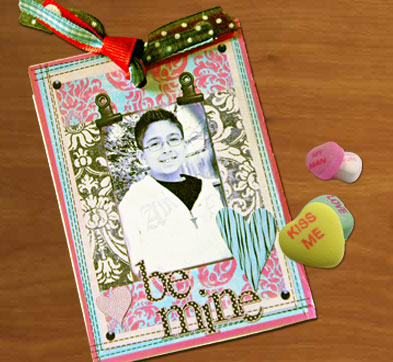 9. Punch holes through your flashcards and thread your book ring or bead chain through the holes.
Feeling extra, ambitious? You can even make Valentine's Cards for your kid's classes, or a fun Valentine's Day layout, by simply resizing the template!
For these Valentine's Cards I cropped the template to 4"x6" in Photoshop Elements and then followed steps 1-9.
And for the layout I cropped the front image only to 5"x7".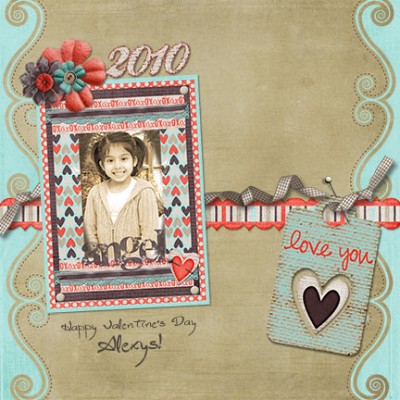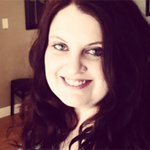 Amy Kingsford
Amy writes for and administers the Get It Scrapped blog. She's also our Creative Team Coordinator and a teacher at Masterful Scrapbook Design.
Amy Kingsford is a happy wife and blessed mother from Northern Utah. In addition to her work here, she also shares ideas and inspiration on creative approaches to modern scrapbooking and papercrafting at her blog My Letter-Sized Life.