Here is a scrapbook page design that you can alter and use over and over again.
by Debbie Hodge
The little black dress endures because it's appealing and practical. Add a belt and jewelry and you have a different look.  Learn here how to do the same thing with simple 4×6 page designs.
MY BASIC DESIGN: arrange three 4×6 photos in a row or column
SOME STRUCTURAL CHOICES I CAN MAKE:
1) Spacing of photos: abut, overlap, or leave gutters?
2) Alignment of photos: straight alignment or staggered?
3) Page edge: leave a margin or bleed off the edge?
Using all possible combinations of these choices with my basic design, yields a total of 12 designs.  If I then rotate these 12 designs 90, 180 and 270 degrees, I have 48. And I haven't even begun to make the myriad aesthetic choices available to me.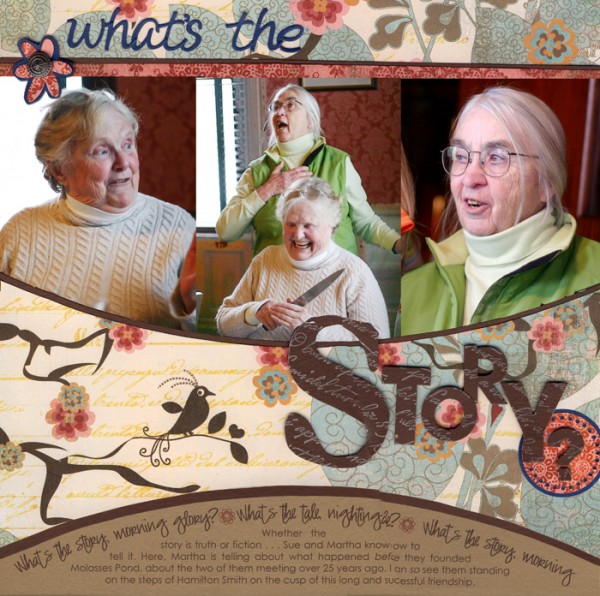 What's the Story?
Three portrait 4×6 photos are placed in a straight line, with abutting edges. The photos go out to the edge of the page.  The bottoms of the photos are covered by patterned paper cut in a curve that houses part of the title.
What if you took this design as your starting place and moved the three photos to the bottom of the page, and then you put the title at the top and the journaling in the middle, or maybe the title would go in the middle? Turn the layout 90 degrees and you've got a design for landscape photos. Small variations on a design result in a multitude of new looks.
Handle With Care
Three landscape 4×6 photos are staggered in their alignment and they overlap, thus leaving narrow page margins.  A few of the changes you could make to get different looks include: moving the block of photos, changing the matting or title placement, removing the patterned paper on the left side, and rotating journaling orientation.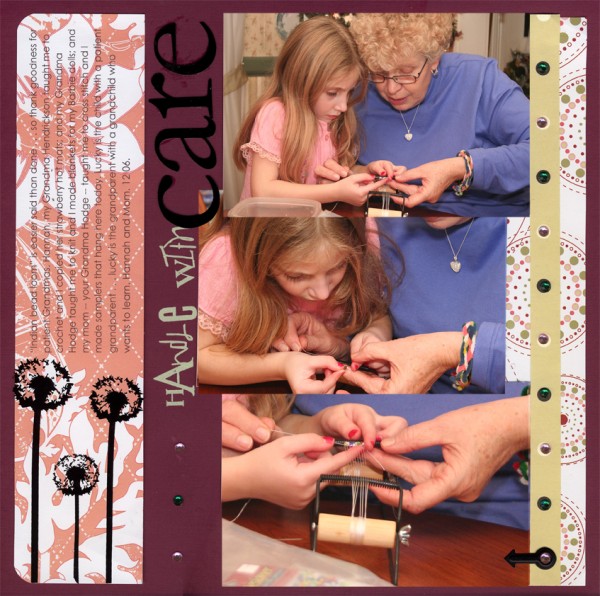 This Girl
Three 4×6 landscape photos are aligned and mounted with margins and narrow gutters. Want to mix it up? What about staggering these photos, as in Handle With Care, but not overlapping them or bleeding them off page top and bottom? I could give you more suggestions, but I'll bet that at this point, you have your own ideas.